CELEBRATE INTERNATIONAL DAY OF PEACE
With The Golden Muse and Peace Lovers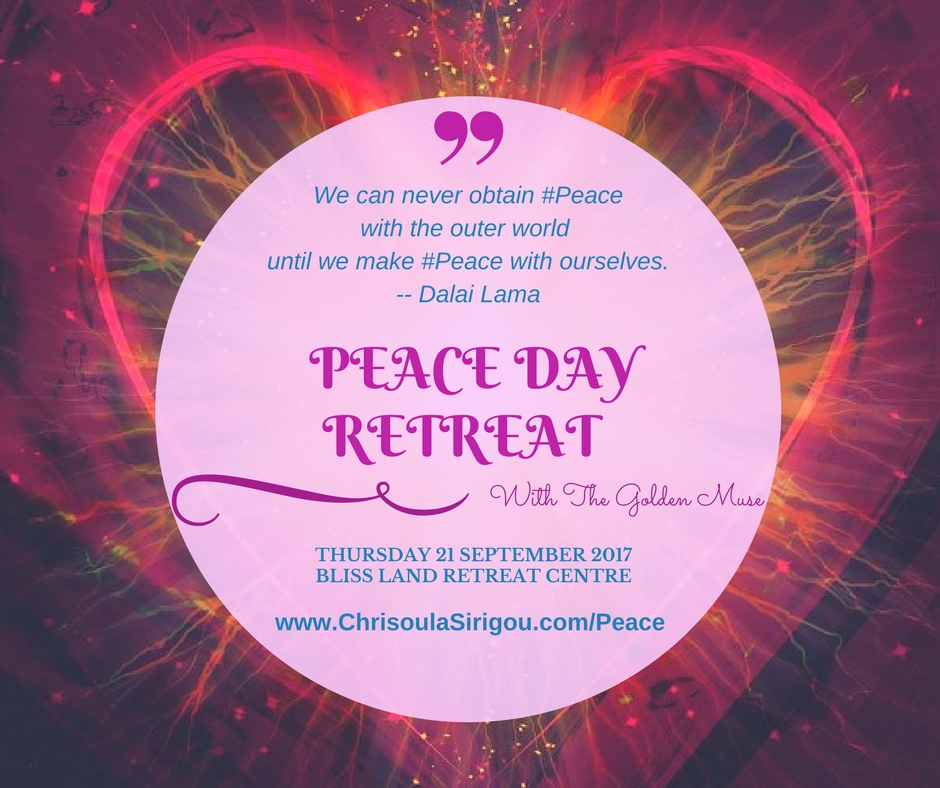 Thursday 21 SEPTEMBER, 10.00AM – 4.00PM
BLISSLAND Retreat Centre, Congleton (Car Park available)
From 10.00AM  (connecting/coffee & tea) at the Peace Pod
Celebration starts at 10.30am
Celebration ends at 4pm with live streaming interviews
"Peace in the world and harmony within is fundamental to me" says ChriSOULa, The Golden Muse, teacher, visionary guide, broadcaster and the hostess of this wonderful annual LIFE Awakening celebration of Light. Inspiration. Flow. Expansion.
On Thursday 21 September 2017 we celebrate The International Day of Peace in the company of LIFE Explorers … coaches, authors, educators, teachers, parents, activists, change-makers, visionaries, mental health organisations and open to anyone who loves to live in a peaceful environment whether it is at home, at work, at school, in our community, country and the wider world, we celebrate together the wonder of inner peace, harmony, communication, self expression, emotional wellbeing, heart intelligence, mindfulness and flow. In fact, it's one of the biggest celebrations of its kind, devoted to commemorating and strengthening the ideals of peace in the world and ways how to cultivate peace within and harmony in our families and compassion and collaboration in our communities.
YOUR CONTRIBUTION
STANDARD ADVANCED TICKET For 1 x Person £40
SPECIAL ADVANCED TICKET WHEN BOOKING FOR 2 x PEOPLE at £35PP AVAILABLE UNTIL THURSDAY 24 AUGUST to confirm your participation in the following PR / Radio opportunities:
Both ticket options above include access to the Peace Day Retreat programme of talks and workshops along with:
A) scheduled radio interviews on ChriSOULa's LIVE Show #HealthandHealing on RedShift Radio on Thursday 14th September from 2pm to 4pm (either at the studio or phone-in)
B) your participation in Facebook LIVE Streaming Mini interview sessions led by ChriSOULa sharing your personal message about PEACE.
*** A HANDFUL OF SUPER SPECIAL ADVANCED TICKETS AT £90 include the following PR opportunities for you and 2x complimentary tickets for members of your organisation/business:
10-Minute Speaking Slot focussing on key areas of expertise/practices/tools enhancing peace with Q/A

A Stand to help showcase your educational programmes/products/services/book/courses etc.

1:1 or GROUP x 30-minute Interview on #TheGoldenMuse Chat Show Recorded and then Uploaded on YouTube Channel

Social Media Promotion before, during and after the event

Interview on #TheHeathandHealing Radio Live Show (15-minute Phone-in or Studio Interview) and Listen Again feature.

Facebook LIVE Streaming Interviews on the day

REQUEST INVOICE WITH BACS PAYMENT DETAILS
**** LATEST BY MONDAY 18 SEPTEMBER *** (to avoid paying admin fees on Eventbrite)
EMAIL: chrisoula@chrisoulasirigou.com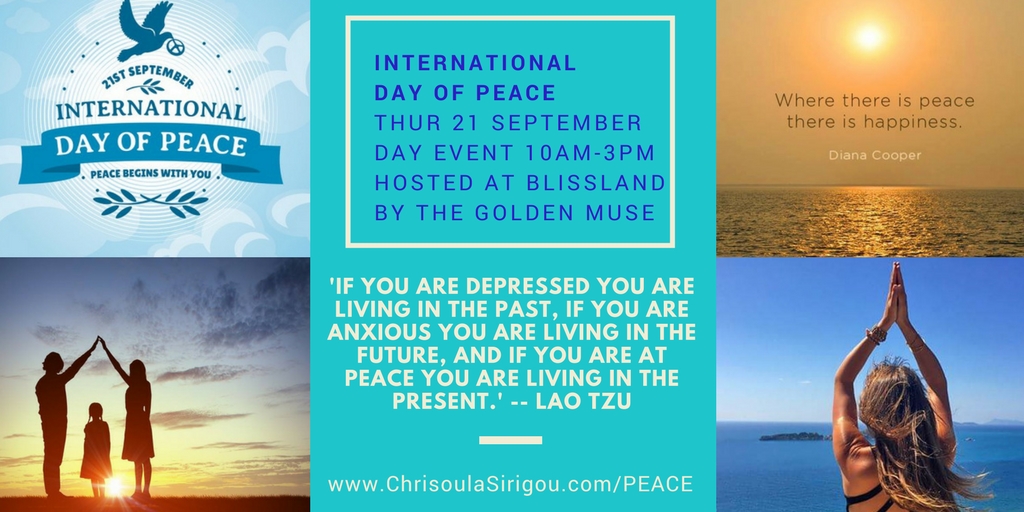 What can you expect?
Share your message, showcase your book/story/vision and inspire others on the day 
Increase your visibility through promotional marketing campaign on social media & radio
Spotlight LIVE Interview with ChriSOULa, Your Hostess 
Q/A session, Book signing opportunity
Making new connections with other LIFE Explorers who love books, exploring, expanding, evolving.
Dear Friends of the Earth and LIFE Explorers,
I can't wait to welcome you at our Spring LIFE Awakening Event at the retreat centre at Blissland, overlooking the Cheshire plains, situated over energising ley-lines. Pure Bliss!
THURSDAY 21 SEPTEMBER, World PEACE Day
Heather Bank Farm, Congleton, Cheshire, CW12 3NA
FROM 10.00AM (with hot drinks and snacks available throughout the day) for 10.30AM start
LUNCH BREAK 1.00PM TO 2.00PM creating space to chill, chat and cherish time out in nature, connecting with Gaia and soulful people. *** Please bring yummy, healthy food to share for lunch. ***
Until 4.00PM
The PEACE Day Retreat is brought together every year by ChriSOULa The Golden Muse and offers you a nurturing and uplifting space to Retreat, Release, Relax and Be. It is an opportunity to reach out into nature and connect your heart with the heart of the Earth and illuminate the hearts of soulful connections.
By the end of this annual LIFE Awakening PEACE Day Retreat …
you will raise your vibrations higher by giving & receiving love, meditating, dancing, sound healing, colour bathing and learning more about yourself and connecting with others

you will feel more energised and uplifted in our Heart Circle of Peace and Harmony

you will feel in alignment with your intuition and in flow with the creative energy of LIFE

you will be able to nourish your mind, body and soul harmonising your masculine and feminine energy

you will say Yes To New Spring Beginnings and claim new opportunities for Growth with hope and renewed energy.