Colour Mirrors Courses
The Colour Mirrors system was founded by Melissie Jolly in 2001. ChriSOULa Sirigou has been teaching certified Colour Mirrors courses internationally since 2014. These programs are a soul calling, and if you feel drawn to study colour analysis, numerology or teach higher consciousness through the lens of colour or add colour analysis to your business or practice, you can submit an email to indicate your interest.
---
Colour Mirrors Practitioner
8-Day Intensive Program from 9.30am to 5pm
19 Colours psychological and analytical meanings

The colour mirrors system that comprises 87 dual coloured bottles and 42 spritzer essences past lives in colour

Higher consciousness learning of each colour

The spiritual principles derived from the Melchizedek teachings

The new chakra colours that include gold, silver, platinum and diamond that raise your body frequency from 3D to 5D

Chakra balancing techniques on how to raise your clients from the old denser colours of reds, yellows and greens to the new 5D frequencies

Learn 10 different types of colour readings you can offer clients using the Colour Mirrors bottles and star chart
You qualify to offer your clients
Chakra balancing sessions

Variety of empowering Colour Readings in person or on-line

Colour Healing to complement your holistic, alternative therapies, coaching and mentoring services

Host and Deliver "Expansion Through Colour" 2-day Workshop
Investment
Course Fee £1500 when paid in full OR £1600 when paid in 4 x monthly instalments 
Start up Bottle Set: you need approximately 25-30 coloured oil bottles of your choice to start working with colour analysis as a business. 
There are no hidden membership or annual fees. 
A small initial fee will be charged to register your biography and details onto the main website as a practitioner if you require that service. 
If you have reserved and received confirmation of your booking to attend this program, you can submit your payment for £1500 in full by Paypal, BACS payment or International Transfer. An instalment option can also be possible. Contact ChriSOULa by email info@chrisoulasirigou.com to make further enquiries. 
---
Mentoring Program for Colour Mirrors Practitioners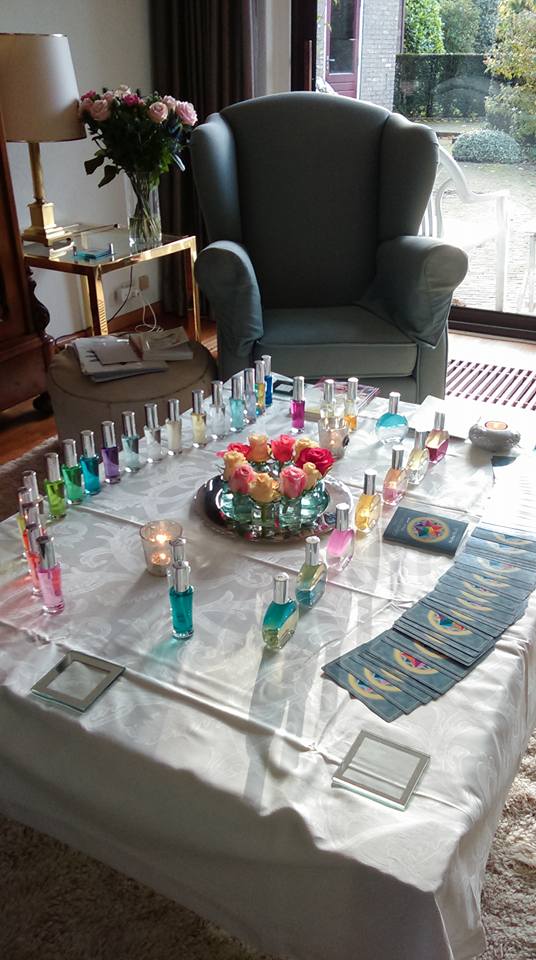 You have the option of opting into a 12-month mentoring program where you benefit from learning directly from ChriSOULa who has taught clients internationally how to set up and work with Colour as a tool of transformation in both the spiritual and alternative healing markets, as well as in business, finance and personal coaching markets. She is the author of The Book of Soulful Musings - designed in full colour and with colour therapy in mind – and has vast experience in helping Holistic Health & Healing entrepreneurs to become more visible online through her radio shows and on GoldenMuseTV. You may apply for this program while you are on your Practitioner course and receive more details.
If you are a Practitioner, you can register and submit your full payment for £1500.
If you have been approved for the monthly Instalment plan over 10 months you can submit part payment for £250.
---
Colour, Numerology & Planets
The course timing
1-Day Program from 10am to 5pm
How to calculate your date of birth and read your Soul Colours

The links between colours, planets and numbers

How to calculate your personal or business name and see it in colour frequencies

What is your Year Number, Colour and Planet
You qualify to offer your clients
If you are a Colour Mirrors Practitioner, you can use your bottle set to offer a variety of numerology readings

If you are not a Colour Mirrors Practitioner and therefore do not have the licence to distribute bottles, perhaps doing this course to learn for yourself how colour and numerology works together or perhaps just to know more about your own journey – you can still offer colour and numerology readings to friends by using the manual and other colour resources shared on the course. 
Course Fee £156 ( incl. course manual)
If you have reserved and received confirmation of your booking to attend this program, you can submit your payment for £156 by BACS or PayPal.
---
MINI Colour and Numerology Soul Reading
Investment: £115.00
Send your date of birth via an email to Chrisoula and she will analyse the colour energies found in your birth chart and offer you insights into your skills, potential and areas you may hold yourself back and enjoy revelations and affirmations about your potential, vision and talents/gifts. Advanced payment can be made by BACS or by an international transfer.
Your Soul Number & Personal Year Number REPORT (for 2019)
Investment: £148.00
This Personalised Report for the current year includes:
1hr30 mins Your personal report analysis for this year (2019) based on your date of birth, colour and numerology analysis
2 x Colour Mirrors Bottles: 1 x Dual Oil Coloured bottle and 1 x Spritzer (standard retail price at £30.00 per bottle + P&P depending on the destination) as outlined here to have a colour therapy bath treatment and as a self-help transformational tool.
14-page "Love and Success Colours for 2019″ Complimentary PDF document
Email ChriSOULa your Date of Birth at info@chrisoulasirigou.com.
Advanced payment can be made by BACS or by an international transfer.
Here is an example below based on ChriSOULa's DOB in 2018 – She was having a CORAL Year!
to help you find out how you can calculate your Personal Year Number and Colour for this year giving you insights about potential events and opportunities and challenges coming up in the year ahead of you (and you can equally help members of your family and friends to receive this guidance and clarity, if you wish).
FULL Colour and Numerology Vision Reading
Investment: £205.00
This longer and deeper colour analysis reading is based on your Selection of 9 x dual coloured bottles for insights into current issues. Choose the bottles you feel drawn to at this point in time when you click here and send them in the order you chose them in via an email to ChriSOULa, together with your Date of Birth.
When you are about to connect with and choose the 9 x bottles for your reading, please take on board the following guidance and recommendations:
create a nurturing space for you when you connect with the energies of the bottles online (no distractions, light a candle)
take a deep breath saying "inhale love, exhale gratitude" AND set your intention(s)
ask questions for guidance on specific aspects/areas of your life that you'd like to see transformation (e.g. career, love, money, health or joy), clarity and support. Send the questions in your email to ChriSOULa incl. the 9 x chosen bottles.
Readings are two hours long and take place online on the platform called Zoom or in person at ChriSOULa's Sanctuary of Colour in Barthomley, Cheshire in England. When we agree the session is online, you need to download in advance the programme for free from www.zoom.us.
Chrisoula will arrange the specific time that is mutually convenient via an email: info@chrisoulasirigou.com
Advanced payment can be made by BACS or by an international transfer.
*** BONUS 1 This package includes 1 complimentary x Colour Oil or Spritzer Bottle of your choice to empower you on your journey. 
*** BONUS 2 14-page "Love and Success Colours for 2018″ Complimentary PDF document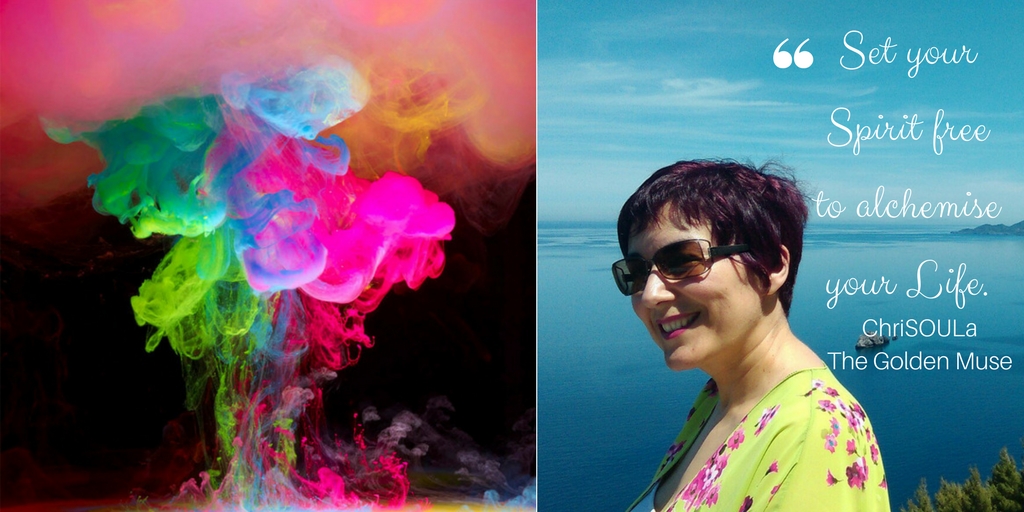 1-1 Mentoring with ChriSOULa Sirigou
Love Mastery
Learn how to release old wounds, trust your heart and make a new beginning in love. You will identity your cycles of self doubt and not being good enough and learn how to master them.
Authentic Golden You
Embrace a deeper aspect of yourself and the gold buried inside you to help you be more authentic, clear with your vision and confident in your own power.
Solid Foundations
Establishing solid practices to build foundations so the Wheel of Fortune keeps moving, in good health and attracting the prosperity you deserve in your life: Love, Money and Joy 
Other Colour Analysis options
Expand your heart and re-connect with your life purpose with a Soul Re-Alignment Reading also £88 is recommended.
For a quick insight into your mind, body and heart, the Ascension Star Reading for £55 is recommended. You will select 7 x Colour Mirrors bottles and place them on the points of the star, each one represents a specific area relating to your heart, mind and body
In-Person Colour Mirrors Card Reading for £44 (35-40mins) offering 10 different variations of card readings (see below Colour Mirrors Oracle Cards)

Testimonials
I had the privilege of a Colour Mirrors reading by Chrisoula. I was both excited and hugely impressed by the information it gave me about major decisions in my life. And I loved the way Chrisoula explained the meaning of the choosen bottles and the bigger picture of the reading, combining it with my date of birth. It has helped me trust I am on the right path making decisions that feel scary but are exactly right for me in this moment. I am so gratefull for the support you gave me Chrisoula with this reading and I am looking forward to using the bottles to support me on my journey. – Constance Schaap, Amsterdam, Holland

Chrisoula, Thanks for my colour reading, it's amazing!! This is such a fabulous reading you have done for me and I'm so grateful, it has confirmed my deepest inner thoughts and beliefs and shown me who I am, where I've been and urges me on to be who I can become and go forwards to where I want to go – which is why it's taken me so long to digest as it's so amazingly meaningful – I've read it over and over.  Thank you so much, I love it! – Diana Grant, Bloom Sanctuary, Cheshire

Chrisoula is someone who is always uplifting and inspiring and is a gifted teacher due to the way she communicates and her eloquent use of language. She is easy to talk to and makes you feel comfortable talking about painful personal issues. I have been working with Chrisoula for two months using the Colour Mirrors System. The coloured bottles and spritzers are beautiful to look at and bathe in.  I now have 5 spritzers which I use in a variety of situations to either help me to relax, to support me through difficult situations or to eradicate negativity. As a result I am more confident in my abilities and believe more in myself. I have become more assertive, feel more able to establish and keep personal boundaries. I was fairly new to the self-love journey but can feel myself becoming more self-aware.  I feel more

motivated and inspired to continue on my path of healing and self-development.

Through working with Chrisoula and the Colour Mirrors Bottles I can see past my current situation to a bright and joyful future.

– Rachel Simpson, Church Lawton, UK

The first time I experienced a colour therapy was in a Spa, where I was resting surrounded by scented steam and coloured lighting. It is believed that colours enhance the healing treatment. Most of us are attracted by different colours. Chrisoula kindly offered me a different kind of therapy with colours that considers such personal attraction. Chrisoula asked me to choose a selection of my favourites, and guided me in understanding their reflection towards an insight of my inner being and my surrounding. As we could not meet personally, we did this initially through emails, and then on the telephone. Her thoughtful reassurance and expertise allowed me a space to reflect in and around these colours in order to improve wellness. – Eliana Corbari, Bath, UK

LEARN MORE about the energy of colour on ChriSOULa's monthly calls every second Monday  in the month. Find out more here how you can get on board as a holistic therapist/educator AND if you are someone who is on the path of personal development, growth and expansion of your consciousness.

Colourful Blessings,

ChriSOULa — The Golden Muse xxx