Your Love and Success Colours for 2018 (Part 1)

11 Master Year (2+0+1+8 = 11)
In the system of Colour Mirrors, 2018 is an 11 Master MAGENTA Year whose energy brings a portal or gateway opportunity, bridging your human self with more of your spiritual self, being asked to be more of your genuine, authentic, loving, forgiving self.
An opportunity to go beyond illusions of not enoughness, feeling powerless and victim caused by self judgement or judgements of others. This is the year of World Service. Can I also add it's the year of "Judgement Detox".
Mastery moments …
See the perfection in all as both light and dark experiences are necessary to create life on this planet of duality

Be a light on the planet by adding your higher frequency and energy to the collective consciousness instead of getting bogged down by the fear and judgements 

Be in the now moment, letting go of control, step into faith and trust
How to Calculate Your Year Number
Between 1 and 9 and Master Numbers 11, 22, 33
Day of Birth + Month of Birth + Current Year
12      +     05      +    2018
(1+2+0+5+2+0+1+8) =  19
1+9 = 10 = 1
If your number ends in 11, 22 or 33, you can also read the 2, 4 and 6 number information as additional guidance for the year.
Read the number that is Your Personal Year Number for guidance.
The Colour bottle and spritzer essence from the Colour Mirrors range is recommended to support you with your Health, Love/Relationships and Work/Wealth, during the year ahead.
Some key predictions are offered to support your children's mental and emotional wellbeing.
Watch here the Replay "Your Love and Success Colours for 2018″ presentation on ChriSOULa's YouTube Channel  covering Year Numbers from 1 to 8.
Insights into the energies of 2018
15:45 How to calculate your Year Number
20:30 Number 1 Yellow
27:31 Number 2 Blue
36:01 Number 3 Coral
42:38 Number 4 Yellow/Deep Turquoise
50:25 Number 5 Green
56:55 Number 6 Pink
1h:02 Number 7 Turquoise
1hr:14 Number 8 Lilac/Violet
1hr:23 details about the next episode/call …
Next episodes on The Golden Muse Show are:
Wednesday 31 January at 8pm (UK time). Book your free place on Eventbrite HERE:
Thursday 1 February at 7pm (UK time) / 9pm Greece time. Book your free place on Eventbrite HERE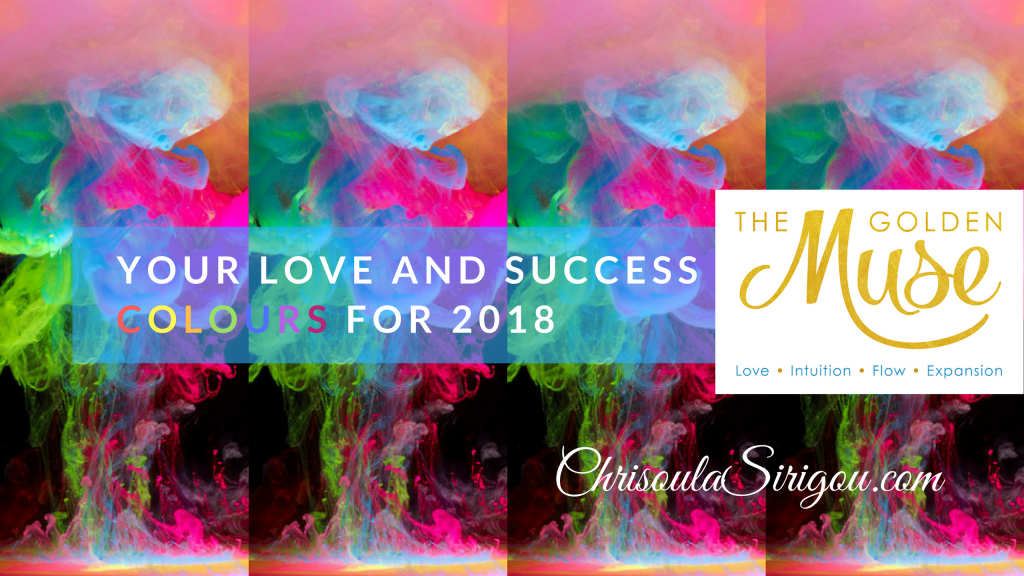 ChriSOULa's next Love and Success Bootcamp Retreat in England is happening on 3 & 4 March 2018 for £147 (early bird offer). This course is life enhancing and breaks you free from deeply rooted mindset habits that sabotage your relationships and flow of creativity and prosperity in your life.