CONNECT * LOVE * FEEL MORE
A Unified, Integrated and Fun-Loving experience in our community with lighthearted people.
AT THE MINISTRY OF YOGA & WELLBEING CREWE 
WITH CHRISOULA SIRIGOU
"Are you seeking for a personal 'awakening' in consciousness and being in heart-centred community with people you care for and trust? Heart Circles are designed to support both of these longings at once." –Tej Steiner
Upcoming classes from 11am to 1pm at the Purple Studio:
23 September ORANGE Firewalk: Courage, Creativity, Connection
14 October PINK Nourishing Self Love "Wear it Pink' campaign
28 October YELLOW The Joy Bringer
11 November & 25 November GREEN Trust the Flow (+ revisiting Complementary Colour Red)
9 December PURPLE Gratitude Circle end of 2017
Tickets £15.00 per 2-hour class 
Or opt in for a special bundle offering when paying for the 6 weeks (recommended if you wish to go deeper, 
clear blockages and feel the impact on your mindset, emotional healing and wellbeing.)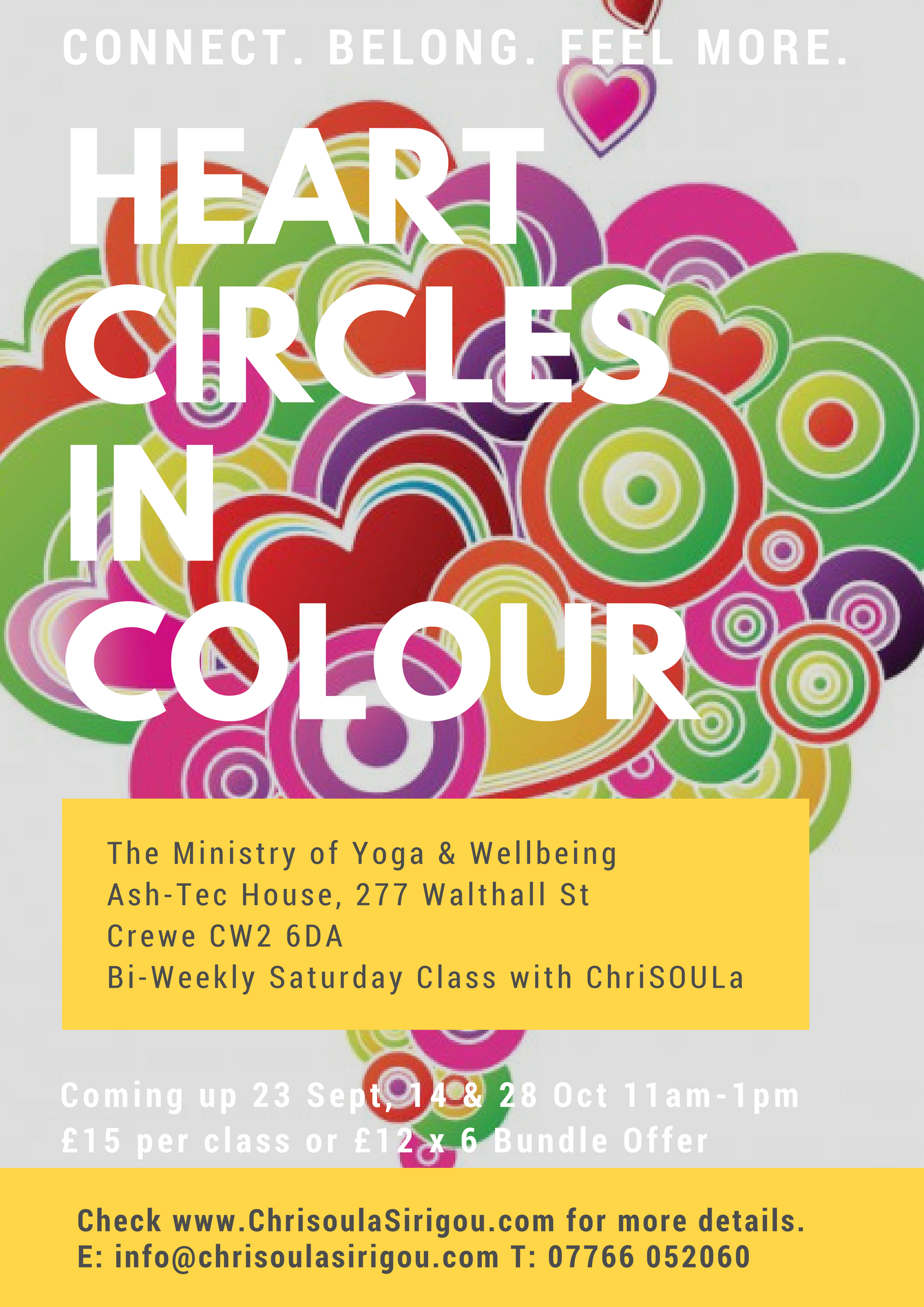 A warm welcome from ChriSOULa Sirigou and an introduction to Heart Circles in Colour
During the course I'll be teaching you the language and psychology of Colours with certain themes attached and combined with Heart Inteeligence tools to identify emotional blockages, help release the patterns that hold you back, taking steps to liberate yourself and open pathways with renewed energy to claim the true, golden, beautiful you. 
Heart Circles in Colour are open to all of you life explorers, mothers, fathers, teachers, coaches, therapists living in and near Cheshire … and anyone on your Self development evolutionary journey. 
I'm so passionate about deepening our awareness and connection with ourselves and allow to feel more with our hearts open while learning to acknowledge and appreciate our emotions. 
Equally during the course, you learn to become more aware of what blocks the flow of communication, giving and receiving love and joy in our lives, in building intimate relationships with our families, empowering our children and young people in school environment and in our communities … on this wonderful planet Earth.
Book your space in advance by dropping an email info@chrisoulasirigou.com or connect with me via my Facebook page
Tickets are at £15pp (2-hour class includes meditation in colour, using essential oils and colour energy, colour analysis and heart intelligence tools) or opt in for a special bundle offering when paying for the 6 weeks (6 X £12) = £72pp payable by BACS transfer.
Come and experience it – words cannot express what you're going to feel. Trust me!
Love and Colourful Blessings, ChriSOULa xxx
WHAT IS HEART CIRCLES … IN COLOUR?
Heart Circles In Colour offer you a safe, intimate and nourishing space to explore, feel more, connect with the richness and depth of two Languages:
1. The language of Heart IQ, the language of the Heart and
2. the language and psychology of Colour.
Every second and fourth Saturday from 11am to 1pm at Ministry of Yoga Crewe
Heart IQ / Heart Intelligence is a language built upon the art, science and philosophy of intimate human connection and relationships.
It's a language of unconditional love, a language of the Heart which goes beyond just the verbal expression that most of us rely upon.
We'll be integrating every facet of the human-spiritual experience: our emotions, energy, intellectual, intuitive and spiritual resources to express our deepest truth.
And, Colour, will help facilitate this process, acting as a detector, supporting you revealing more of your inner goodness, becoming more aware, clear, confident, grounded with your heart's desires and soul purpose.
You're equally welcome to join our weekly Meditation in Colour classes at the Ministry of Yoga every Thursday from 6pm to 7pm.
Who is the Facilitator?
ChriSOULa Sirigou is a Heart IQ™ Mastery Coach, trained by Christian Pankhurst, the founder of Heart IQ™ (Heart Intelligence) Method. During the Heart Circles in Colour 6-week courses and day events, Chrisoula shares The Four Skills of Heart Intelligence bringing people together and connecting openly and joyfully from the heart.
Do you feel a true longing…?
♥ to BELONG to a heart-centred community
♥ to CONNECT with honesty and integrity
♥ to GIVE AND RECEIVE LOVE
♥ to BE IN YOUR TRUE POWER
The Heart Circles in Colour create a loving space, a safe container to open your heart, feel supported, heard, seen, accepted while receiving love, light and depth.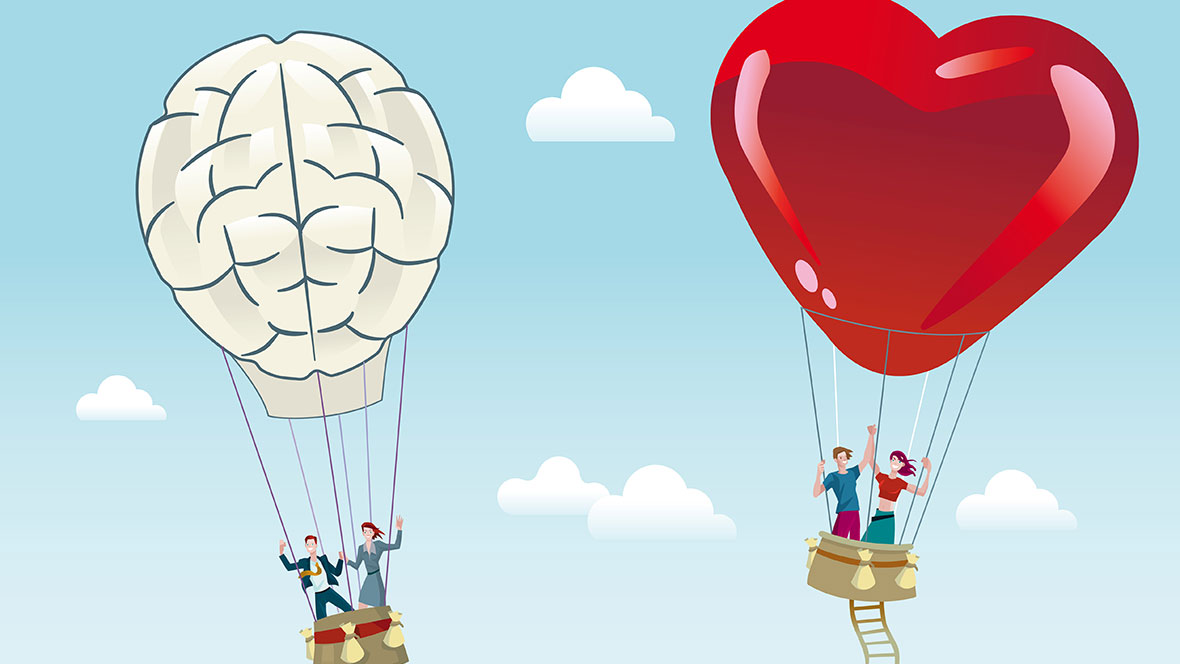 THE HEART CIRCLE AGENDA ♥ Agreements ♥ Tune-in ♥ Check-in ♥ Take space ♥ Close
THE PURPOSE — to develop greater awareness of who you are and come into greater JOY!
PRACTICALITIES — Please wear comfortable clothers. No shoes are allowed in the purple studio.
IT IS ESSENTIAL TO BOOK YOUR SPACE IN ADVANCE
Email: info@chrisoulasirigou.com Call: 07766 052060
Look forward to connecting with you soul explorer!
Colourful Blessings,
ChriSOULa — The Golden Muse