Little Sparks of JOY:
Messages From Across the Globe
Igniting Hope, Love, Unity and Joy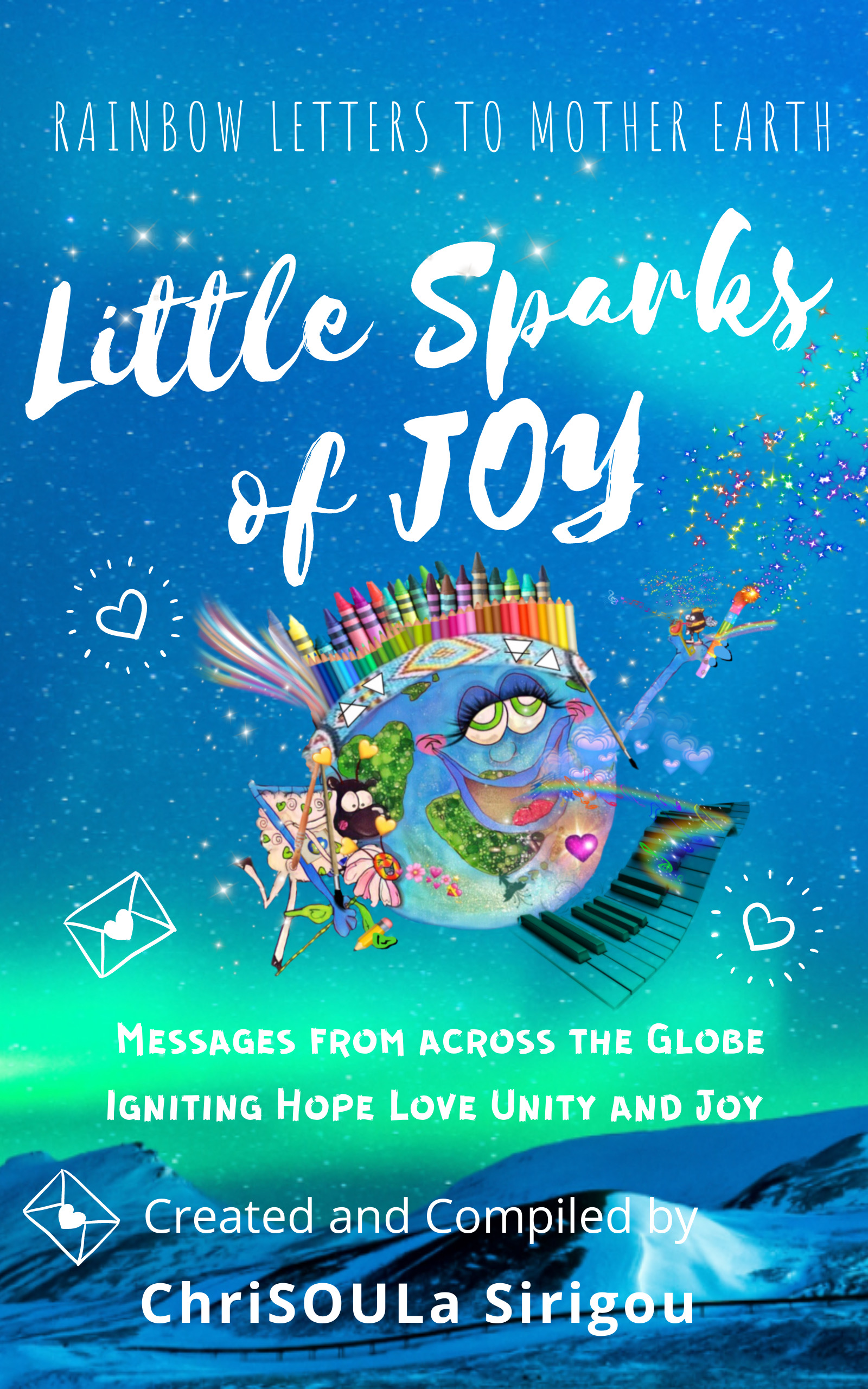 The Little Sparks of JOY e-Book is part of the 
RAINBOW Letters to Mother Earth Project, 
an international movement calling on youth engagement for the betterment of life on our planet, honouring children's and young people's voices, and as an invitation for each one of us to come together and be 
Little Sparks of Joy
. 
It is a cornucopia of colourful inspiration and wisdom through poetry, storytelling and artwork from across the globe. Its mission and vision is youth engagement and to unite us all in harmony. 
With contributors from as young as seven years old, right through to elders from all walks of life, we allow our voices to be heard, our stories to be felt and our artistic expression to be seen, as we weave words, colour, rhythm and art in one great symphony, joyfully orchestrated. 
Together we can create a ripple effect across the Universe, sending waves of United Joy. 
Let us raise the vibration of our beautiful Mother Earth from Fear and Anxiety to Love and Joy, in this present moment, because the future is in our hands.
FIND OUT ABOUT THE JOURNEY OF RAINBOW LETTERS TO MOTHER EARTH SO FAR HERE 
JOIN OUR RAINBOW LETTERS TO MOTHER EARTH COMMUNITY
ENQUIRE OR SEND YOUR RAINBOW LETTER TO MOTHER EARTH BY EMAIL TO: chrisoula@wholisticlove.org.uk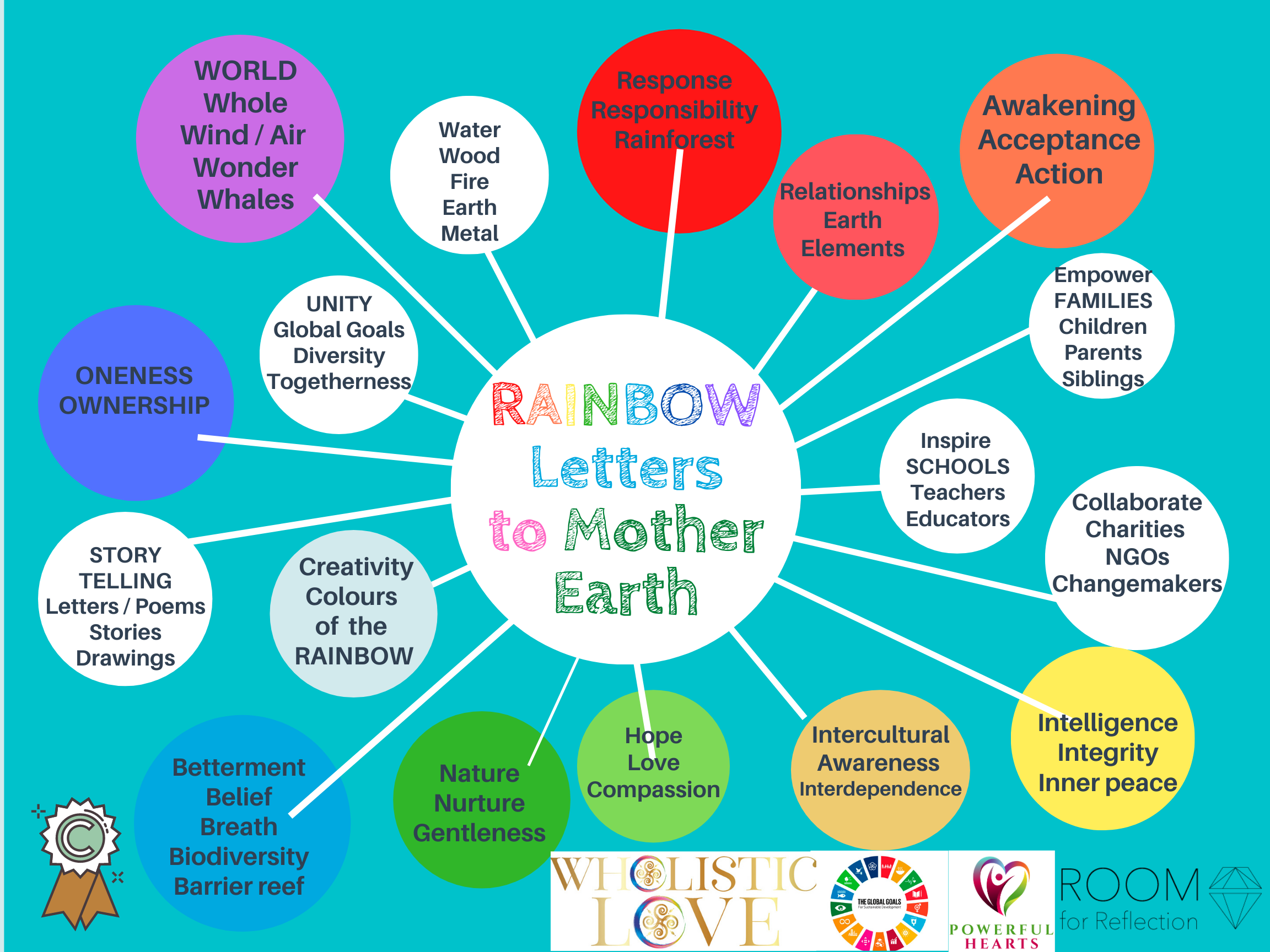 Meet the visionary artist and creator of the artwork in the Cover design of Little Sparks of Joy, K8 the heARTist, Kate Lumley
Here is an extract from K8′s overview contribution in the Little Sparks of Joy
Mother Earth, mOMma Gaia™, holds creatures GR-8 & smALL and knows each of their importance and value.  ALL is inside the word smALL.  ALL LIVES play their pART in our ONEderFULL experience of being alive 2gather.  Like all nurturing mothers, she teaches us each HOW GR8 thou heART and the value of caring for ourselves and one another.

The "EWE" in mOMma Gaia's™ arms represents each YOU on our "PLAN-IT" stepping out of fear and "sheeparation" & into BEing the LOVE that YOU ARE.

DAY-SEE™, the FLOW-er, represents our plant friends and shares her important message that our gr8est DAYS will NOW & ALL WAYS be SEEn when LOVE & LAUGHTER are the FLOW-ers.

In mOMma Gaia's™ hand sEWEper pALLin8or™, the HUM-ble bee of EWEtopIa®, may be seen elevated along the side of the MATCH-ic stick of INSPIR8-I,ON™.