AUTUMN 2016 PROSPERITY SWISHING

Let's Do The Swish!
THUR 29 SEPTEMBER 2016
A Fun-Loving Social Evening for Women (men are allowed too!)
Time: 6.30/7.00pm – 9.30pm
Venue: BLISSLAND Retreat Centre
Full address: Heather Bank Farm, Congleton Edge, Congleton, CW12 3NA (Car Park Available)
Early Bird Tickets £22.00 per person (when booking online before or on Thur 22 Sept 2016).
Standard tickets £25.00 per person
EMAIL Chrisoula info@chrisoulasirigou.com if you prefer to book your space by BACS transfer (and avoid eventbrite admin fees).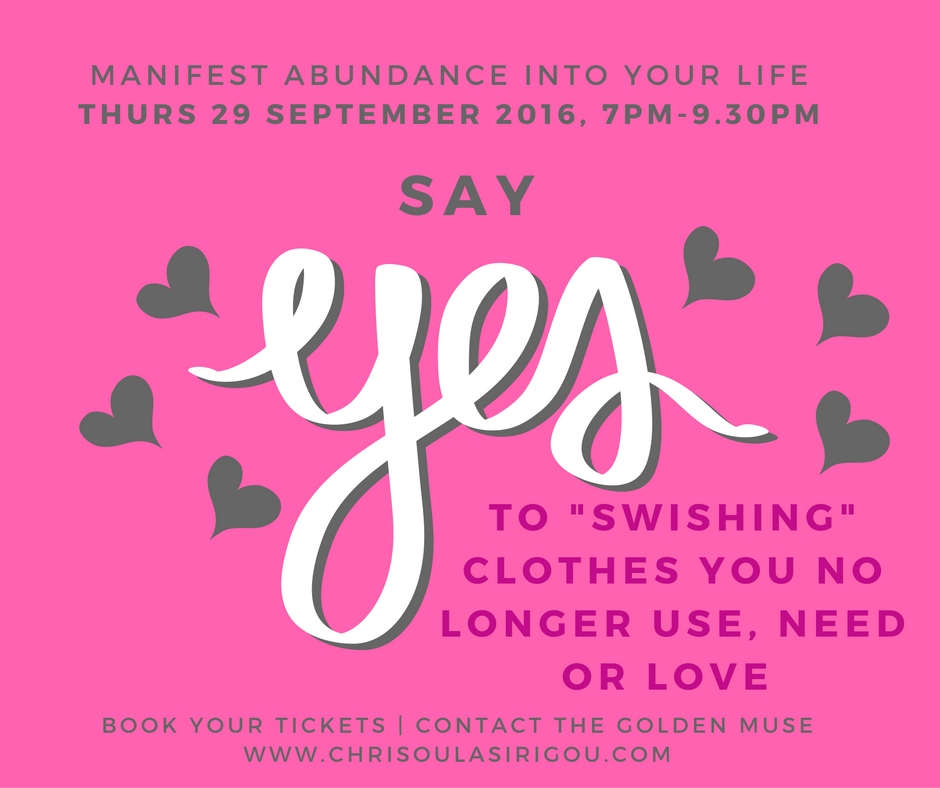 WHAT IS "Swishing"?
An ethical way to de-clutter your wardrobe, swap clothes and accessories you no longer use and love. Allow the energy to flow and

 enhance your prosperity and well-being with ease and grace.

Join the Eco-Fabulous Clothes-Swapping party with Chrisoula The Golden Muse
de-clutter your wardrobes and be happier – according to the Feng Shui philosophy
release and replace unwanted items with some new ones you'd love to wear and keep the energy flowing
discover how the Energy of Colour  can bring you more joy and abundance into your life
be inspired to attract more abundance into your life
be nourished with new connections and relax over a glass of bubbly (or non-alcoholic drink) and nibbles.
"Save money, save the planet, have a party: swishing effortlessly touches all of these buttons. Swishing parties are for all those women who want to combine glamour, environmental protection and frugality." –Lucy Shea
Swishing Program
6.30pm-7.00pm Drop off items (please bring your slippers with you to be more comfortable!)
Bring at least 1 or 2 good quality items of clothing, shoes or accessories that you'd be proud to pass on to a fellow Swisher
Maximum 8 items each! Simple!
In case you can't bring an item, then you can purchase a £5.00 token.
7.00pm to 7.45pm – Relax and Connect over a bubbly or non-alcoholic drink with nibbles
Catch up with your friends and meet new like-minded people while eating and browsing the rails and look at the fantastic free goodies on display, but you can't claim any items until the Swish officially opens.
8.00pm WELCOME from Chrisoula

TALK/DISCUSSION
"The Life-Changing Miracle of DeCluttering and how it helps manifest abundance in your life" 
Here are 4 specific themes we shall be exploring with Chrisoula and her guest speakers …
1. DECLUTTER YOUR ENVIRONMENT with Dr. Dawn Cox MBE
Master Practitioner of the Lillian Too School of Feng Shui and has also studied with Robert Gray Feng Shui Academy, Karen Kingston, John Sandifer and Simon Brown. Dawn and her husband, Lionel Cox are the co-founders of Blissland.
2. DECLUTTER YOUR RELATIONSHIPS with Chrisoula Sirigou, The Golden Muse
Colour Psychologist and Teacher of Colour Mirrors Energy System, Heart Intelligent (Heart IQ™) Relationships Coach, Broadcaster of her weekly "Health and Healing" Radio Shows.
3. DECLUTTER YOUR MONEY with Marie-Claire Carlyle, author of How To Become A Money Magnet
Author , Speaker, Success Coach and Professional Network Marketeer. Marie-Claire has spent most of her working life coaching people to achieve six figure incomes and she is passionate about inspiring you to follow your dreams and to be all you can be. "Tomorrow's wealth is created by today's entrepreneur" says Marie-Claire.
4. DECLUTTER YOUR HEALTH with Sue Ritchie of Your Ecstatic Health
speaker and author of "Love Your Gut" The Practical Guide to Sustainable Weight Loss from the Inside Out.
8.45pm to 9.30pm – Swish!
The Swish opens for you to Swish to your heart's content! Remember … no scratching, spitting or biting!
Charity Giving
Items that are unclaimed at the end of the evening will be donated to a local charity.
Come along with your friends to a fun-loving and ethical party!
We look forward to a relaxing and inspiring evening at the land of bliss – Blissland!
Colourful blessings for Love Vitality and Prosperity
ChriSOULa — The Golden Muse xxx
P.S. WHY Swishing?