Celebrate World Book Day 2019
 Soulful Musings Coffee Morning Circle

Thursday 7 March 2019, Doors open at 10am for 10.30am start – 12.30pm
The Cheshire Cat Restaurant, 26 Welsh Road, CW5 5ED, Nantwich, Cheshire
(8 miles off Junction 16 on the M6, Car Park Available)
Books are my best friends, says ChriSOULa, The Golden Muse, broadcaster, GoldenMuseTV host, emotional wellbeing educator and author of the award-winning The Book of Soulful Musings. ChriSOULa is the proud host of LIFE Awakening events, retreats and annual celebrations over the last nine years incl. World Book Day. Now she is introducing her first "Soulful Musings Coffee Morning Circle" for all book lovers, life explorers and change makers.
On Thursday 7 March 2019 in the company of LIFE Explorers … authors, co-authors, authors-to-be, illustrators, creative educators, poets, artists, change-makers, visionaries and open to anyone who loves books, we celebrate together the wonder of books, story telling, creativity, expression, inspiration and expansion. In fact, it's the biggest celebration of its kind, designated by UNESCO as a worldwide celebration of books and reading, and marked in over 100 countries all over the world.
ADVANCED TICKETS ARE ON SALE:
BOOK your Early Bird Ticket £20.19pp by Thursday 21st Feb 2019
Standard Entry Ticket for one person £25.50 includes:
+ entry for one person to the world book day celebration
+ refreshments
+ mingling/networking
+ BONUS OFFERS Choose between the following:
BONUS OFFER 1:  You'll be granted access to ChriSOULa's enlightening "2019 SOULful Predictions" Energy Forecast 2-hour Mastercall. Discover Your Personal Year Number, Soul Colour & Supporting Planet for 2019!
OR BONUS OFFER 2: You shall receive 1 x signed copy of ChriSOULa's Award-winning "The Book of Soulful Musings" (RRP £16.99, Golden Muse Publishing 2018)
Premium Golden Ticket (bring a friend for free) £75.00 includes:
Showcasing/Presenting your book/community project/club/magazine at our Soulful Musings Coffee Morning Circle
Radio Interview Slot at ChriSOULa's The Health and Healing Show 1-2pm at the studio of RedShift Radio
Refreshments + Mingling/Networking

BONUS 1:

 15-min Video Interview Book Review on ChriSOULa's GoldenMuseTV 
BONUS 2: Promotional Marketing campaign on social media

BONUS 3:

A complimentary entry ticket for a friend (***excludes signed copy of The Book of Soulful Musings)
ADVANCED PAYMENT CAN BE MADE ONLINE BY BACS.
Email ChriSOULa csirigou@btinternet.com to receive BACS payment details.
A receipt will be forwarded to you upon payment notification. Thank you. 
OPEN TO EVERYONE WHO …
is fond of books …
is a published author, or, in the process of writing their book
finds peace, hope, excitement, enrichment and immense possibilities in books …
has changed direction and the way perceiving LIFE thanks to (a) book(s) …
has felt completely immersed in a book and its magic …
is looking for inspiration to make the step and write THEIR Own Book
EVENT SCHEDULE
10.00 – 10.30 Mingling, browsing and networking over a freshly brewed coffee or tea
10.30 ChriSOULa welcomes book lovers, authors and creative spirits
–> World Book Day Theme Topic: "How to live LIFE with Flow and Ease in 2019″
12.30pm Coffee Morning Soulful Musings Circle ends.
*** At the end of the event you're welcome to order some yummy lunch (not included in the ticket price) before heading to the studio to broadcast LIVE The Health and Healing Show 1-2pm with more uplifting Soulful Musings celebrating books on air!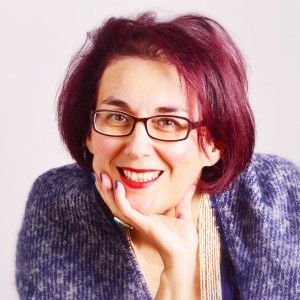 Chri
SOUL

a – Your Host

ChriSOULa Sirigou, The Golden Muse, is a Broadcaster, TV host, LIFE Mentor, Author and Promoter to some of today's most heart-centred thought leaders.

As CEO of GoldenMuseTV, ChriSOULa promotes stories and expertise of the most authentic Holistic Health and Well-being advocates including Hay House author, Davina Mackail, for the last nine years. Some of them have also featured on her weekly radio shows and are now published authors in her award-winning The Book of Soulful Musings.

ChriSOULa's expertise as a Colour Psychologist and Analyst  specialising in the Colour Mirrors System are sought internationally, helping individuals set their spirit free and reveal their true, AMAZING Colours!

ChriSOULa is driven to give people the tools to "Claim Your Gold" and self-worth and say yes to becoming more visible and in the flow of LIFE.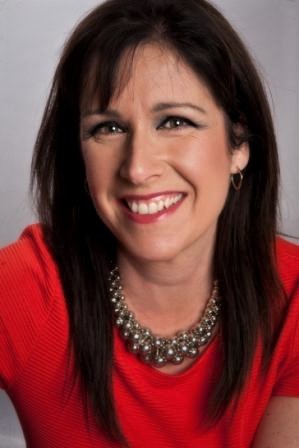 Bernadette Sarginson
Bernadette Sarginson is an Empowerment Coach and Mentor, and Creator of the Spirit Level Success™ System – Six Secrets of Self-Esteem. She is an Intuitive with a mission, and that mission is to assist as many people as possible to really own and acknowledge their true unlimited potential.
Working in a bespoke and unique way, she brings a powerful mixture of life experience, intuitive wisdom, education and coaching to enable you to raise your game both personally and professionally.
Her passion is to work in gentle transformation for women, and men, with high success on the outside, and low spirit on the inside. To help you feel and experience your true sense of 'Self', and to empower you to develop a robust core so you can face anything life throws at you, and re-balance any time you need to. Because when you start shining brightly, you give everyone around you permission to do the same.
Maureen Brindle
Maureen Brindle has authored 8 books and co-authored 3 books including 2 with Princess Maria Amor. She writes adult and children's poetry, scripts, biographies and novels. Maureen is the official Poet of We Care for Humanity and the 2nd/3rd/4th Global Officials of Dignity Awards. She has received many awards and honours.
Susan Brookes-Morris
Susan is the founder of Positive Kids and Positive Publicity. She loves writing and has an interest in holistic health, particularly linked to the emotional wellbeing of children. Susan produces Positive Kids magazine and runs the associated Facebook group. She also works as a PR consultant and provides writing, editing and proof-reading services. Susan is the Editor of the award-winning The Book of Soulful Musings.
Valerie Dwyer
A Successful Serial Entrepreneur with 10 businesses under her belt; a Global Speaker and Champion for Women's Entrepreneurship and Leadership – having been appointed to a UK Government Taskforce for Women's Enterprise. Valerie has appeared on numerous TV and Radio programmes, both for her own businesses and championing those of Clients; been invited to 3 Royal Garden Parties for my services to Women, Entrepreneurship and The Prince's Trust … and much more. 
The Book of Soulful Musings Nantwich Book Signing Event – 7th March – 6.30pm for a 7pm start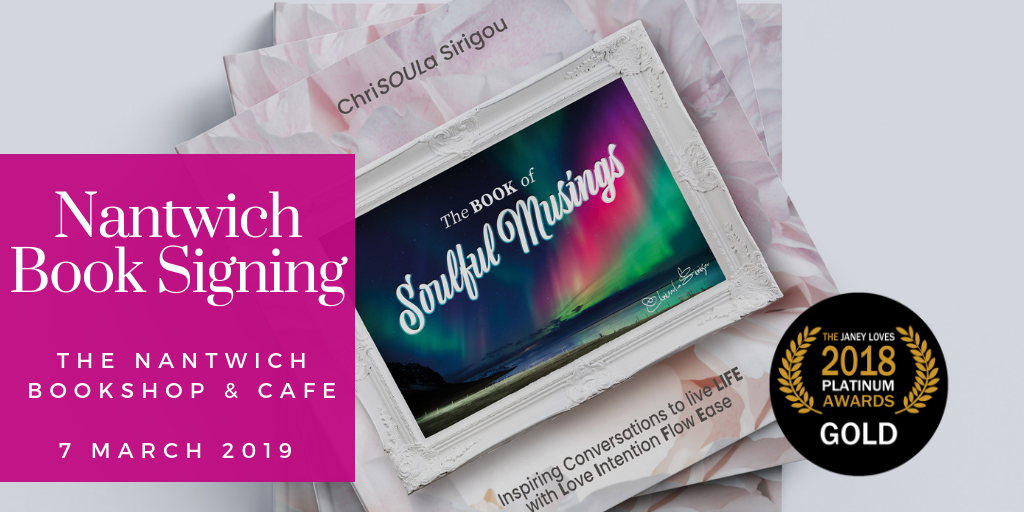 World Book Day Celebrations conclude with a local book signing event
at The Nantwich Bookshop and Cafe. Doors open at 6.30pm.
Local author and Broadcaster ChriSOULa Sirigou will be at the Bookshop to launch 'The Book of Soulful Musings' – Enlightening insights, tools and guidance from life inspiring conversations to soothe, support and uplift your physical, mental and spiritual wellbeing. Doors open at 18:30 for a 19:00 start.
Tickets are £7.50pp which include a £2.50 discount upon book purchase on the night and substantial delicious snacks. There will be a cash bar.
ChriSOULa will be giving a talk about one of her favourite topics also explored in her book: "How to live LIFE with Flow and Ease" sharing some of her top tips for mental health and mindful living.
Looking forward to connecting with you book lovers and celebrating the magical power of books, self expression and communication from the heart.
Colourful Blessings,
ChriSOULa
http://www.ChriSOULaSirigou.com
htpp://www.TheBookofSoulfulMusings.com
P.S.
SPECIAL BONUS OFFER for the first 9 action takers who will be booking their tickets before 22 February: 
As a Thank You for taking inspired action, you'll be granted access to ChriSOULa's enlightening "2019 SOULful Predictions" Energy Forecast Mastercall incl. Your Personal Year Number, Colour, Supporting Planet for 2019 (RRP £20.19)