Hi! I'm ChriSOULa Sirigou The Golden Muse
A colour entrepreneur, web TV host, author and unshakeable believer in inner peace dedicated to helping you activate your capacity to access and claim your "inner gold" your self belief, self value, self worth and wealth.
Colour analysis and Colour therapy helps you identify and remove all your mental, physical or emotional blocks to what stops you from alchemising your LIFE – your Love, Prosperity, Creativity and Joy.
Colour activates the connection with your "golden" authentic self, and empowers you to reveal your true colours enhancing relationships with your Self, your life partner, children, family, community and business.
The book I'm in the process of writing is designed with the therapeutic elements of Colour energy in mind. The Book of Soulful Musings – partly storytelling, partly educational infused with aha-moments, partly bringing in my rebelliousness to help shed light on how to embrace a WHOLE-ISTIC approach to health and partly empowered by the collective energy and wisdom of 30 educators – with one mission - to serve thousands of lives globally.
You can watch my video sharing its vision and purpose and how it would benefit you here.
Thank you for supporting its crowdfunding campaign on Kickstarter. We are delighted that our project was successful and looking forward to the next creative steps towards its publication in colour. You're welcome to find out more here.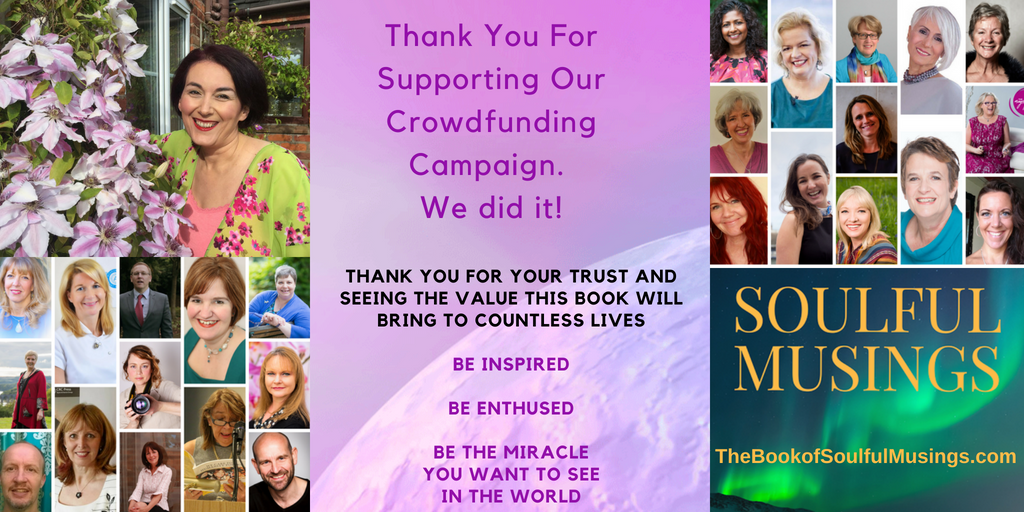 "Chrisoula was the perfect coach/guide on a colourful journey of discovery, both inner and of the island, on the 3.5 Day LIFE Awakening Greektreat™ in the Greek island of Santorini. She provided a beautiful safe and joyful container for inner exploration, and discovery of what the island had to offer. She was open and accommodating to our needs as a group and individually and flexible with schedules. I could relax completely as I felt held in her loving and competent embrace. And of course she speaks Greek! I definitely want to come back for more." — Satya Van Nood, Heart IQ Coach, Holland
Chrisoula is someone who is always uplifting and inspiring and is a gifted teacher due to the way she communicates and her eloquent use of language. She is easy to talk to and makes you feel comfortable talking about painful personal issues. I have been working with Chrisoula for two months using the Colour Mirrors System. The coloured bottles and spritzers are beautiful to look at and bathe in.  I now have 5 spritzers which I use in a variety of situations to either help me to relax, to support me through difficult situations or to eradicate negativity. As a result I am more confident in my abilities and believe more in myself. I have become more assertive, feel more able to establish and keep personal boundaries. I was fairly new to the self-love journey but can feel myself becoming more self-aware.  I feel more motivated and inspired to continue on my path of healing and self-development. Through working with Chrisoula and the Colour Mirrors Bottles I can see past my current situation to a bright and joyful future. – Rachel Simpson, Cheshire, UK