Soulful Musings Crowdfunding Campaign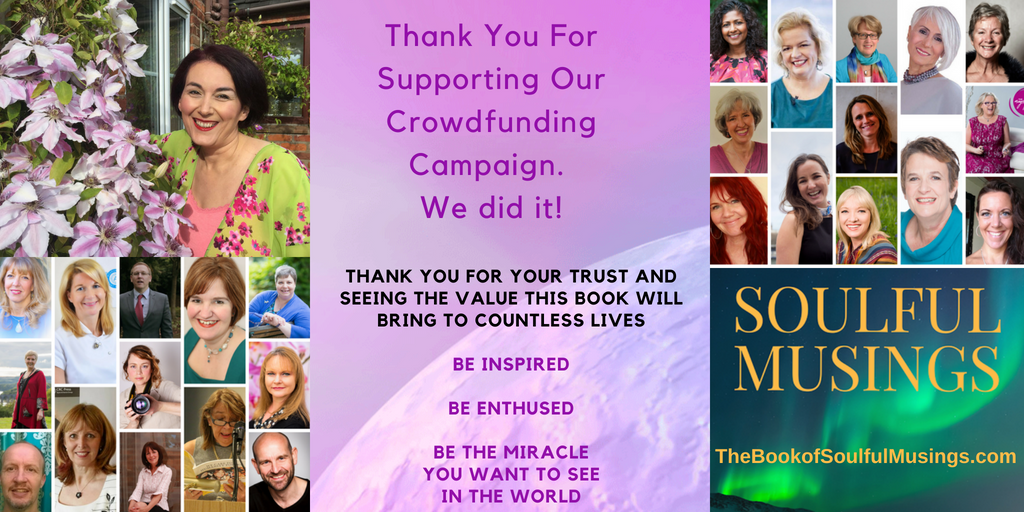 Update from ChriSOULa, conscious connector and author … 
#9 Update WE Did It!!! Hooray!
Yes WE did it! We reached the funding goal. Thank you! Thank you! Thank you!
We are honoured to have had pledges over £2500 and we thank all of you beautiful open-hearted people who know that this book has the potential to change many lives.
I'd like to introduce you to one amazing lady and one of the 30 wonderful contributors in The Book of Soulful Musings - Dr Gill Barham – author of "Your Heart Matters" and Web TV host of #VitalityHour show on BYPTV.
The episode below is with her special guest – me!
In this episode during the first 15 minutes Gill focuses on the the importance of collaboration, particularly in 2018 the year of Earth Dog, and then on the problems with sleeping and her 5 top tips to get you punching out those zzz in no time!
Gill then speaks to me – yours truly! about one of my life passions, Colour therapy and The Book of Soulful Musings.
65% is already written and is in the process of being edited. It is designed with the therapeutic elements of Colour energy in mind.
The Book of Soulful Musings – partly storytelling, partly educational infused with aha-moments, partly bringing in my rebellious nature to help shed light on how to embrace a WHOLE-ISTIC approach to health and partly empowered by the collective energy and wisdom of 30 contributing educators from across the UK and other countries in the world – With One Mission — To Serve Thousands of Lives Globally.
I shall keep you up to date with the evolving, exciting, creative process of writing the book and get it ready to be published very soon!
In the meantime, you can click the link and watch the video with my interview on Gill's show, The Vitality Hour, sharing insights about certain Colours (the show was recorded springtime) and a little bit about the vision, mission and purpose behind The Book of Soulful Musings.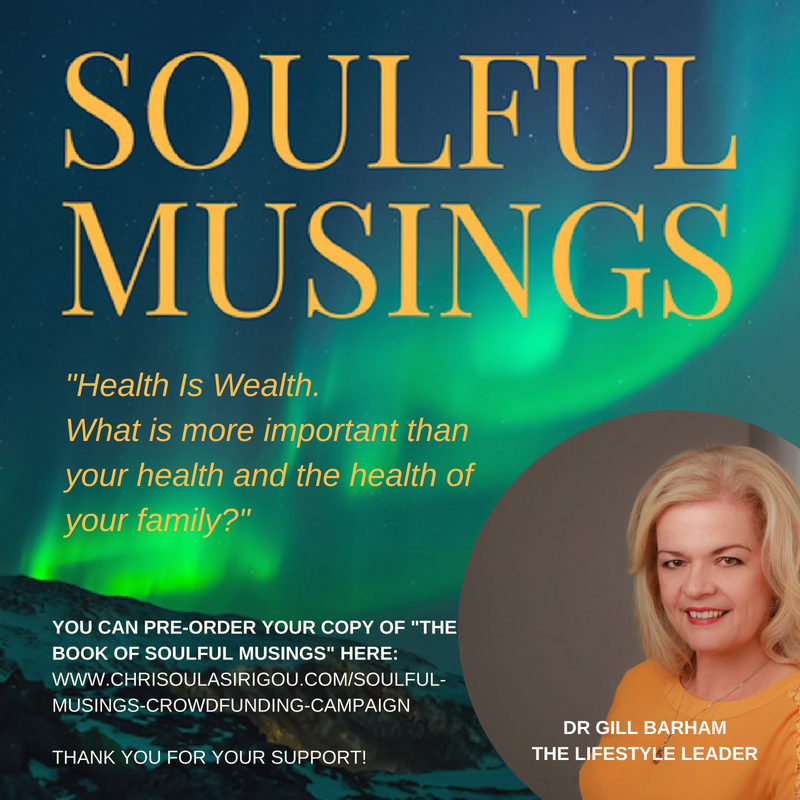 Message from ChriSOULa, Monday 9th July, 12:22pm
Dear Life Explorer and Book Lover,
I'll keep my update as brief as possible.
This is where we are today Monday 9th July as last checked at 12.21
£2207 pledged so far which is AMAZING! We trust we WILL be able to hit our book's crowdfunding goal of £2500 by tomorrow Tuesday 6pm – with your HELP.
Once you click on the link above it will take you to Kickstarter's crowdfunding page of The Book of Soulful Musings project. Your support at this point means so much to all 30 of us involved in this very important, heartfelt initiative and creative expression and intention to be of service to the world through this colourful book.
The Book of Soulful Musings Crowdfunding Campaign on Kickstarter is All or Nothing. 
This project will only be funded if it reaches its goal by 

.
Firstly, I'll invite you to watch the video that shares about the vision, mission and purpose of the book and how you can get involved. Next, there is a link "Back this project". By clicking that you will be able to read about the story behind the book, connect with some of the contributors and the book's journey. 
On the right hand side of the page there is a range of pledges to choose from including holistic therapy sessions and interview opportunities to increase your visibility and expansion.
Are you a published author or about to launch your book? This opportunity is for you!
The SPONSORS package (£50) offers space allocation (quarter page) for your BOOK COVER to be included in the RECOMMENDATIONS section at the back of the book incl. other fabulous bonuses: 
Are you a published author dedicated to holistic health, healing, conscious and prosperous living? If yes, this reward can be of benefit to you as a sponsor of the Book of Soulful Musings. As a Thank You, you will be receiving the following:
* Space allocation (quarter page) in the RECOMMENDATIONS section for The COVER of Your Book (high resolution image to be provided) at the back of the book
* One entry ticket to the Book Launch (in case you cannot make it, you can offer the complimentary ticket to a friend to join us)
* One signed copy of the Book
* Shout out on Social Media
* Acknowledgement in the Thank You section
* Interview on GoldenMuseTV with ChriSOULa
Full description for each of the pledges STILL available on the campaign's link here:
I would be very grateful for your help and for spreading the word out with your friends and family (even if it is with just one person) whose lives could be changed by reading The Book of Soulful Musings.
Small donations (with no reward) are also very welcome!
I'm putting my Heart and Soul in the co-creation of this amazing book. Thank you for being part on this journey with me and the 30 wonderful holistic health and healing educators who said Yes to coming on board with their stories, messages, gifts and expertise. 
If you need any clarification on anything, please do get in touch. Email: info@chrisoulasirigou.com OR send me a PM on Facebook. 
With much love and gratitude.
SAMPLE
An excerpt from
 the 
"Freedom and Flow"
 Chapter in 
the BODY section in The Book of Soulful Musings BOOK 1 by ChriSOULa Sirigou is available here: 
Chrisoula-EmmaGuy-Page1
A sample example of a featuring poem in the book is from Writer and Poet Sue Williams and is available here: Chrisoula-Shine-Page
– Graphic design of these sample pages by Ces Loftus.
A great diversity of Holistic Health and Healing shows on GoldenMuseTV available on ChriSOULa's YouTube Channel.
Watch Back "Stress Awareness Show" filmed on GoldenMuseTV on 11th April 2018 in support of Stress Awareness Week.