Greek Language Tuition Courses with Chrisoula Sirigou
Are you a LIFE Explorer? A Traveller? A Grecophile?
Are you fond of History, Mythology, Sacred temples? Wish to explore more of Greece, Greek food, wine, cuisine and culture..!?
Would love to enhance your experience while connecting and communicating with the locals?
Looking for more joy and vitality in your life … embracing adventure, nature and hospitality at its best!?!
Have you fancied the idea of speaking a foreign language but previous learning experience stopped you from taking it further?
If you answered Yes to any of the above, then you are up for a treat!
Chrisoula's GreekTreat™ experiences offer from in-person Greek Language and Culture Immersion Day Courses in small groups to private one-to-one Greek lessons and On-line Video Classes where you can join in from the comfort of your own office or couch even.
CONTACT Chrisoula via email: info@chrisoulasirigou.com to discuss and evaluate your needs and reasons for learning a language. Chrisoula will send you an evaluation form for you to complete and arrange to meet online or in her office in Cheshire.
Standard 60-minute 1:1 in person or online class = £37.00
A series of 6 x 1:1 online lessons booked and paid in advance
---
Have you ever experienced Chrisoula's GREEK SOCIALS?
Enjoy yummy, homemade Greek dishes together with interactive presentations transporting you to Greece and offering you inspiration about places to explore in her motherland, while feeling immersed in the Greek spirit of fun and togetherness. Check them out here>>

To your amazing Greek language (and gastronomic) experience!
ChriSOULa  – The Golden Muse
Founder of EXPLORAMA Optimum Wellbeing
Dedicated Linguist and Qualified Teacher of Modern Languages with over 25 years teaching experience in secondary school education, adult education colleges and private tuition in Greece, France and England where Chrisoula has been an ambassador of the Greek Language and Culture over the last 22 years.
PGCE in Secondary Education (French with Spanish) : BA (Hons) in Linguistics : CELTA Cambridge Certificate in Teaching English and Modern Languages to Adults : CEELT
LEARNING A LANGUAGE IS AN INVESTMENT INTO YOURSELF
As many languages you know, as many times you are a human being.

– Czech Proverb by Tomáš Garrigue Masaryk. It refers not just to the ability to communicate in different languages, but also the ability to share in various spiritual spheres of different cultures.

ONLINE WEEKLY COURSES with Chrisoula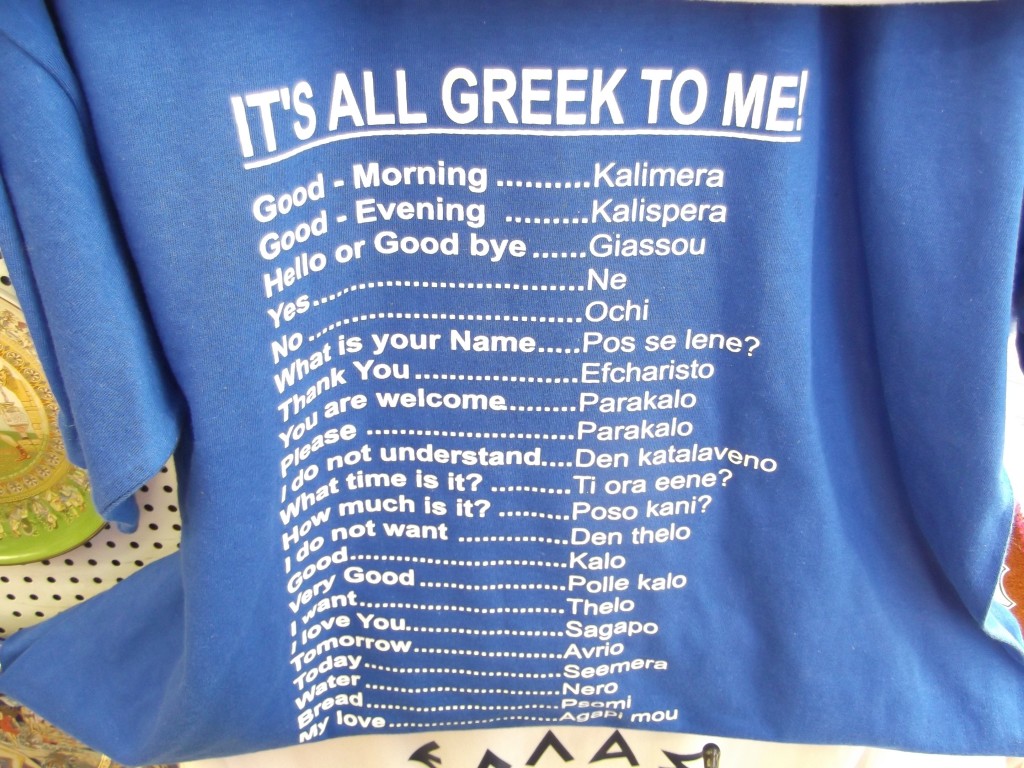 "It's All Greek To Me … Is It Really?"
10-Week Greek Language & Culture Course
Thursdays from 19.30 to 20.30, Group Class backed up with the audio links so you can listen or watch back again.
Contact Chrisoula to discuss your level.
YOUR INVESTMENT:
Advanced full payment of £82.00pp
OR £100.00 when paying in two instalments of £50.00 1.) before the course starts and 2.) at the end of the fourth class.
**** Worth knowing that the online video classes are recorded and will be uploaded on YouTube (private channel). They will be available to all Greek Language & Culture confirmed participants to watch back at your convenience. It helps to reinforce learning and catch up with missing lessons.
**** Ultimately, you can take so much more from your regular attendance and presence in the lessons and Chrisoula encourages you to show your commitment unless there is a family emergency or health issue .
10-WEEK SPRING COURSE COMING UP SOON!
WEEK 1:
This is an INTRODUCTORY taster class with Chrisoula covering the following:
saying hello and good bye … and how are you?
how to ask/say your name
basics about the Greek Alphabet (Yes! you can learn to read and write in Greek, if you wish!)
and also includes an overview about the Content/Topics, Aims, Material/books, Reasons why learning Greek. Q/A session.
EMAIL CHRISOULA info@chrisoulasirigou.com to ask for more information incl. BACS payment details to book your place on the course. The possibility to join the course after it started and at a later stage is possible. Please check with Chrisoula.
ONE DAY WORKSHOPS with Chrisoula

ONE DAY GREEK LANGUAGE AND CULTURE WORKSHOP (IN PERSON)
Starts at 10am and finishes at 3.00pm
Includes Greek language tuition by a native Greek, experienced and qualified Modern Languages teacher, mini breaks with refreshments, homemade Greek lunch (suitable for vegetarians), course materials (certificate of attendance, if required, for professional reasons). Special rate to join our Autumn 2016 Online Greek Course
Open to anyone with prior knowledge or no knowledge at all of Greek.
Your Investment / Standard fees: £88.00 per person. 
Advanced BACS payment required. For further details and book your place, contact Chrisoula info@chrisoulasirigou.com 
Run monthly OR bi-monthly depending on the time of the year in Barthomley, Cheshire, 2 mins off Junction 16 on the M6, these courses are led by Chrisoula's love for teaching and sharing her passion for raising awareness about her motherland's rich language, history, beauty, its sacred destinations and healthy yummy cuisine …
The course is destined to a small group of like-minded people for accelerated learning, immersed in Greek language and culture throughout the day with fun activities planned to keep you involved and connected with the spirit and culture of Greece.
Email info@chrisoulasirigou.com to ask for more details and to secure your place.

Individual one to one Greek language and culture lessons
Tailor made course to suit your individual needs and lifestyle requirements. A reliable, flexible and effective method of learning a language at any level in depth and for immediate results.
Flying Start Greek!
Language sessions in small groups once every week available in Cheshire and Staffordshire ideal for those embarking on learning Greek for the first time or with some previous knowledge of Greek for pleasure, business or relocation purposes. After the first six weeks, you will be able to introduce yourselves, exchange personal information, order at a café as well as read and write in Greek at a basic level! Emphasis is placed on spoken Greek and use of language in real life situations.                     
"Moving On" Greek
Weekly or Bi-weekly sessions Ideal for Post Beginners mainly Conversational Greek about Family, Hobbies & Work.  Gradual emphasis on written Greek with extended answers and feeling confident in asking questions. 
WHY NOT LEARN GREEK … IN GREECE?
At Celebrate LIFE Greektreats we create the opportunity for you as a participant to learn to communicate in Modern Greek with ease in a safe space with the guidance and support of an experienced and fully qualified native Greek teacher. The focus is on communication in Greek through fun role-plays, getting immersed in the culture by coming closer to the richness of Greek history, gastronomy and culture.
Chrisoula's approach 
combines practical 
methods with the motivation 
for her clients to invest in developing 
their language and cultural skills 
while deeply appreciating their personal interests and travel styles.
Learning a language in its natural environment and setting with real interactions and immersion in the culture and lifestyle of people is the best "medicine" you can take if you truly want to accelerate your language learning and make progress naturally and effectively.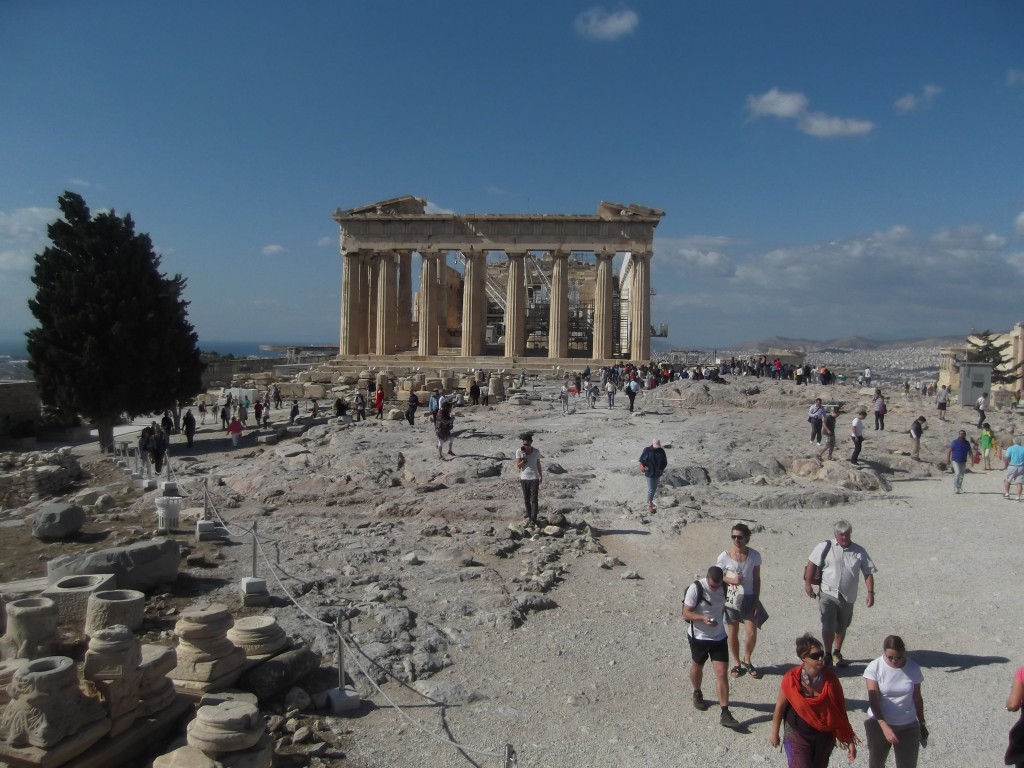 An interactive experience …
In our GreekTreat™ experiences, our key approach is to integrate the Greek language into real life contexts and cultural experiences focusing with both our body and mind. It is an interactive experience because language is communication. We explore and embrace connections with real local people, sensations, smiles, gestures, smells, tastes, feeling alive, taking in the beauty of the place and allowing some stillness in our lives.
So how does it actually work?
Chrisoula, personally selects a range of meaningful scenarios for you, she guides you and teaches you key vocabulary, phrases and skills you practise within the circle and in your social interactions with the locals while reading the menu, ordering food and drinks, purchasing something for you and your family or while exploring sights of cultural interest or walking and enjoying blue skies and the abundance of the blue Mediterranean sea.
A joyful and uplifting experience.
You have lots of fun, gradually feeling at ease with the new language and be able to celebrate your mini victories from introducing yourselves to new people, ordering snacks and drinks, paying for the bill, asking the way and reading signs in Greek. What an achievement this is!
What can you do next …?
For those Greek language and culture enthusiasts of the group who wish to make even further progress, optional private or group language sessions will be arranged with a Native speaker and an experienced and qualified teacher of Modern Greek.
Contact Chrisoula or Call 07766 052060 for an initial conversation to ask questions and establish your needs and times when you wish to pursue with the idea of investing in learning a language, a very rewarding and uplifting experience.
P.S. Small Group Greek Language and Culture Courses have been running in Barthomley, Cheshire, since 2002.
P.P.S. Day Workshops run every other month for an intensive, immersion experience in Greek language and Culture. Email Chrisoula to express your interest and enquire for more details: info@chrisoulasirigou.com
Look forward to welcoming you to one of our courses and day workshops soon.