By working with me!
There are many different ways to work with me and enrich your life.
You can book me to deliver one of my private readings or private coaching packages
You can bring me in to your business to work with your people
You can book me to work in your school with students and staff
You can buy one of my books or other products
And of course you can train with me!
There are so many ways to bring enrichment into your life!
Choose happiness today.
Colour + Numerology Cosmic Readings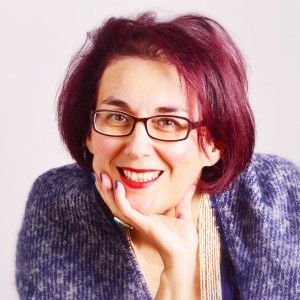 We are all very interested in who we are and how we interact with each other on this planet.  Many books, films, workshops and courses are available to help us understand ourselves and others better.
ChriSOULa Sirigou combines the ancient art of Colour Therapy along with Pythagorean numerology system and wisdom from our interaction with the planets and cosmos to create the nine colour paradigm.  The nine personality numbers give additional accuracy in describing the traits of each personality by the allocation of a different colour to each number.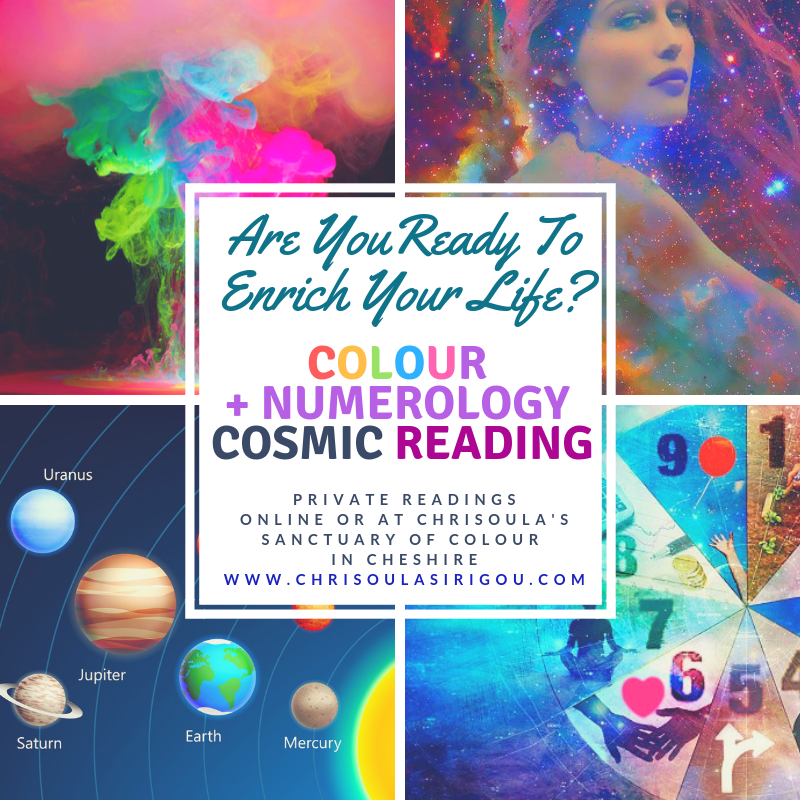 What's your Colour Personality?
The sacred wisdom of Colour and Numbers delve into our personality qualities.  When the weaker side of our personally takes over, sabotaging our peace and well-being, we need to consider our essence, our ideal state of being and try to relate with it.  Using the language of colour can help bring a transformative and non-judgemental approach, giving valuable insight and tools that can bring about balance and harmony.
You are more unique than just your core personality colour, so we incorporate the day, month and year colours to give you additional information on skills, talents and your communication style.  You can also learn about your mission, and what you are leaning through your lifetime.
Key benefits:
Reduce stress and help create healthy behaviour patterns
Support your personal growth and focus on your goals
Help you to build stronger connections in all your relationships, work and home
Transform you goals and objectives to create a fulfilling life
---
MINI Colour and Numerology Soul Reading 
Investment: £117.00
Send your date of birth via an email to Chrisoula and she will analyse the colour energies found in your birth chart and offer you insights into your skills, potential and areas you may hold yourself back and enjoy revelations and affirmations about your potential, vision and talents/gifts. Advanced payment can be made by BACS or by an international transfer.
---
Your Soul Number & Personal Year Number Annual REPORT (for 2019)
Investment: £137.00
This Personalised Report for the current year includes the MINI Colour and Numerology Soul Reading (£115.00) + the following:
1hr30 mins Your personal annual report for this year (2019) based on your date of birth, colour and numerology analysis
2 x Colour Mirrors Bottles: 1 x Dual Oil Coloured bottle and 1 x Spritzer (standard retail price at £35.00 per bottle + P&P depending on the destination) as outlined here as part of your Colour Therapy self-help tools and transformational journey.
14-page "Love and Success Colours for 2019″ Complimentary PDF document
Email ChriSOULa your Date of Birth at info@chrisoulasirigou.com.
Advanced payment can be made by BACS or by an international transfer. 
Here is an example below based on ChriSOULa's DOB in 2018 – She was having a CORAL Year!
to help you find out how you can calculate your Personal Year Number and Colour for this year giving you insights about potential events and opportunities and challenges coming up in the year ahead of you (and you can equally help members of your family and friends to receive this guidance and clarity, if you wish).
---
1 to 1 FULL Colour Consultation and Numerology Vision Reading
Investment: £197.00 (option to pay in 2 x instalments is possible)
This long, deep and meaningful colour and numerology analysis reading is based on your intuitive selection of 9 x dual coloured bottles for insights into current issues. Choose the bottles you feel drawn to at this point in time when you click here and send them in the order you chose them in via an email to ChriSOULa (info@chrisoulasirigou.com), together with your Date of Birth.
When you are about to connect with and choose the 9 x bottles for your reading, please take on board the following guidance and recommendations:
create a nurturing space for you when you connect with the energies of the bottles online (no distractions, light a candle)
take a deep breath saying "inhale love, exhale gratitude" AND set your intention(s)
ask questions for guidance on specific aspects/areas of your life that you'd like to see transformation (e.g. career, love, money, health or joy), clarity and support. Send the questions in your email to ChriSOULa incl. the 9 x chosen bottles.
Readings are two hours long and take place online on the platform called Zoom or in person at ChriSOULa's Sanctuary of Colour in Barthomley, Cheshire in England. When we agree the session is online, you need to download in advance the programme for free from www.zoom.us.
ChriSOULa will arrange the specific time that is mutually convenient via an email: info@chrisoulasirigou.com
Advanced payment can be made by BACS or by an international transfer.
*** BONUS 1 This package includes 1 x complimentary Colour Mirrors Oil or Spritzer Bottle of your choice to empower you on your journey. 
*** BONUS 2  "Love and Success Colours and Numbers for 2019″ Complimentary 14-page PDF GUIDE
---
Individual Colour Readings
Our individual colour readings can benefit you by:
Help you to build stronger connections in your personal relationships: Partnership Reading £77.00
Alleviate family tensions by understanding family members: Family Reading £97.00
Support and consider your children's development, in-person 40-minute Reading with child: Individual Reading £57.00
Attract abundance, love and happiness with complimentary colour: Annual Colour Review £77.00
Yours, your partner's and your child's date of birth is required when making a booking.
Readings are given face to face online on Zoom or you can come and visit us in Cheshire.