About ChriSOULa Sirigou

#TheGoldenMuse
HELLO FUTURE FRIEND – LET'S REVEAL MORE OF YOUR TRUE, AMAZING COLOURS!
HERE IS MY FANCY THIRD PERSON BIO: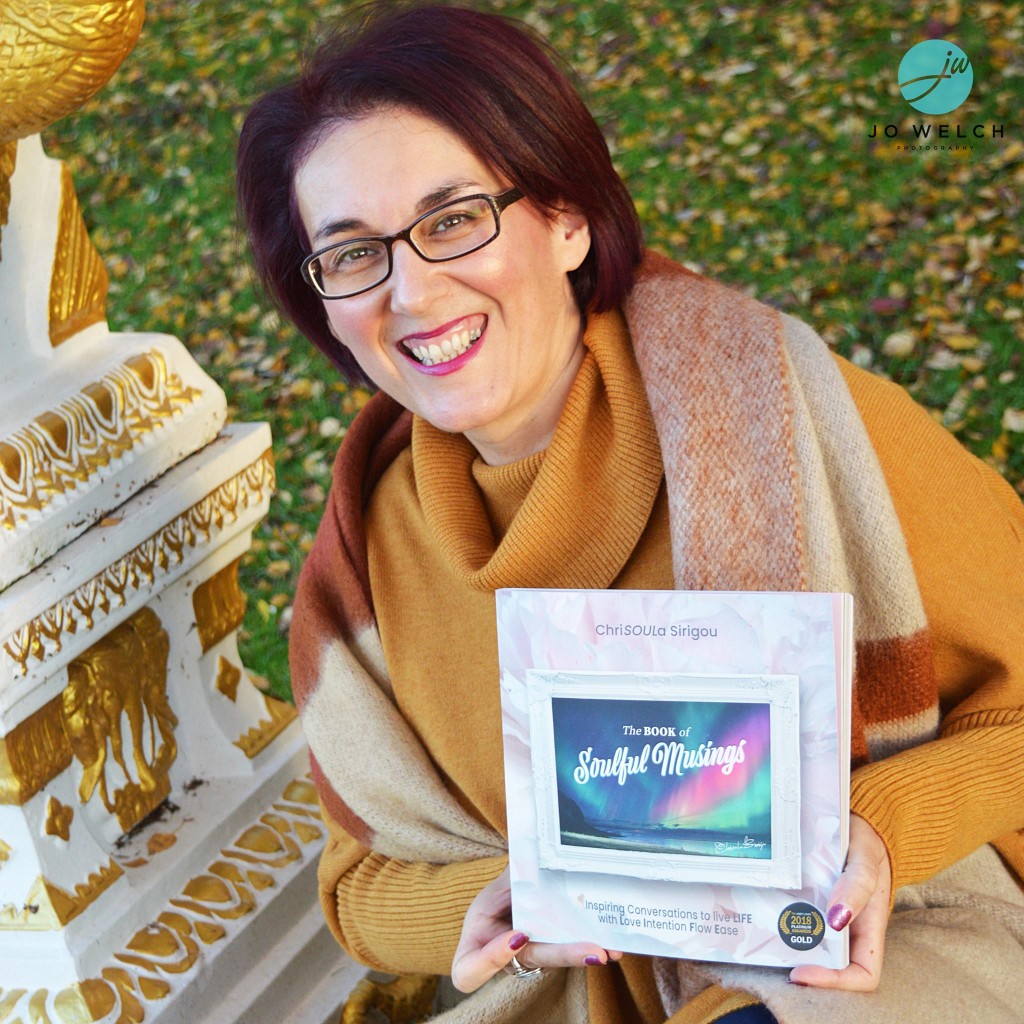 ChriSOULa Sirigou is a teacher, emotional wellbeing educator, broadcaster, colour psychologist and visionary guide. An enchanting storyteller, ChriSOULa in 

Greek meaning "the golden lady", is known as

The Golden Muse

for her 

colourful personality and adept skill in quickly inspiring people to step into their authentic flow and come home by bringing out their inner golden treasure. She is the author and publisher of the award winning The Book of Soulful Musings: Inspiring Conversations to live LIFE with Love Intention Flow Ease (Golden Muse Publishing 2018).
As the founder of GoldenMuseTV Channel she creates Prosperity IQ™ Videocasts, and also broadcasts weekly "The Health and Healing" Radio Show on RedShift Radio spreading golden light in her Inspiring Conversations with her guests about holistic wellbeing, conscious, prosperous and mindful living, personal and creative growth, and the transformational creative capabilities that reside within. Thanks to her unique gifts, ChriSOULa's expertise as a Colour Psychologist and Analyst specialising in the Colour Mirrors System is sought in the UK and internationally, helping individuals set their spirit free and reveal their true, AMAZING Colours through self awareness, inspired action, integration and soul expansion.
ChriSOULa's extensive background in uplifting guidance began twenty eight years ago; she established her unwavering integrity as Teacher of English as a Foreign Language (EFL) in Athens where she comes from and other modern languages, French and Greek, in adult education colleges in London, France and also in secondary school education in England, and continued following along this guided path to help other people find their truest selves through self expression, clarity and trusting their intuition, light and LIFE.
ChriSOULa completed a degree in Linguistics at the University of Manchester, and also holds a Post Graduate Certificate in Education. She is a member of the Heart IQ™ Academy established by Christian Pankhurst in Netherlands, and practises the teachings of Emotional Intelligence and living from the heart as a certified Level 1 Heart IQ™ Practitioner and Heart IQ™ Relationships Coach.
ChriSOULa is an avid traveller, a life explorer as she calls herself and all of us on this golden path of connecting with our spirit and prides herself on her passionate pursuit of learning and growing every day. In her spare time, she enjoys dancing, power walking, books, cinema, and practises colour meditation and Pilates to stay connected with her spirit and in shape.
ChriSOULa is listed as "One Of The UK's Leading Evolutionaries" following a public vote carried out in June 2016 on Source TV and was a Finalist at London 2018 Venus Awards in Outstanding Team Member Category. 
Chrisoula's energy and passion will inspire you to fully embrace your wealth, your gold, 
your Golden Self,
guiding you to make sense of your own LIFE language.
ChriSOULa's heart is firmly rooted in her Greek origins, and as the founder and director of Explorama, she
spends time every Spring and Autumn leading Colour Workshops and LIFE Awakening Greektreats™ inviting you to
Treat Yourself To Greece.
This unique blend of exploration of inner self and awesome Greek temples and sanctuaries with uplifting energy offers the perfect space to retreat, release, recharge, remember and be while immersed in natural beauty, blue sea, bright sunshine, yummy Greek food and sacred wonders!
Visit ChriSOULa,
The Golden Muse
, online:
Get Social!