ChriSOULa Sirigou Bio
ChriSOULa Sirigou is an inspiring teacher, dedicated educator, radio broadcaster, colour psychologist and visionary guide. An enchanting storyteller, ChriSOULa in Greek meaning the golden lady, is known as The Golden Muse for her colourful personality and adept skill in quickly inspiring people to step into their authentic flow and come home by bringing out their inner golden treasure. She is the hostess of two weekly radio shows about holistic wellbeing, conscious living, personal and creative growth, and the transformational creative capabilities that reside within.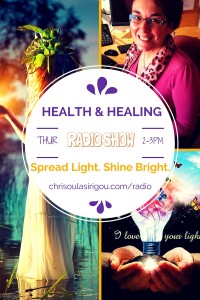 Because of her unique gifts, ChriSOULa's expertise as a Colour Psychologist is sought in the UK and her homeland Greece, helping individuals believe in their abilities and perform at optimal levels through self awareness, soul expansion and transformation.
ChriSOULa's extensive background in uplifting guidance began twenty five years ago; she established her unwavering integrity as teacher of modern languages first in adult education colleges in London, France and also in secondary school education in England, and continued following along this guided path to help other people find their truest selves through self expression and trusting their intuition, their light and LIFE.
ChriSOULa completed a degree in Linguistics at the University of Manchester, and also holds a Post Graduate Certificate in Education. She is an active member of the Heart IQ™ Academy established by Christian Pankhurst in Netherlands, and practises the teachings of Heart Intelligence (Heart IQ™) and living from the heart as a certified Level 1 Practitioner and Heart IQ™ Relationships Coach. ChriSOULa is an avid traveller and prides herself on her passionate pursuit of learning and growing every day. In her spare time, she enjoys dancing, power walking, books, cinema, and practises colour meditation and Pilates to stay connected with her spirit and in shape.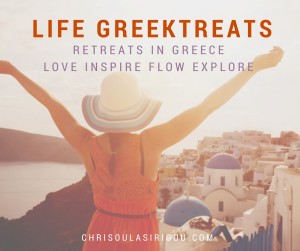 ChriSOULa loves Greece, and as the founder and director of Explorama, School of Languages, Culture and Lifestyle, www.Explorama.eu, she  spends time every Spring and Autumn leading Expansion Through Colour Workshops and hosting LIFE Awakening Greektreats™. This unique blend of LIFE experiences offer cultural exploration and time to retreat, release, remember and be in places of blissful energy in mainland Greece and in the volcanic island of Santorini, while immersed in natural beauty, blue sea, bright sunshine, yummy Greek food and sacred wonders!
To learn more about ChriSOULa, The Golden Muse, please visit www.ChrisoulaSirigou.com.