Experience the fascinating energy of Colour
with Chrisoula, The Golden Muse
An Introduction to Self Expansion Through Colour
DATES: Saturday 27 & Sunday 28 February 2016
Venue: Blissland, Congleton, Cheshire
BOOK YOUR TICKETS ONLINE BY BACS – EMAIL CHRISOULA – INFO@CHRISOULASIRIGOU.COM
DIRECTIONS HOW TO GET TO BLISSLAND WILL BE SHARED ONCE YOUR BOOKING IS CONFIRMED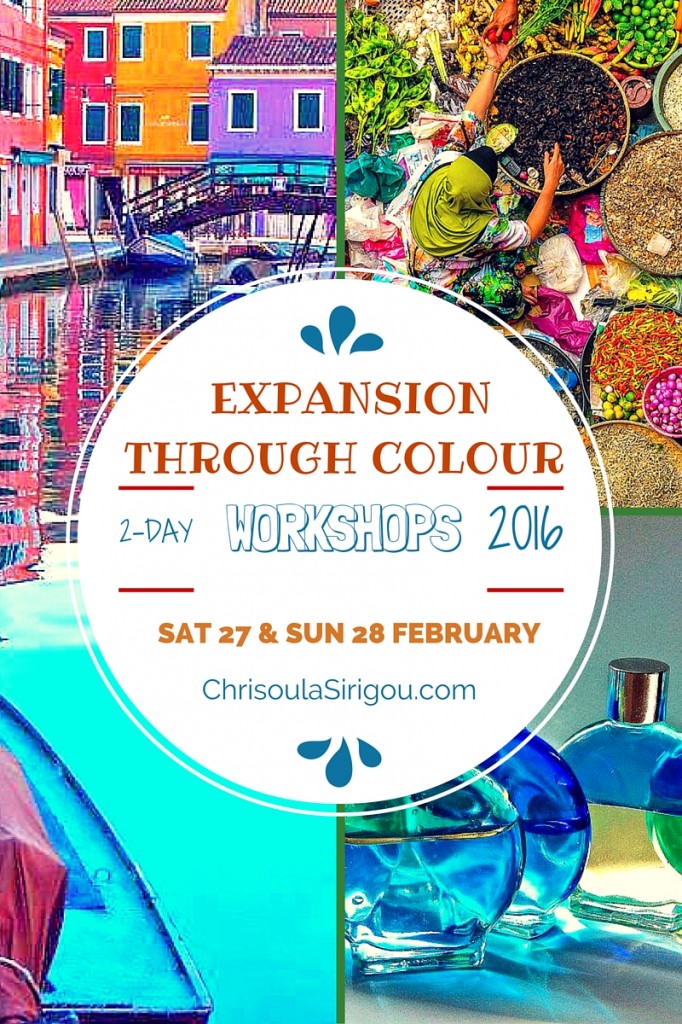 Do you want to dive deep while nurturing yourself – mind, body and spirit?
Do you want to receive more clarity while reconnecting with the source of LIFE?
Do you want to feel inspired and empowered while re-affriming your unique light and magnificence?
Come on a Colour Mirrors experiential course with ChriSOULa, The Golden Muse.
As a Certified Teacher of The Psychology of Colour (The Language of Light) and Practitioner of the Colour Mirrors System, ChriSOULa's presence and experience will create a nurturing and uplifting space for you life explorers facilitating your connection with and guidance from the energy of Colour.
WHO ARE THESE EXPERIENTIAL WORKSHOPS FOR?
These experiential courses are for those who feel called to experience something beyond the ordinary!
Explore the amazing power of colour and the system of Colour Mirrors at foundation level "Expansion Through Colour" workshops. You can choose to follow it up with in-depth practitioner training, if you feel the calling. These introductory courses are open to any individual who would like to learn more about colour for their personal development and self understanding or as an addition to an established health educator and therapies practitioner as a diagnostic, empowering and complimentary tool. 
WHY BLISSLAND AS A VENUE? 
I have been blessed to have experienced the welcoming, grounding and uplifting energy over the last five years after being invited to attend events or me hosting heart circle experiences and celebrations with speakers and guests under the umbrella of the Five Ways To Well-being. I Am truly excited to bring the Expansion Through Colour Workshops in this sacred land and educate people's minds and hearts with the insightful and joyful guidance of COLOUR. There will be lots of AHA moments I can assure you of that. — ChriSOULa Sirigou

The introductory Expansion Through Colour workshops are exciting, inspiring courses held over two days at a spiritually awakening space at Blissland, a venue chosen to support your growth, healing and expansion. Bliss land will offer the possibility for rejuvenation, re-alignement and connection with your soul's purpose. There will be colour meditations outdoors allowing your connection with the energy of Blissland surrounded by nature and situated at energising and powerful leylines. A beautiful spot that helps you remember who you are and simply BE.  Check it out HERE
WHAT CAN YOU EXPECT?
Over the two days of Colour explorations there will be powerful opportunities for you to immerse yourself in colour through practical exercises, meditations, readings and chakra balancing that will offer guidance and support in helping you open up to new possibilities on your LIFE journey. An extensive range of benefits are available during the experiential workshop. You will be offered the chance to: 
recognise your strengths and reaffirm your natural talents and skills (self awareness, self understanding)

realise what traumatic experience(s) may have held you back from moving on with your life (self liberating, empowering)

release limitations in the form of anxiety, confusion or self doubt (get more clarity and focus)

remove emotional blocks and fearful thoughts (get your power back and be in charge of your destiny)

reenergise your body, mind and spirit (feel uplifted and rejuvenated) 

rebalance the energy flow in your chakras (feel more connected with your intuition and realigned with your soul purpose) 
The Expansion Through Colour Conversations workshop will give you experiential knowledge and insight into the power of individual colours and their dual oil essences combinations, including releasing past memories and patterning, and opening you to transformation and new possibilities.
You will also experience …
Mindfulness and Colour Meditation
Colour Analysis Energy Reading based on your date of birth
Creative and Colourful Mandalas looking into the colours you choose to colour in and what this reveals about yourself…
What does the Colour Mirrors System consist of?
*36 dual-coloured oils, including a range of planetary bottles, to en-lighten you on your path and support you as you travel
*15 chakra bottles, including the 'new' higher vibrational colours to which our chakras are evolving
*33 Gaia essences including new Gold, Platinum, Coral and Silver rays which connect us with the "New Earth"
*38 colour essence bottles which provide instant support in any situation as reflections of our own higher guidance
Asking a question and then choosing a bottle to give insight and understanding about the question is an empowering, inspiring – and fun – way to receive guidance from your own higher levels of consciousness.  It is one of the great gifts of Colour Mirrors – that it empowers you to know what you already know!  It is not about anyone else telling you the answer or about seeking wisdom from outside of yourself.  Every bottle is simply a mirror what is already within you and by allowing yourself to select from these mirrors you reveal to yourself more and more of who you are.
Looking forward to welcoming you to the world of Colour and the wonderful Blissland!
Colourful Blessings
ChriSOULa — The Golden Muse xxx