The Book of SOULFUL MUSINGS:
Inspiring Conversations to live LIFE with Love Intention Flow Ease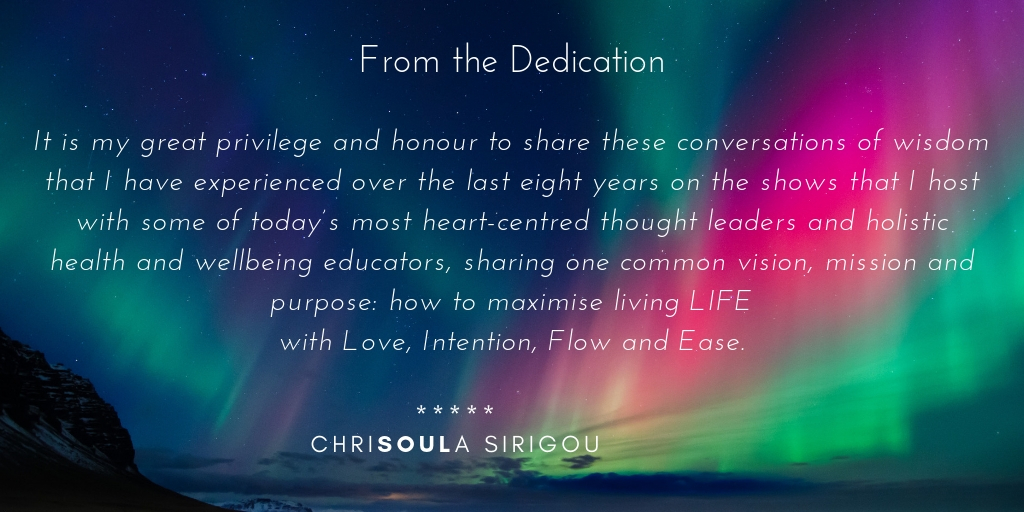 Empowered by the collective energy of over 30 contributors, it is infused with aha-moments, that help show you how to embrace a WHOLE-ISTIC approach to health and well-being.
Inside, you'll find insightful selections from meaningful conversations between ChriSOULa Sirigou, The Golden Muse, and some of today's most heart-centred thought leaders and holistic health and well-being advocates. All of these have featured on her Health and Healing Radio Show or her GoldenMuseTV Show.
Each of the 5 sections represent a powerful "key" in ChriSOULa's own evolutionary journey. Each of the 10 chapters in the book share lessons in finding purpose and being in the flow of prosperity. Visionaries, authors and teachers explain our complex relationship with the body, mind, heart, gut and spirit. Change makers explore faith, forgiveness, letting go and the healing powers of courage, compassion and connection.
The Book of Soulful Musings is available to purchase online here for the amount of £16.99 (incl. free postage to UK only). Also, available to our readers worldwide (postage rates vary).
Purchase the book directly from our global ambassadors in the following countries so far;
ChriSOULa Sirigou (Greece)
Constance Schaap (Netherlands)
Viola Edward (Cyprus)
Connie-Lee Bennett (France)
Anna Ananda Numell (Sweden)
Gitte Winter (Denmark)
Moira Bush (Canada)
CONTENTS 
*****
SECTION ONE: BODY 
PHYSICAL WELLBEING AND CONSCIOUS LIVING 
CHAPTER 1. NOURISHMENT AND GUT HEALTH
Love Your Gut … Sue Ritchie
Healthy Foods and Cleansing … Gill Barham
Sugar Cravings … Bridgette Hamilton
CHAPTER 2. FREEDOM AND FLOW
Acupuncture … Emma Guy
Sweat Lodges … Jason Sewell
Body Stress Release … Nichola Friel
Essential Oils … Jurga Proudlove
SECTION TWO: MIND 
MENTAL WELLBEING AND MINDFUL LIVING
CHAPTER 3. SELF-CARE. SELF-LOVE 
Remove The Mask … Speak Up! … Rob Mitchell-James
Vulnerability, Acceptance and Rest … Elaine Hanzak
CHAPTER 4. THOUGHTS. EXPERIENCES. FEELINGS
 Mindset, Sabotage and Resilience … Daksha Patel
The Aha Moment … Sherine Lovegrove
SECTION THREE: HEART 
EMOTIONAL WELLBEING AND JOYOUS LIVING
CHAPTER 5. COURAGE. COMPASSION. CONNECTION
Switch On The Heart Energy … Gitte Winter Graugaard
Walk Your Talk … Karen Shaw
I Am Enough … Lisa Spencer-Arnell
CHAPTER 6. CONSCIOUS, JOYOUS RELATIONSHIPS
Intuition, Movement and Stillness … Anna Ananda Numell
Follow The Breadcrumps … Constance Schaap
Conscious Relationships: Healing The Past and Growing Together
Christina Lausevic & Simon McIntosh
SECTION FOUR: SPIRIT 
SPIRITUAL WELLBEING AND PROSPEROUS LIVING 
CHAPTER 7. BREATHING. INSPIRATION. ABUNDANCE 
Breathwork, Thought and Action … Viola Edward
Crystal Therapy … Holly Hinton
CHAPTER 8. PROSPERITY 
The Time Is Now … Connie-Lee Bennett
Wisdom That Works … Davina Mackail
100% Intention, Plus 100% Surrender = Manifestation … Maggie Kay
Say Yes and Turn Up … Moira Bush
Access Consciousness … Heather Cowen
SECTION FIVE: COMMUNITY - CHALLENGES AND OPPORTUNITIES
CHAPTER 9. POSITIVE CHANGE AND AUTHENTIC LIVING
Pay It Forward … Gareth Presch 
Positive Kids … Susan Brookes-Morris
CHAPTER 10. SOULFUL MUSINGS CONTRIBUTORS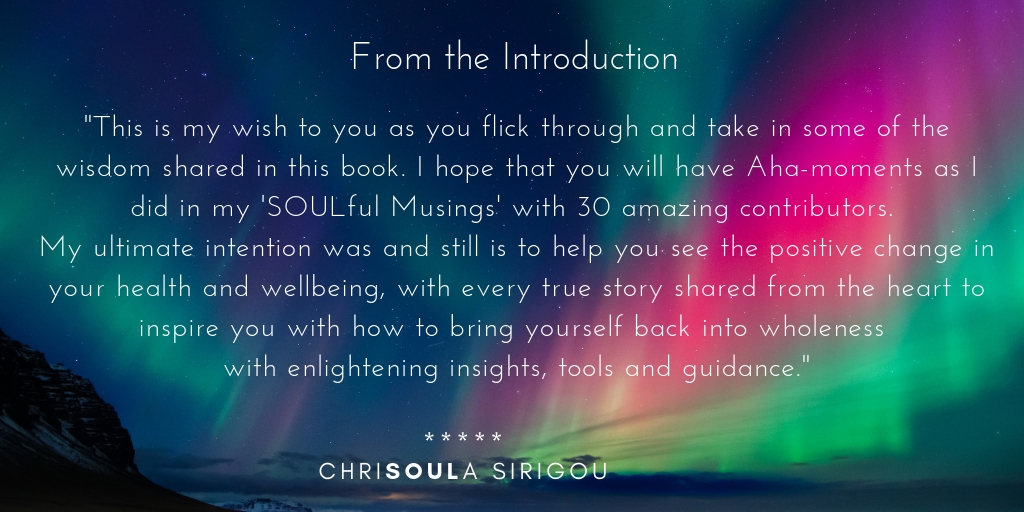 MEET THE BOOK'S AUTHOR AND PUBLISHER
ChriSOULa Sirigou compiled, wrote and published this book of extraordinary contributors with Golden Muse Publishing. ChriSOULa in Greek means "the golden lady." Enchanting storyteller ChriSOULa, is known as The Golden Muse because of her colourful personality and great skill in quickly inspiring people to step into their authentic flow and bring out their inner golden treasure.
ChriSOULa Sirigou believes that when it comes to real transformation, whether it's finding your purpose, taking a new step forward and following your dream, healing your health and relationships, or supporting your children, people aren't just looking for more information. She thinks that they are seeking inspiration and need role models whose empowering messages can help them to change their lives for the better.
Over the last eight years, ChriSOULa has showcased these role models and helped hundreds of holistic health and well-being educators, authors and heart-centred entrepreneurs to share their brilliance in an authentic, joyous and down to earth way through media production broadcasting her weekly Health and Healing shows on RedShift Radio, and also on her GoldenMuseTV channel. These LIFE Inspiring Conversations form the core of this book and have already had a profound effect on many individuals' minds, hearts and souls.