Aginares Me Araka: Peas & Artichoke Stew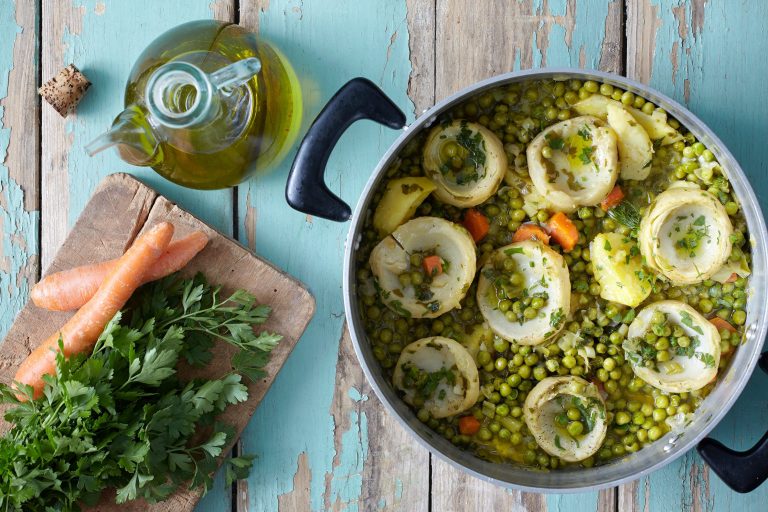 Everyone loves a yummy stew! This easy to prepare meal is a favourite not only on cool nights but also during spring and summer time. This Greek classic is traditionally prepared during the fasting period and is typically enjoyed as a main course, accompanied by bread and feta cheese on the side. It's also quite healthy, using loads of fresh vegetables. It can be cooked either in tomato sauce or in lemon juice called "Aginares a la Polita".
Ingredients 
1 kilo peas
½ kilo artichokes
5-6 potatoes
2 carrots
4 fresh tomatoes
1 big shallot chopped
Olive oil
A grip of fresh dill
Salt & pepper
Method 
Put the peas and chopped onion in a pot and cover with water and olive oil. Pre-cook for 15 minutes. In the meantime, chop the carrots and cut the potatoes in pieces.
Put the peas in an oven pan, add the potatoes, carrots and artichokes. Cut the fresh tomatoes and add them on top. Add salt and because it is fresh tomato you will add a little bit of sugar on top.
Cook in the oven for one hour to an hour and 1/2 at about 180 degrees.
Do you love exploring Greece?
*** This easy-to-make Greek Vegetarian Recipe was featured on episode 1 of "An A-to-Z Guide to Greece" video podcast show with ChriSOULa Sirigou and guests who love exploring Authentic Greece. Catch ChriSOULa broadcasting LIVE on Fridays @1pm UK on our EXPLORAMA Optimum Wellbeing Facebook page. Replays are also available on this page in case you cannot join live. Soon available on An-A-to-Z Guide to Greece YouTube channel and, fingers crossed, as a Podcast too.
Envision Yourself in Greece with all your senses!