The Golden Muse Show
ONLINE HOLISTIC CALLS

Chrisoula Sirigou (AKA The Golden Muse) is passionate about raising awareness and offering inspiration to help and empower self-awareness, self-growth and self-expansion. An experienced and enthusiastic broadcaster you will find her presenting her weekly radio shows on Thursdays from 2pm to 4pm on RedShift Radio and hosting LIFE Awakening Events, Online Courses and Retreats in England and Greece, she loves bringing together Holistic Educators, Speakers and Authors with the intention to inspire us LIFE-Curious people – LIFE Explorers – to carry on exploring, expanding and evolving.
ARE YOU a Multi-Passionate person?
Are you curious to learn more about Healthy, Mindful, Conscious and Joyful Living?
Are you saying Yes to sharing your light more? The Golden Muse Show is the perfect place for you.
COMING UP IN 2018
8PM – 9PM (UK time) on Zoom (and then uploaded on YouTube)
Firstly REGISTER at the top of the page and then SUBSCRIBE on ChriSOULa's YouTube Channel. You will receive information with link to join us LIVE on Zoom.
JANUARY: WELLBEING AND NOURISHING BEGINNINGS
THUR 11th "MICRO MOMENTS OF NOURISHMENT" WATCH REPLAY HERE
WED 31st January SUPER FULL MOON "The 3 Gs: Gratitude Generosity and Grace"
FEBRUARY: CONSCIOUS RELATIONSHIPS AND SELF LOVE
Thursday 1 February
Thursday 15th February

FACEBOOK LIVE MONTHLY CALLS 
On Second Monday of the month | 8pm UK TIME | CALL DURATION: APPROX. 30MINS
ONLINE HOLISTIC CALLS 2017
10 April (Find Your Why), 8 May (Prosperity & Divine Masculine), 12 June (Prosperity & Generosity),
10 July (Creativity), 14 August (Letting Go), 11 September (Peace),
9 October (Balance), 13 November (Kindness), 11 December (Soulful Connections)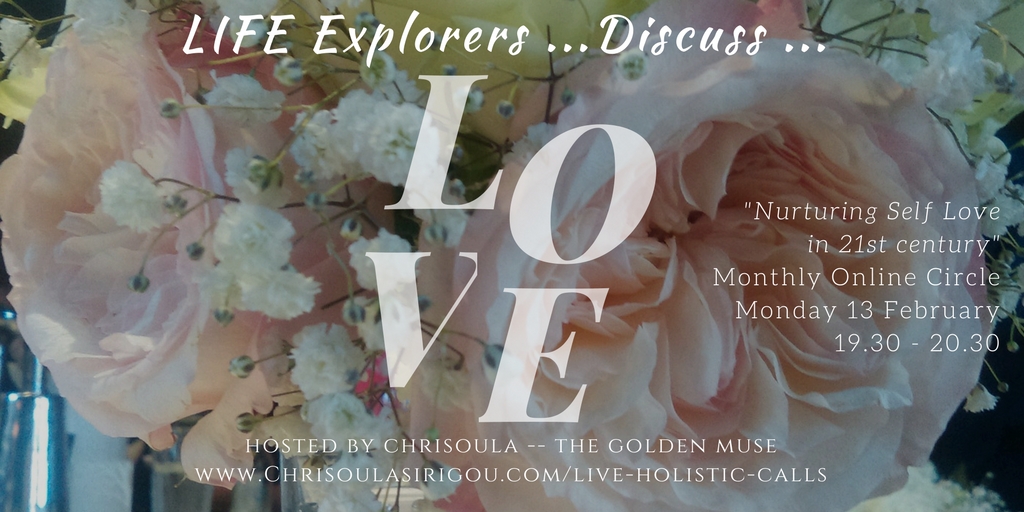 ONLINE HOLISTIC CALLS: Inspiration, Vision & Mission
At the start of 2016 The Year of Visibility, ChriSOULa felt a strong calling to show up more as a visionary guide and broadcaster. She decided to give herself a good stretch investing in her own evolution by stepping up with the creation of this on-line community having  been successfully involved in radio broadcasting since 2010.
Together with other holistic educators, ChriSOULa encourages us all to become more visible and share our unique light with life-curious explorers.
Collectively, we can have a greater impact to raise awareness and keep our vibrations high.
We all share one common passion: our curiosity to learn and grow more and enjoy LIFE as best as we can. Look forward to connecting with you all on the call! ChriSOULa — The Golden Muse xxx
HOW To Get On Board: Practicalities
REGISTER above in advance with your name and email address and RECEIVE the LINK with Meeting ID No in your inbox to access the call along with an update about discussion topics, speakers involved and monthly offers
DOWNLOAD in advance on your laptop or PC the video conferencing programme from here (www.Zoom.us is free and easy). Camera and microphone (normally integrated) are needed
ATTEND THE CALL  Your presence on the calls is important. As a contributor, this digital platform can be ideal for you to help become more visible raising awareness about specific area(s) you are passionate about. As a participant, it can prove beneficial to you to make conscious connections with other heart-centred people and to have the opportunity to ask a direct question to the guest speaker/author/expert, if you wish
IF YOU MISSED THE CALL, the link with the recorded video will be shared with you, so you can listen/watch back

HOLISTIC CALLS/THEMES FROM 2016
12 SEPTEMBER "The Life-Changing Miracle of Decluttering and how it helps Manifest Abundance into your life"
Guest Speaker: Dawn Cox MBE
Philanthropreneur and Inter-Faith Minister, Congleton, Cheshire
Dawn Cox is the award winning entrepreneur who starred in Channel 4's Secret Millionaire who has since trained as an inter-faith minister. Dawn is described by many as a being of unconditional love; people comment they can feel the love radiating from Dawn's essence. Dawn's passion is energy – be it Heaven energy, human energy or earth energy. She has been studying and practicing the art of Feng Shui since 1998 (she is a Master Practitioner of the Lillian Too School of Feng Shui) and has also studied with Robert Gray Feng Shui Academy, Karen Kingston, John Sandifer and Simon Brown. Dawn has a diploma in NLP and was ordained as Reverend Dawn Cox by the One Spirit Interfaith Foundation. Dawn was awarded Pioneer of the Life of our nation by her majesty the Queen in 2004 for the transformational affect her company had on the lives of all who lived, worked or played on her products whilst in business. Over the past 6 years Dawn has worked with orphans in Nepal, homeless people, street sex workers, teenage parents and other underprivileged people. Dawn has a big heart and always wants to help and support those in need. Dawn is aligned with the teachings and methodology of Dr David Hawkins – the Calibration of Consciousness – and her mission in life is to raise the vibration of consciousness to over 500…the vibration of LOVE. Her passion is to bring balance (our inner yin and yang) and bring harmony in to humanity.
10 OCTOBER "The Power of Success Stories"
Guest Speaker: Rachel Elnaugh
Rachel Elnaugh is the British entrepreneur who rose to fame as a 'Dragon' in the first two series of BBCTV's BAFTA nominated business show 'Dragons' Den'.  She created the experiences brand Red Letter Days at the age of 24 on a shoestring budget and built it into a market leading £multi-million turnover company.  She is an award winning business mentor, speaker and author.  Her latest business SourceTV is a video-centric digital publishing platform and marketing portal for Thought Leaders, Metaphysical Teachers, Transformational Coaches and Evolutionaries. Read Rachel's full Biography
14 NOVEMBER "In honour of #WorldKindnessDay"
Under the spell of the Super Full Moon – perfect timing to release anything that no longer serves you. ChriSOULa briefly shares the importance of honouring the natural cycles and connection with the earth elements and takes you on a colourful, soothing, meditative experience with the energy of the WATER element and Deep Turquoise, the colour of heartfelt communication, trust and creativity.
Also, on the call, we talk about how kindness towards yourself can have an impact on your success by helping you to be more VISIBLE daring to share your work and your personal gifts with the world.
LISTEN/WATCH THE CALL BACK HERE …>>
12 DECEMBER "Celebrating Changes in 2016, The Year of Completion"
Looking forward to come together online on 12 December to complete this year's series of LIFE Holistic Calls, connecting with change makers who dare … to see the change they wish to see in the world … inspired by Gandhi's quote and by the shifts and learnings experienced during 2016, on a personal level and collectively.
NOT TO BE MISSED …
You are all welcome to a real LIFE celebration that is hosted by ChriSOULa — The Golden Muse on Thursday 15 December at Crewe Hall. "Honouring Soul Connections 2016″ starts with an opening ceremony at 10.30am (please aim to arrive at 10.00am) and it closes at 5.30pm. There will be scheduled radio interviews from 2pm to 4pm at the studio of RedShift Radio to mark the 6th anniversary of Chrisoula's hosting LIFE Awakening Events under the umbrella of her business EXPLORAMA and broadcasting LIVE The Health and Healing Show since November 2010. Get your Early Bird Ticket £25.00pp here …>>