Welcome to April 2017 Holistic Call
LIFE Explorers …Discuss…
"Spring Energy and Find Your Why"
including ways how to hone your environment!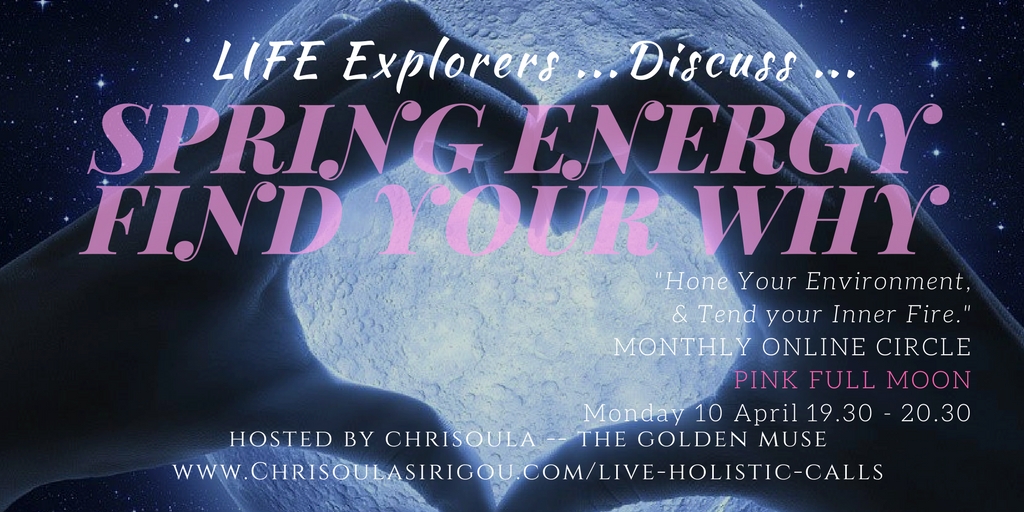 On this April 2017 Holistic Call episode, ChriSOULa, The Golden Muse, takes you on a deep meditation in Colour using the Colour Mirrors System and AIR elemental spritzer with the intention to connect us all with the element of AIR.
PINK FULL MOON IN LIBRA & THE AIR ELEMENT
The energies influencing you this period are linked with questions about your Identity – WHO AM I? – and in relation to others , your relationships. The Air element teaches us how to go through the moon cycles with ease by allowing to be more flexible and in the flow of the Stream of Life and in celebration of Spring Energy and PINK Full Moon in Libra (Air sign). The Air elemental of the Colour Mirrors System that ChriSOULa specialises in supports releasing confusion and stagnated energies that no longer serve you and gently brings more clarity through reflection, self expression, consciously  connecting you with your breath and, as a result, with your light.
Joined by LIFE Explorers …
Cheryl Chapman and Marion Bevington, the co-authors of the book "Find Your Why" who will be ChriSOULa's guests on her Health and Healing Radio Show on Thursday 27 April from 2pm to 4pm GMT on RedShift Radio, including Constance Schaap, Sue Ritchie, author of "Love Your Gut" and Linda Knight.
WATCH HERE RECORDED CALL/VIDEOCAST and enjoy a soothing meditation to bring you clarity and support setting new intentions and say Yes to New Beginnings this period as well as inspiring conversations to light you up with love and laughter.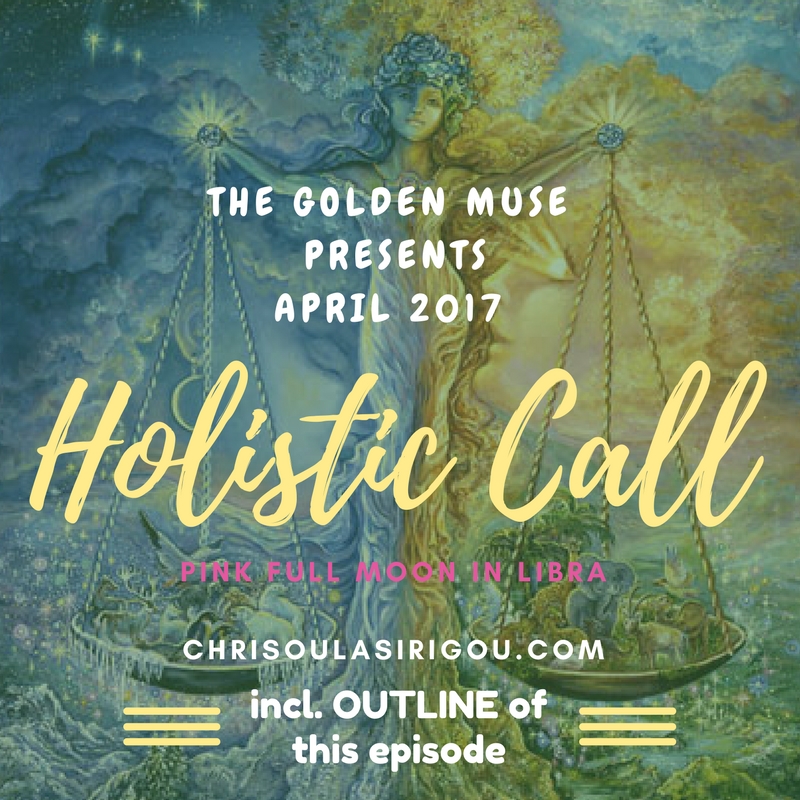 Welcome
[3.00] Planetary influences and Colour Mirrors System
[5.00] Key energies under the Pink Full Moon, the element of AIR
[8.35] What lights you up? Setting intentions before the meditation in Colour …
[9.30] AIR Elemental Meditation in Colour led by ChriSOULa The Golden Muse
[15.45] Gratitude expressed by Cheryl Chapman, her connection with Marion and her emotional self
[22.22] Marion Bevington and her relationship with Cheryl, freedom to play and experiment with who we are
[26.48] Retreats and their benefits to self expansion
[28.00] The ATL group
[32.00] Sue Ritchie gratitude for Spring energy
[33.00] the importance of honing your environment: externally / space clearing and internally / cleansing
[38.50] 21-Day Core Cleanse Programme by Sue Ritchie
[40.00] Importance of a Healthy Gut – (Watch Holistic Mastercall with Sue Ritchie here)
[42.00] What is Awareness by Marion Bevington
[45.00] A.I.M Awareness. Intention. Manifesting from the book "Find Your Why" co-written by Cheryl and Marion
[48.10] Who Am I? What lights me up?
[58.30] Life Inspiring Conversations continue on the Health and Healing Radio Show Thursdays 2pm to 4pm
[1.00.01] Constance expressing gratitude
[1.02.46] Rose Quartz crystal for love and relationships
[1.04.00] Thank you and upcoming call on Monday 8 May at 7.30PM on Zoom (see link to register in advance below).

WHY MEDITATING?
These short and deeply nourishing MEDITATIONS IN COLOUR with The Golden Muse can help you be in Sync with your SOUL Purpose, with the MOON cycles whilst they soothe you and gently ground you and bring you in alignment with your inner being and the wisdom of the Earth elements. Meditation puts us in the Receptive Mode and allows the manifestation process to take place smoothly and prosperity to appear in your life attracting loving relationships at work, family, finances, health, joy and abundance …
This episode includes: 2 x meditations led by ChriSOULa …
in nourishing PINK at the start of the call and

courageous FIRE elemental towards the end of the call.
It includes 1 x meditation in AIR elemental at the start of the call.
I/You/We deserve to have it ALL!
Colourful Blessings,
P.S. Join our bi-monthly online calls and circles with The Golden Muse:
1) HOLISTIC CALLS – open to all LIFE Explorers (male and female) – happen every second of the month (next one is on 8 May at 19.30 GMT) and you can register in advance and connect with LIFE explorers on this page: www.chrisoulasirigou.com/live-holistic-calls
2) NEW MOON Online Women's Circle happen on or as close to when New Moon is, a space where we women can nurture our feminine essence and share our vision and who we are in a supportive, non-judgemental and encouraging environment. Next one is on Monday 24 April 8.00pm – 9pm GMT