Celebrating Languages and Cultures CLC
Thursday 25 September 2014
The Studio, 100 Crewe Road, Alsager, Cheshire
Join our social evening celebrating the diversity in our community and a showcase of talents and colour from across the world! Enjoy a fun evening for all the family with homemade food, dance, informative presentations and much more. Celebrating Languages and Cultures CLC
What is CLC? A Social, Cultural and Linguistic Hub that brings together people, both adults and children, and different organisations within the North West of England with the intention to support and encourage a sense of belonging, cultural identity, heart-centered communication and community harmony in our area. The CLC Social provides an opportunity for families to have a fun evening out that offers something for everyone. We open this possibility for everyone to share their heritage, culture, dance, customs, interests linked with the country they come from like cooking, photography, painting, poetry, books, travel, history, archaelogy, architecture, cinema, films … The variety of subjects is immense.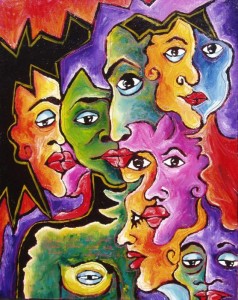 Let's celebrate our roots and the richness we bring into this world and the community we live in. In the future, we would welcome professional artists and community groups, static displays of cultural interest and information from major service providers as well as diverse food stalls, and activities for the young and young-at-heart.
Held at The Studio in Alsager
the CLC Social brings a colourful and exciting programme to bring people together, to celebrate diversity, multilingualism and love for connection and communication within our community and all over the world, starting on Thursday 25 September, honouring the European Day of Languages taking place on 26 September .
WHY getting involved with the CLC Initiative?
provides an entertaining evening out;
provides opportunities to try new foods and activities;
creates a sense of belonging to a diverse and interesting community; and
gives our community a chance to showcase their cultural, culinary and linguistic heritage.
WHO is behind it?
Initiated and led by Chrisoula Sirigou, with a real passion for communication through languages and cultural understanding, holds a degree in Linguistics from University of Manchester, a TEFL, ESOL and MFL teacher with a PGCE in French and Spanish from Keel University. A life explorer who loves travelling and adventure. From her own experience, Chrisoula is aware how to overcome feelings of isolation in community, disconnection from family and friends as well as dealing with cultural identity crisis having already studied, worked and lived in Greece, France and the UK over the last twenty years of her life. Her immersion and understanding of other cultures has helped Chrisoula to evolve into a richer and more open-minded person. As the director of EXPLORAMA School of Languages Lifestyle & Culture, her full intention is to run the CLC monthly and in partnership with Optimum Well-Being CIC, volunteers, local organisations and cultural community groups.
Tickets are on sale.
Entry fees: £15 Adults & £5 children. Family ticket option available. Membership option also possible.
Celebrating Languages & Cultures (CLC) 
The Studio, 100 Crewe Road, Alsager, Cheshire Thursday 25 September, 19.00 to 21.00
Call: 01270 879798 or 07766 052060 to reserve your place.
HOW can you get involved with CLC Community Social and Project?
You can either be a sponsor, advertise in our CLC Community Magazine, support us by raising awareness about your passion for languages and intercultural communication through a presentation, or workshop and you can equally promote the intention of the CLC Community Social at your organisation.
Contact: Chrisoula Sirigou
CLC Community Project Co-ordinator
Email: info@explorama.eu Call: 01270 879798 or 07766 052060