Meditation in Colour Classes with Chrisoula Sirigou
Excited to bring Meditation In Colour classes at the peaceful space of 
Ministry of Yoga
 in Crewe led by 
Chrisoula Sirigou
 Colour Psychologist, specialist in the Colour Mirrors energy system and Heart Intelligence Coach.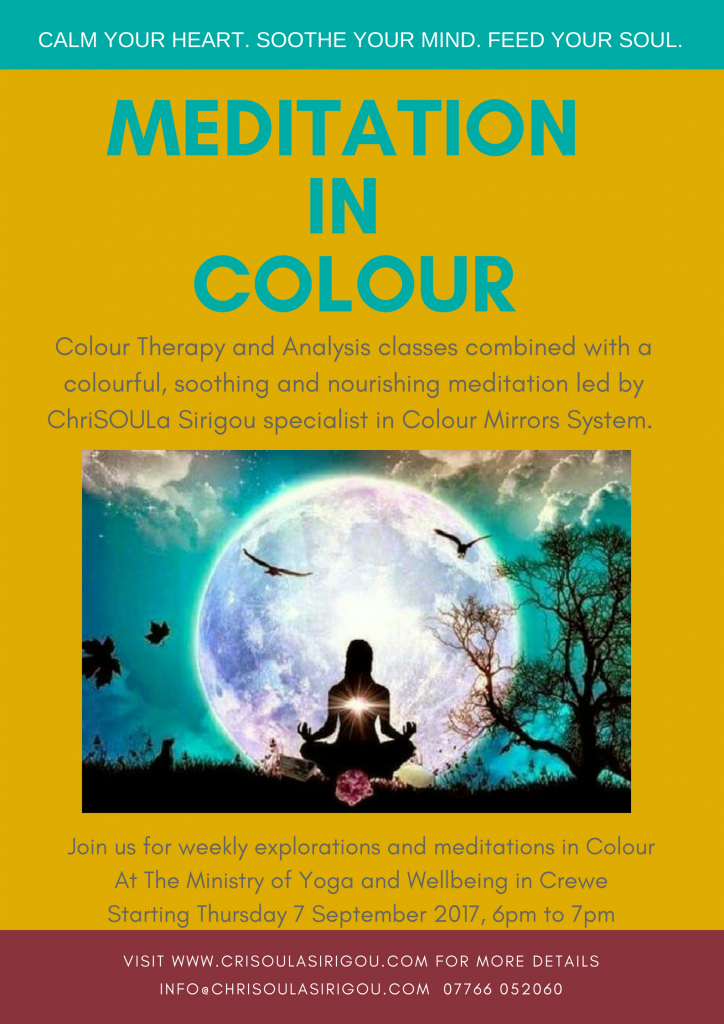 We shall be exploring the language and psychology of Colour in a heart circle focussing on monthly themes and colours. 

September is dedicated to inner peace and harmony through forgiveness and releasing emotions that hold us back and drain our energy.
By the end of the one-hour session you will feel grounded, nourished, positive, energised, uplifted, rested …depending on what you are in search for at this stage in your life.
Upcoming Weekly Meditation in Colour classes at £6.00 per person every Thursday.
14th Sept: Recap/Feedback from previous week working with colour RED and The First Spiritual Principle: Judge Nothing, Respect Everything
21st Sept: (Autumn Equinox and Peace Day) Colour Analysis / Meditation: ORANGE, Topic: Forgiveness / Letting go
28th Sept
5th October (Full Moon) Gold / Metal Elemental / Alchemy
12th October
19th October "Wear it Pink" honouring Feminine, nourishing energy
26th October
2nd, 9th, 16th (approaching NEW MOON), 23rd, 30th November
7th, 14th December
Check out ChriSOULa's bundle schemes and pay for multiple classes with fabulous BONUSES!
Feeling fab!!! I've been telling my colleagues all about it and they love hearing how much positivity it brings xxx thank you Chrisoula xxx — Emma Edge, Meditation in Colour participant

I'm floating!! Thank you for such an inspirational meditation.  You effortlessly held the space, allowing us all to be vulnerable and open

— Shelley Aspden, Ministry of Yoga


Contact ChriSOULa for more information
Booking your place in advance is essential by email: info@chrisoulasirigou.com
*** Pay for 6 weeks in advance £36.00pp and choose to have
1. either a complimentary 30-minute Colour Analysis Private Consultation with ChriSOULa
OR 2. a complimentary entry ticket to one of her 2-hour courses Heart Circles in Colour (bi-weekly on Saturdays) at the Ministry of Yoga. 
E: info@chrisoulasirigou com
M: 07766 052060
www.chrisoulasirigou.com
HEART CIRCLES IN COLOUR with ChriSOULa
BI-WEEKLY SATURDAY COURSE 11AM – 1PM
AT THE MINISTRY OF YOGA AND WELLBEING, CREWE
£15.00 per 2-hour class OR choose to opt for one of ChriSOULa's bundle offers
Upcoming sessions every second and fourth Saturday
23rd September
14th & 28th October
11th & 25th November
9th December