Get ready to completely transform your life. After last year's master number of intense spiritual lessons, you've realized there is so much more to your life than you've been experiencing.
You're ready for 
more love

, 

financial abundance

, 

spiritual and emotional fulfilment

.
Yes, you're ready to 
live your SOUL's purpose

!
This is your year

.
Now is your time.

Instant Access to  Masterclass +
 24page PDF Guide
ACCESS NOW >>
£25.50
Payment By BACS to Barclays, 20-94-48, 90321958, Ref: your name
---
Instance Access to Your 2019 SOUL Purpose Acceleration Tools 
+ Masterclass + PDF Guide:
Your Planet Dual Colour Bottle for 2019

Your Angel/Archangel Essence Spritzer for 2019

Your Dragon Essence Spritzer for 2019

SUPER BONUS! 1 x 50-minute one-on-one follow up session with ChriSOULa online on Zoom or in person (standard mentoring rate £75) to support your 21-day transformational process.
ACCESS NOW >> 
£129
Payment by BACS: Barclays, 20-94-48, 90321958, Ref: your name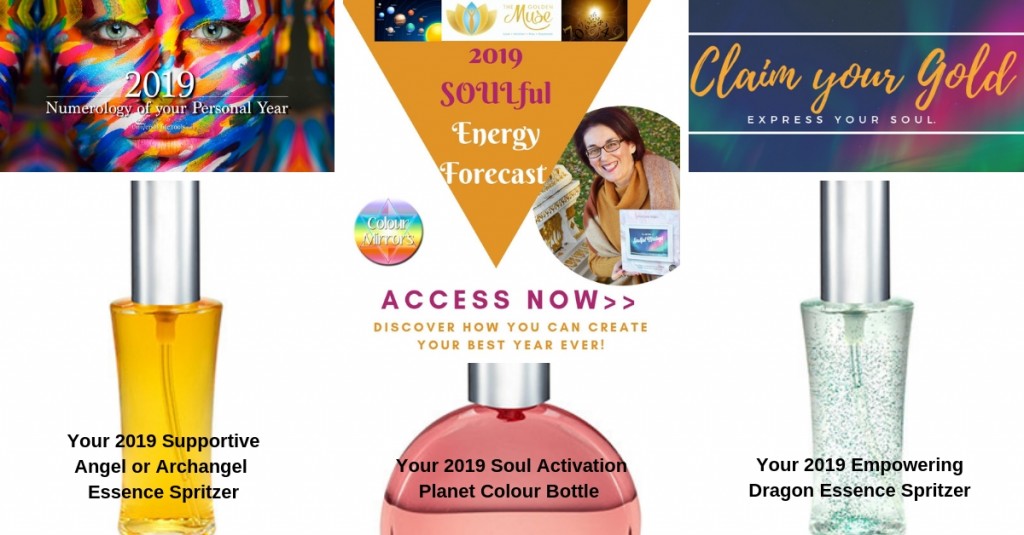 You can create your best year yet if you know how to navigate the energies
2019 is the year of the 

SUN!
All year, we will be influenced by the frequency of the joyous number 19.
In the system of Colour Mirrors, the 19th bottle is the BUDDHIC BLISS
1+9 = 10  –> 1+0 =  1
when we add up 1 + 9 = it comes to No 10 and connects with the 10th bottle
THE WHEEL OF FORTUNE (Gold/Olive)
and then it comes to No 1 and the 1st bottle, the SUN (Yellow/Yellow).
After the dark night of the soul, finally, the sun is shining in your life,
and you can see and feel the LIGHT.
This is a time of total renewal, rebirth, and healing.
Make 2019 your best year yet! 
Payment By BACS to Barclays, 20-94-48, 90321958, Ref: your name