CELEBRATE WORLD BOOK DAY 2016
Thursday 3 MARCH 2016
CREWE HALL HOTEL, Crewe, Cheshire CW1 6UZ
Followed by Scheduled Radio Interviews with ChriSOULa Sirigou on The Health & Healing Shows on RedShift Radio from 2pm to 4pm.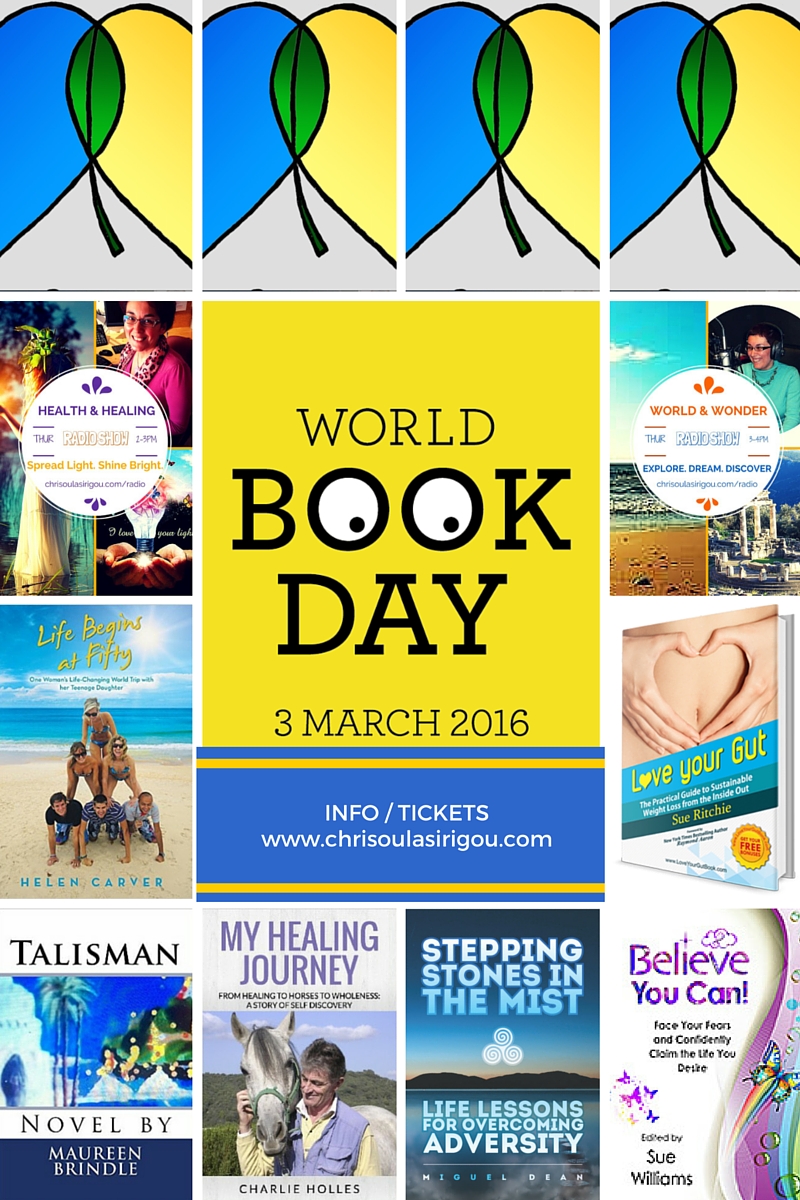 On World Book Day we celebrate soul connections, heartfelt inspiration, creative flow, in the spirit of fun and abundance, sharing life changing experiences, empowering stories and hopeful messages for self expansion and conscious living.
On World Book Day we are celebrating with …
PUBLISHED & PROSPECTIVE AUTHORS / CREATIVE & HOLISTIC EDUCATORS / BLOGGERS / BOOK LOVERS
Showcasing books. Short book presentations followed by Q/A session with ChriSOULa and book signing.
Active Social Media Promotion. LIVE on air interviews with Chrisoula on the Health and Healing Shows.
STANDARD TICKETS FOR BOOK LOVERS, PROSPECTIVE AUTHORS, TEACHERS, PARENTS …
£20.00 per person incl. refreshments, connecting with authors and people interested in learning and involved in creativity and growth. Inspirational talks. Book signing.
CONNECT WITH CHRISOULA
EMAIL: info@chrisoulasirigou.com
EVENT SCHEDULE
11.00am to 2pm
Join us for a bubbly, uplifting coffee morning with talks from authors, poets and creative educators celebrating the wonder and magic of books. Following the book presentations, Chrisoula Sirigou will be facilitating a short interactive Q/A session.
2pm to 4pm LIFE CONVERSATIONS ON AIR - REDSHIFT RADIO
Regents Park, London Rd, Nantwich, Cheshire CW5 6LW
LIFE Inspiring Conversations with ChriSOULa, The Golden Muse, hostess/broadcaster and participating authors on her shows at the studio of RedShift Radio.
FIND OUT HERE about ChriSOULa'S Health and Healing Shows. Listen to previous guests and their interviews/audio casts.
Health & Healing (2pm-3pm)
World & Wonder (3pm-4pm)
During the interviews …
you will have the chance to connect with Chrisoula and the participating authors of World Book Day 2016
whilst giving messages of inspiration, sharing personal stories and the purpose, intention and vision encapsulated in the creation of their books.
Participating Books, Authors, Educators – World Book Day – THUR 3 March 2016:
Chrisoula Sirigou – Your hostess, LIFE Events Facilitator, representing book BIG MAGIC by Elizabeth Gilbert
Elizabeth Beetham, Contributor to Believe You Can
Helen Carver, Author of Life begins at 50
Kathryn Vernon, Book Lover
Linda Bretherton, Author of Dosha For Life
Lisa Barry, Contributor to Believe You Can
Maureen Brindle – Poet and Author of Talisman