CELEBRATE WORLD BOOK DAY 2017
With The Golden Muse, Authors & Book Lovers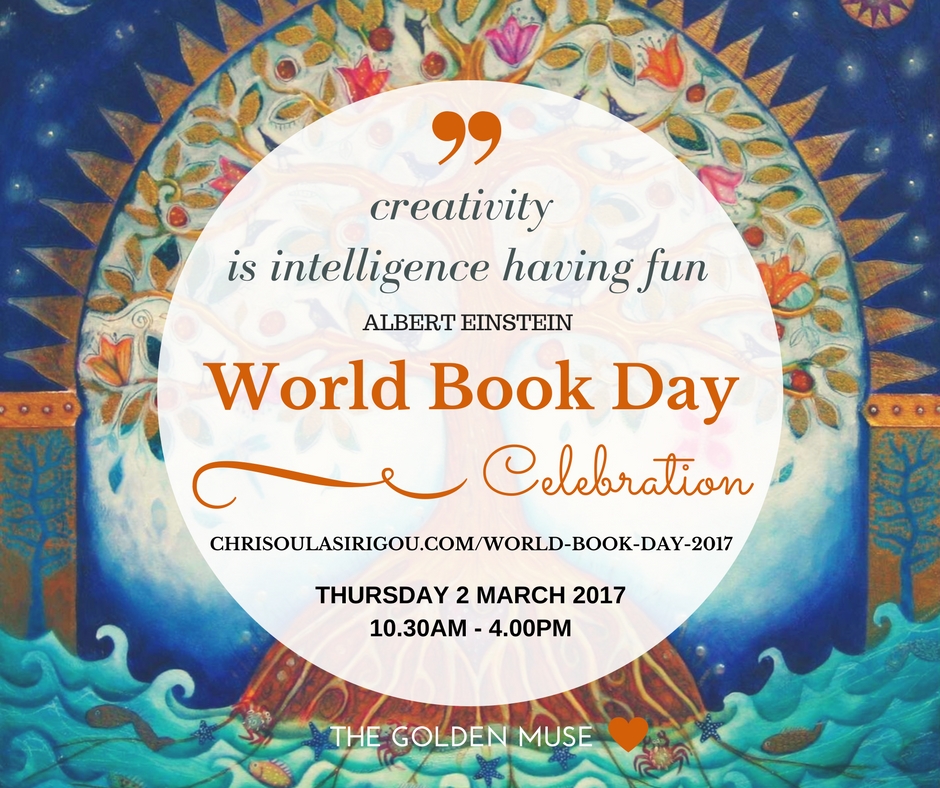 Thursday 2 MARCH, 10.00AM – 2.00PM
RESIDENCE, 9 Mill Street, Nantwich, Cheshire
CW5 5ST
(Car Park available – 5 miles from Junction 16 on M6 and 2 miles from Crewe Station)
From 10.00AM  (connecting/coffee & tea)
Celebration starts at 10.30am
Celebration ends at 2pm followed by live interviews on Redshift Radio, Regents Park, Nantwich
"Books are my best friends" says ChriSOULa, The Golden Muse, teacher, visionary guide, broadcaster and the hostess of this wonderful annual LIFE Awakening celebration of Learning. Inspiration. Flow. Expansion.
On Thursday 2 March 2017 in the company of LIFE Explorers … authors, co-authors, authors-to-be, illustrators, creative educators, poets, artists, change-makers, visionaries and open to anyone who loves books, we celebrate together the wonder of books, story telling, creativity, expression, inspiration and expansion. In fact, it's the biggest celebration of its kind, designated by UNESCO as a worldwide celebration of books and reading, and marked in over 100 countries all over the world.
YOUR CONTRIBUTION
STANDARD ADVANCED TICKET FEE at £30PP **** AT THE DOOR AVAILABLE AT £35PP ****
SPECIAL ENTRY TICKET FEE at £20PP TO REDSHIFT RADIO LISTENERS & COMMUNITY MEMBERS
SPECIAL ENTRY TICKET FEE WHEN BOOKING FOR TWO PEOPLE at £25PP
CONTRIBUTION TOWARDS FACEBOOK LIVESTREAM: TALKS + INTERVIEWS + Q/A SESSION £10PP ONLY
REQUEST INVOICE WITH BACS PAYMENT DETAILS **** LATEST BY MONDAY 27 FEBRUARY ***(to avoid paying admin fees on eventbrite) EMAIL: chrisoula@chrisoulasirigou.com
OPEN TO EVERYONE WHO …
is fond of books …
finds peace, hope, excitement, enrichment and immense possibilities in books …
has has changed direction and changed the way you see/perceive life thanks to (a) book(s) …
has felt completely immersed in a book and its magic …
is looking for inspiration to make the step and write THEIR Own Book
What can you expect as a Published Author/Poet/Co-Author?
Showcase your book/story/vision and inspire others on the day 
Increase your visibility through promotional marketing campaign on social media & radio
Spotlight LIVE Interview with ChriSOULa, Your Hostess 
Q/A session, Book signing opportunity
Making new connections with other LIFE Explorers who love books, exploring, expanding, evolving.
EVENT SCHEDULE
10.00 Coffee Morning with a selection of herbal teas and biscuits, connecting and mingling
10.30 Opening Ceremony / Welcome by ChriSOULa — The Golden Muse
11.00 "Meet The Authors" Live Spotlight Interview carried out by Chrisoula, The Golden Muse. Enjoy an open sharing of inspirational stories blessed with turning points and life changing experiences.
FACEBOOK LIVESTREAM AND ACCESS TO VIDEO FILES AFTER THE EVENT (SMALL CONTRIBUTION OF 10PP ONLY) BOOK HERE
12.30 Q/A opening for questions from the audience / book lovers
13.00 Closing Ceremony
13.30 Book Signing. Time to purchase books with a personal message and signed by the author
14.00 – 16.00 SCHEDULED LIVE RADIO INTERVIEWS with ChriSOULa — The Golden Muse
"THE HEALTH AND HEALING SHOW" at the studio of REDSHIFT RADIO, Regents Park, London Rd, Nantwich, Cheshire CW5 6LW (5 mins from Residence Restaurant Event Venue – Car Park available)
After the end of our event, you are welcome to carry on building connections over lunch at Residence Restaurant (not included in the ticket).
WORLD BOOK DAY 2017 KEYNOTE SPEAKER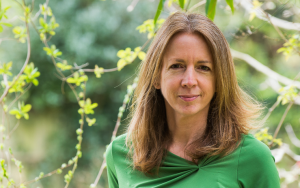 Rachel Elnaugh is the British entrepreneur who rose to fame as a 'Dragon' in the first two series of BBCTV's BAFTA nominated business show

 'Dragons' Den'.  She created the experiences brand Red Letter Days at the age of 24 on a shoestring budget and built it into a market leading £multi-million turnover company.  She is an award winning business mentor, speaker and author.  Her latest business SourceTV is a video-centric digital publishing platform and marketing portal for Thought Leaders, Metaphysical Teachers, Transformational Coaches and Evolutionaries. Read Rachel's full Biography
Rachel's uplifting talk is based on her book "Prosperity"
"How To Effortlessly Manifest More Money"

Chrisoula Sirigou — The Golden Muse
Co-Author "The Book of Inspiration for Women By Women" Launch 29 April 2017
Hostess of LIFE Awakening Experiences in England and Greece and Broadcaster of The Health and Healing Radio Show since 2010 inspiring Love, Intuition, Flow, Expansion as a Teacher of the Language of the Heart and Colour Psychologist, specialist in the system of Colour Mirrors, ChriSOULa  guides you to connect with and embrace your inner golden wisdom and vision and invites you to share your light from a space of clarity and integrity. In June 2016 she was voted as one of the UK's Evolutionaries by a public vote conducted by SourceTV.
ChriSOULa Embraces her inner Muse
ChriSOULa responded to the calling and became involved as a Co-Author in "The Book of Inspiration for Women by Women" instigated by Ruth Stuettgen, launching in Melbourne, Australia, on 29 April 2017, along with Jackie Wilson and Sue Ritchie, participants in World Book 2017 celebration. Passionate about self awareness, self expression and empowering inner awakening, she launches her NEW 7-week Online Course "The Golden Keys To Prosperity: an introduction" on Monday 20 March 2017. 
Connect with ChriSOULa and her guests …
on her weekly LIFE Inspiring Conversations and Monthly Online Holistic Calls or participate in New Moon Monthly Online Women's Circle and equally become more visible at The Golden Muse Digital Platform of Mastercall Video Blog Series.
Helen Carver, Author of "Life Begins at 50″ & Co-Author of Betty's Pick N Mix
At the age of fifty, Helen Carver quits her job of nearly 20 years standing in estate agency to travel the world with her 19-year-old daughter and life has never been the same since! When she returned, she wrote a humorous book, Life Begins at Fifty, about the people she met on the trip, the madcap things they got up to (skydiving, white water rafting, hiking up glaciers, jumping off waterfalls and posing naked in front of one, to name but a few).  She has recently contributed to a trilogy of books, Betty's Pick N Mix, which were written by over 20 women from different walks of life.  They were brought together by Betty Wilson, a retired clairvoyant, who encouraged them to share their life experiences, some of which were happy, some sad and some downright hilarious.  However, the message is always the same; it is always possible to triumph over adversity. The books were written by women for women and are truly inspirational, (although quite a few men have been known to take a peek). Helen also edited Betty's Friends, a tribute to the work done by Betty, a Yorkshire grandmother, when working as a clairvoyant medium, and it highlights the fact that she has helped thousands of people over the last few decades, telling them what they needed to hear, rather than what they wanted to hear, in a very no-nonsense way. To buy Life Begins at Fifty and find out more about Helen, please go to www.lifebeginsatfifty.info
Jackie Wilson, Founder of Kids Skills 4 Life
Co-Author in "The Book of Inspiration For Women By Women"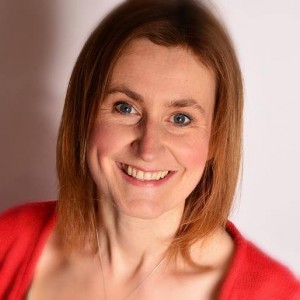 Jackie has been a children's yoga teacher for over 14 years teaching children as young as 2 up to 18yrs. Married with 3 amazing children – Chloe 8, Adam 17 & Katie 19.  Both her own children and all the children she has had the pleasure to teach over the years have been her teachers and inspiration! She studied mindfulness, children and young people's counselling, Reiki level 2, Basic Meta-Health and I am also a PSYCH-K facilitator.  As a school governor, she has a good understanding of the challenges a school experiences on a day to day basis. Kidsskills4life came to life 5 years ago, as a mission to provide young people with an education in emotional intelligence, during which time Jackie has been lucky enough to collaborate with some inspiring people to help create programmes using Emotional Intelligence, Mindfulness, Positive Psychology, NLP & Yoga Techniques and has run programmes for children within Nottingham schools and also have run staff emotional intelligence workshops and INSET days. Her passion is working with children, young people, teachers and parents to help them realise their potential, embrace their uniqueness, and open their eyes to just how AMAZING they are!
Lionel Palatine-Cox, Teacher, Author, Speaker
Lionel is a Life long meditator who has used the principles of Sacred Harmony to create his highest desires. Using Chakra balancing techniques he continues to stand out from the crowd in looks, deeds and spirit. As the advocate of spiritual happiness Lionel has found that Blissland has proved to be  the coming home that feeds his passion and love for his wife Dawn. Lionel's Book "Awakening Bliss" takes you on a journey to understand the road to Bliss by introducing you to the sacred trilogy of how to Live in Bliss. Lionel is the creator, leader and teacher of three incredible workshops  Awakening Bliss, Attracting Bliss and Arousing Bliss.  To find out more about Lionel 's incredible offerings visit www.blissland.co.uk  Lionel is the father of two beautiful children, and he lives in Congleton with his wife  Dawn and they together host many soulful gatherings at their rural centre of personal liberation..
Maureen Brindle, Author and Poet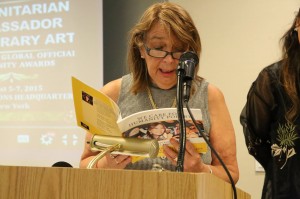 Maureen Brindle has authored 8 books to date and co-authored 3 books. She writes adult, children's poetry, scripts, biographies and novels. This Year she will be publishing at least 4 books. Official Poet of We Care for Humanity and the 2nd/3rd/4th Global Officials of Dignity Awards United Nations Headquarters New York 2014/2016. Maureen Brindle was honoured to receive Certificates of Congressional Recognition from USA Congress 2014/2015 and appointed Humanitarian Ambassador on Literary Arts at the GO D Awards 2015. She was delighted for We Care for Humanity Poetry book and We Care for Humanity Anthology co-authored with Princess Maria Amor to be launched at the United Nations Headquarters New York. All books available in paperback and eBook. Find out more about Maureen and her books: www.maureenbrindlepoetry.com      www.amazon.com/author/maureenbrindle
Sue Ritchie, Author of "Love Your Gut" & Co-Author in "The Book of Inspiration for Women By Women"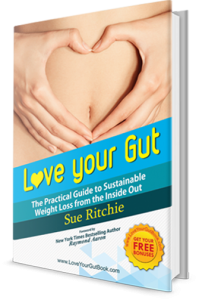 Sue has had a successful career in corporate marketing and as the owner of a direct marketing business before starting Your Ecstatic Health at the end of 2014. Sue's previous life involved working long hours and under high levels of stress. Like many women, Sue felt she was putting everyone else first in her life, including work. Things came to a head five years ago when Sue found herself feeling totally unfulfilled, unhappy, unhealthy, overweight, and with low energy. She realised things had to change. A diagnosis of Hashimoto's disease resulted in her doctor telling her that she would be on medication for the rest of her life – this spurred Sue into action to take control of her health, and to make some big life changes as well. Sue made the decision to shrink her business, made staff redundant and took the business back home. Sue knew she wanted to do something else, but didn't know what. She made a conscious decision to create a better work life balance, taking time focusing on healing herself. Surprisingly, she had one of the most successful years in her business. As a result of her own personal 'mess to success' dramatically transforming her own health and wellbeing, Sue successfully helps other women to transform their health, energy and wellbeing taking an holistic approach. She focuses on gut health as this is the biggest underlying root cause of poor overall health and a lack of wellbeing. Sue Ritchie is a wife and the mother of two children. She is a successful speaker and the author of the award winning book 'Love your Gut – The Practical Guide to Sustainable Weight Loss from the Inside Out'.
Sue Williams, Poet & Author of "Believe You Can"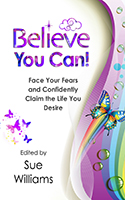 Sue Williams took early retirement at the age of 51 from her management role in the Civil Service, where she developed career information, advice and guidance services for adults.  Sue embarked on a journey of self-discovery and healing, which led her to discovering the morning pages, a technique for unlocking creative self-expression.  From there, Sue discovered an ability to write poetry.  She was inspired by her own poem, Believe! to collate and publish two collections of true life stories on the topic of belief, aimed to inspire women. She has also developed a set of Believe oracle cards and an app, and ran her first event for women "Your Signature Success Story".  Sue will be publishing her first book of poetry in 2017, and is also developing services for women aged 50+ to help them to succeed on their own terms. Find out more about Sue at www.sue-williams.com
Pam Lob, Author of "Beyond Hot and Crazy"
Rose Snow, Poet of "Shores of Self"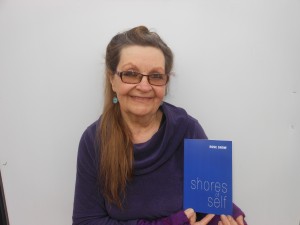 … more information about our partipants is shared on social media platforms on Twitter & Facebook
Looking forward to celebrating with you LIFE Learning, Inspiration, Flow, Expansion thanks to inspiring messages and real life stories shared in books.
"Creativity Is Intelligence Having Fun."
Your hostess, ChriSOULa
Teacher. Visionary Guide. Broadcaster.
---
P.S. Saturday 22 April 2017, LIFE Awakening Celebration "World Earth Day", BLISSLAND, Congleton, Cheshire.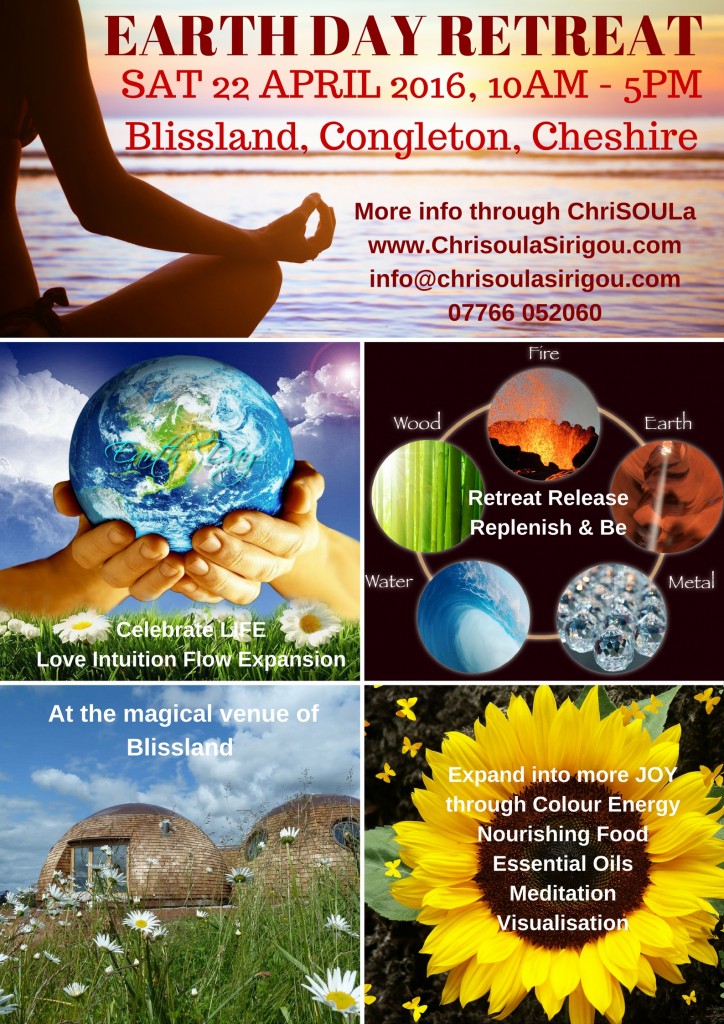 ---