The 12 books you need to add to your 2019 reading list!
Books have been my best friends and companions in my evolutionary journey and in big life-changing decisions. This is why I feel we always need to invest in books that will inspire, empower and bring the best out of us. — ChriSOULa Sirigou
As CEO of GoldenMuseTV, ChriSOULa promotes stories, books and expertise of the most authentic Wholistic Health and Well-being advocates including Hay House author, Davina Mackail, for the last nine years. Some of them have also featured on her weekly radio shows and are now published authors in her Award-winning The Book of Soulful Musings (Golden Muse Publishing, 2018).
The Golden Muse's picks for 2019: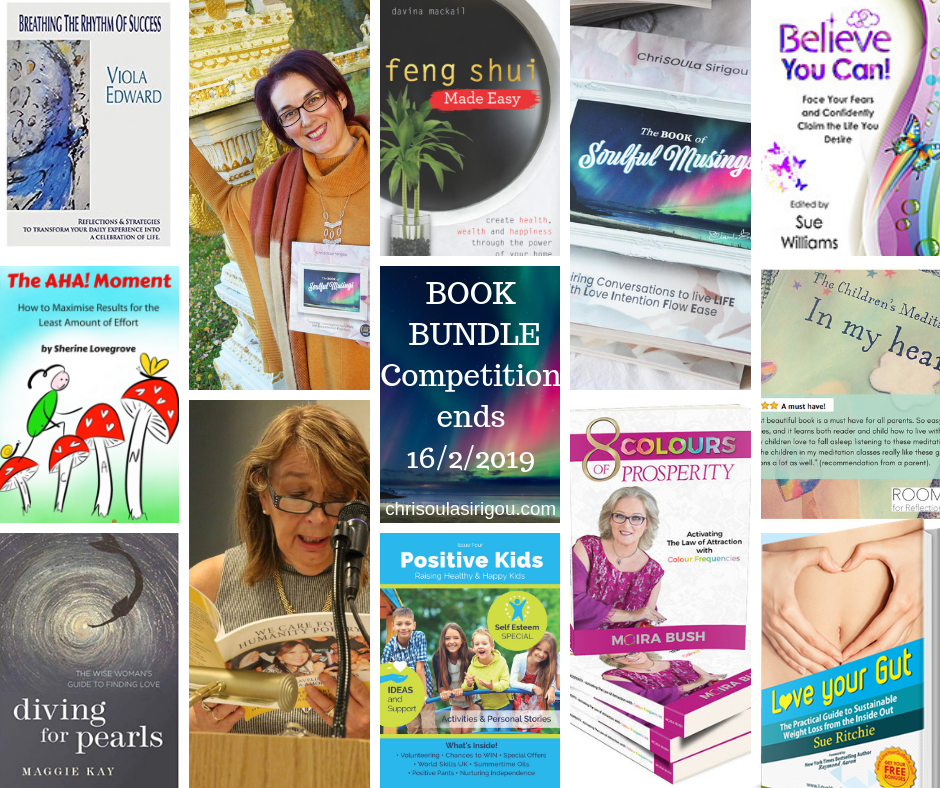 The Top 12 Books of 2019 Bundle can be yours! How?
You're warmly invited to take part in our Soulful Musings Competition, A Book Bundle: Top 12 books to add on your reading list in 2019 including:
1 x one on one

Claim Your Gold

session with ChriSOULa Sirigou, The Golden Muse
with a chance to win a very generous prize giveaway, by selecting below EITHER option a) or option b):
a) ENTER Soulful Musings Book Bundle COMPETITION at The Best You Expo 2019
COMPETITION starts Monday 28 Jan, both online (Facebook & Twitter) and LIVE during the 2-day expo, Olympia London
COMPETITION ends on Saturday 16 February, at the MEET & GREET BoSM Signing event at the booth F23 at the expo.
Head over to ChriSOULa's booth F23 for a chance to win a very special prize
- Top 12 Books of 2019 Bundle including:
The Book of Soulful Musings by ChriSOULa Sirigou

Feng Shui Made Easy by Davina Mackail

Children's Meditations In My Heart by Gitte Winter
Diving For Pearls by Maggie Kay
Petals of Poetry by Maureen Brindle
8 Colours of Prosperity by Moira Bush
The AHA! Moment by Sherine Lovegrove
Love Your Gut by Sue Ritchie
I AM Unique by Sue Williams
Positive Kids Magazine by Susan Brookes
Breathing The Rhythm of Success by Viola Edward
At The Best You Expo 2019 at Kensington Olympia London, Fri 15 & Sat 16 February 2019
Connect with The Golden Muse and contributing co-authors in The Book of Soulful Musings who will be offering guidance on how to live life with flow and ease in 2019.
The winner's name will be drawn on Saturday 16th Feb at a special MEET & GREET book signing event at 16.00 at Booth F23. Photos, Live Broadcasting on Facebook and much fun!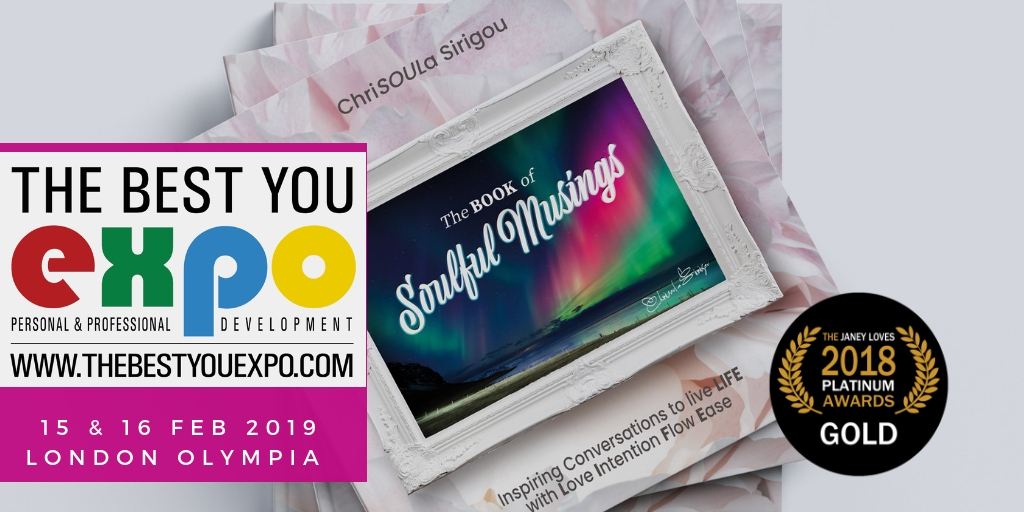 What if you cannot attend the expo!?
b) Enter Soulful Musings Book Bundle Competition by sending your TESTIMONIAL about the BoSM!
The Golden Muse called. My muse and I answered. Poems were written. Many times I wondered, when Chrisoula Sirigou interviewed me on radio with other authors, 'Why hasn't Chrisoula written a book? Chrisoula clearly loves books.' Now, The Book of Soulful Musings is here! An anthology to inspire every heart to achieve potential. Honoured to be with you, in spirit, supporting your Award Winning Book, The Book of Soulful Musings at the prestigious The Best You Expo. OLYMPIA London. How fitting, OLYMPIA the home of the Gods! — Maureen Brindle
YOUR TESTIMONIAL could be a paragraph or a couple lines… something that comes from the heart.
*** Last day to email your testimonial is Tuesday 12 February 2019.
Contestants' names will be included in the prize draw and the lucky winner will be announced on Saturday 16 Feb at 16.00 via a Facebook LIVE broadcasting directly from our stand F23 at The Best You Expo. There will be an EMAIL update announcing the lucky winner too along with instructions how to collect your fabulous prize (if not attending the expo)! EMAIL YOUR TESTIMONIAL (your insights and aha-moments) to csirigou@btinternet.com including
How has the Book of Soulful Musings touched you (Body, Mind, Heart, Spirit)?
How has it helped transform the way you see LIFE (e.g. saying yes to a new beginning)?
What inspired action and/or steps have you taken so far?  Please be specific. We'd LOVE to know!
Looking forward to receiving your testimonial and connect with you via email, on Facebook or Twitter and, even better, in person, at The Best You Expo. Can't wait! With much gratitude and excitement, ChriSOULa and the team of Soulful Musings
www.TheBookofSoulfulMusings.com
Email: info@chrisoulasirigou.com Mobile No: +447766 052060