GARDENS THAT MAKE YOUR SOUL SING
WITH JO DYER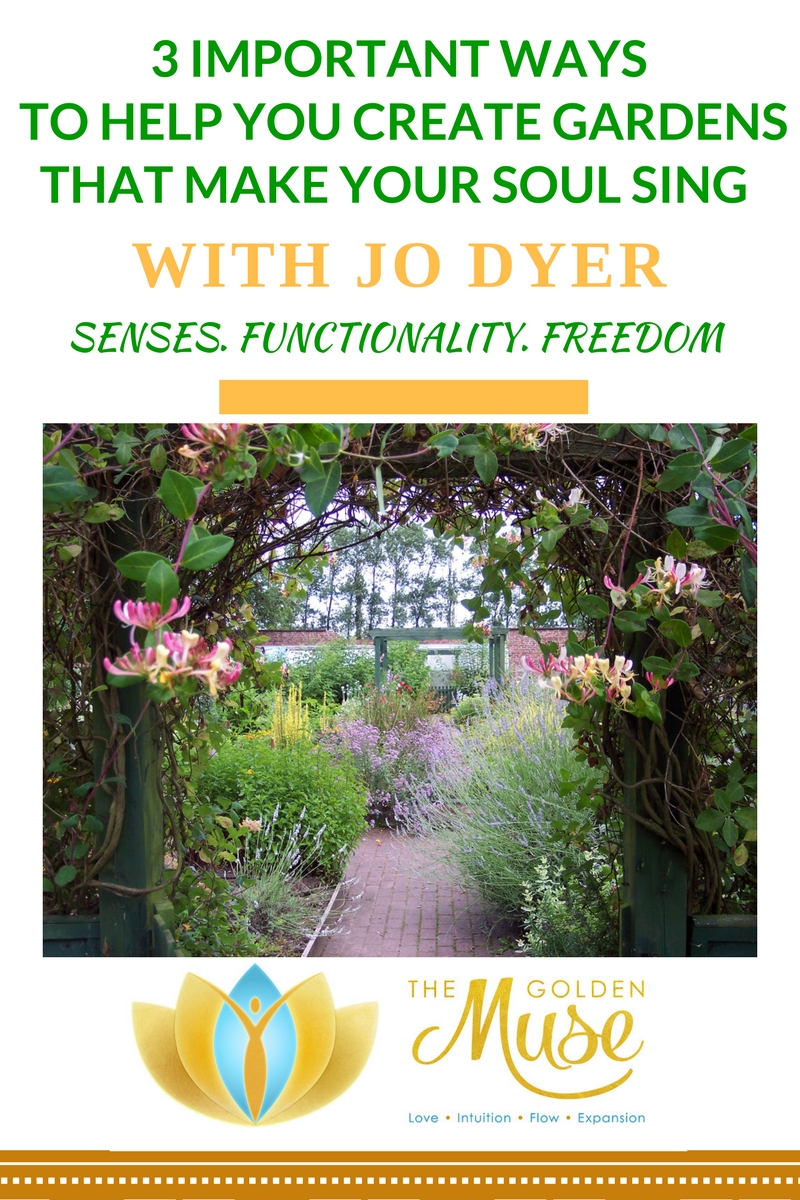 What do we do in our gardens …?
According to Jo Dyer, we relax, enjoy playing with our kids, laugh with our friends, delight in the scent, colour and shapes of flowers, gasp in awe at the power of that tiny seed that is now a tomato in our salad, gaze in admiration as birds, bees, butterflies and all sorts of critters manage their daily feat of survival. Amazing stuff, yes?
Gardens help us connect with nature … and with what is important
This is true and also very important, says Jo Dyer, but for her what is even more powerful is the way that in our own garden we can connect with and express our authentic and creative selves. In a world where we spend so much of our time acting in roles where we often experience huge cognitive dissonance or simply have to suppress our most important needs, at odds with the world and ourselves, gardening in our own space; just being in our own living, breathing, buzzing, and fluttering space, re-wires our brain and re-connects us with who we are and what is important.
Ultimately we all need nourishment in some shape or form.
That's why this week we have been joined by the wonderful Jo Dyer, founder of  Really Useful Gardens and in this 10 Minute Holistic Mastercall we present to you the three ways to help you create the garden that makes your soul sing.
In this Mastercall Jo shares:
How important it is to use "All Your Senses" when thinking of creating or re-creating your garden
What practicalities to bear in mind
The relationship you build with your garden and how it evolves over time …
+ lots more!
Have a watch below…
about JO
Jo believes passionately in the power of gardens to bring about improved well-being through self expression and creativity.  She helps people create gardens that make their soul sing. She helps people get inspired and unstuck, out of overwhelm and confidently into action so they can create a garden that they love.  Having been a Head Gardener for the National Communities Resource Centre at Trafford Hall near Chester for almost 12 years, Jo is now offering consultancy, design, workshops and talks. Her higher purpose is to raise the vibrational energy of the planet by helping people to garden with love in their heart.   
Jo believes that when you nurture a garden you nourish yourself – your soul – in so many ways.
the BREAKDOWN
Here's a breakdown of what "Jo" shared in the video above…
1. USE ALL YOUR SENSES
If you're wanting to create a new garden or make changes to an existing one, I suggest you take some time to tune into your heart's desire and reflect upon the following questions:  Using all of your senses to guide you, close your eyes and imagine your dream garden:
What does it FEEL like
What does it LOOK like
What does it SMELL like
What does it SOUND like
The answers to these questions will reveal so much about the garden you really want. Think about COLOUR, think  about a garden that MOVES, the TEXTURES,  whether you want to share it with more or less wildlife.  What are the most important of these senses to you? What brings you the most pleasure?
We're trying to get to the heart of what you really want – not what you think you should or ought to have.  This is your chance to give yourself what you truly desire.
2. A GARDEN THAT FITS FOR PURPOSE
On a more practical note now think about HOW YOU ARE GOING TO USE THE GARDEN and HOW MUCH TIME DO YOU WANT TO SPEND GARDENING?
A garden needs to work for you – the layout, the features, it needs to give you what you want and be functional in the way you want it to be – fit for purpose.  SO we need to balance the needs of our heart and our heads.
3. RELAX … LET THE GARDEN SPEAK TO YOU
Finally, I would say RELAX and let go of the feeling that you have to get it right first time, or that you need to do it in a hurry.  A garden is place that evolves over time and it reveals its secrets over time. It's best to take things slowly, get to know your garden and your heart and take things gently.  A garden is a place to express who you are but it also a place with its own needs and these must always come first.  Don't try to dominate and control, let go of this urge if you have it and let the garden speak to you and teach you. Listen to it and work with it, gently and with love and you will have a garden that makes your soul sing.
See you next time for another 10-Minute Holistic Mastercall!
ChriSOULa – The Golden Muse xxx
P.S. If you're not already a subscriber, click and sign up below so you don't miss next week's Mastercall!