The Book of Soulful Musings is being birthed
Dear LIFE Explorer,
Super excited to share with you news regarding my new book project, the creation and compilation of The Book of Soulful Musings: enlightening insights, tools and guidance from LIFE Inspiring Conversations.
For the first time, inspiring conversations about LIFE and soul-expanding insights that have enlightened LIFE Explorers since 2010 on The Health and Healing Show on RedShift Radio and on The Golden Muse TV Show are collected in The Book of Soulful Musings, a beautiful, cherishable, deeply-affecting book.
I'd like to invite you to be one of the contributors in the book aiming to be published in 2018 with the Pre-Launch happening on World Book Day, Thursday 1st March 2018 in Cheshire in England. (put it in your diary!).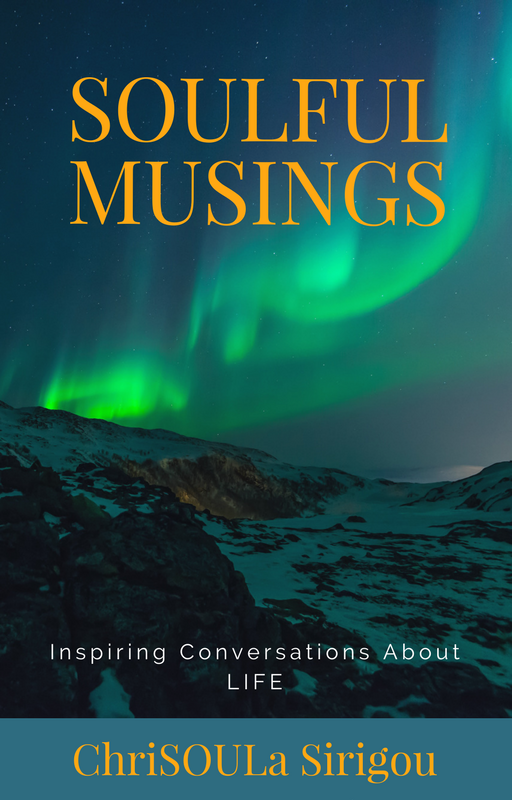 BOOK SYNOPSIS
Organized into ten chapters, each one representing a powerful "key" in ChriSOULa's own colourful, evolutionary journey, and introduced with a personal essay by ChriSOULa, The Golden Muse, herself – The Book of SOULFUL MUSINGS features insightful selections from the most meaningful conversations between ChriSOULa Sirigou and some of today's most heart-centred thought leaders and holistic health and healing educators.
Visionaries share their lessons in finding purpose and being in the flow of prosperity. Authors and teachers explain our complex relationship with the mind, the heart, the gut and the spirit and the healing powers of creativity, compassion and connection. And change makers explore faith, forgiveness and letting go.
Paired with beautiful photographs, including many from ChriSOULa's explorations and retreats in her motherland Greece, The Book of Soulful Musings promises to be a timeless keepsake that will help readers awaken to LIFE's wondrous possibilities in this colourful quest to learn to Love yourself more, trust your Intuition, be in the Flow of life, always Exploring, Expanding and Evolving.
Would you like to be one of the book contributors amongst a number of heart-centred educators, authors, coaches, holistic health practitioners and change makers?
Looking forward to celebrating World Book Day 2018 and raising awareness about the book and its wonderful contributors on Thursday 1 March 2018 at the Pre-Launch event. Early bird tickets will be available to book online here. 
EMAIL: info@chrisoulasirigou.com to enquire further, express your interest and receive the guest questionnaire.
Share Light, Shine Bright!
Colourful Blessings,
ChriSOULa Sirigou
The Golden Muse xxx