7 of the Best Things to do in Athens – beyond climbing the Acropolis
Beyond the well-known cultural attractions, here's a round up of seven of the recommended "GreekTreats" to do in Athens, that will get you in touch with the modern side of the city.
VISIT THE NEW ACROPOLIS MUSEUM
Throw yourself completely into the spirit of ancient Greece by following up the Acropolis with the dazzlingly modern Acropolis Museum. This masterpiece based its architecture on the Parthenon itself and uses a range of multimedia exhibits to bring the stones you see to life. (There's even a lego exhibit: now who could want more than that?!)
Cheeky tip: it also has a sun and shade soaked terrace that serves super strong Greek coffee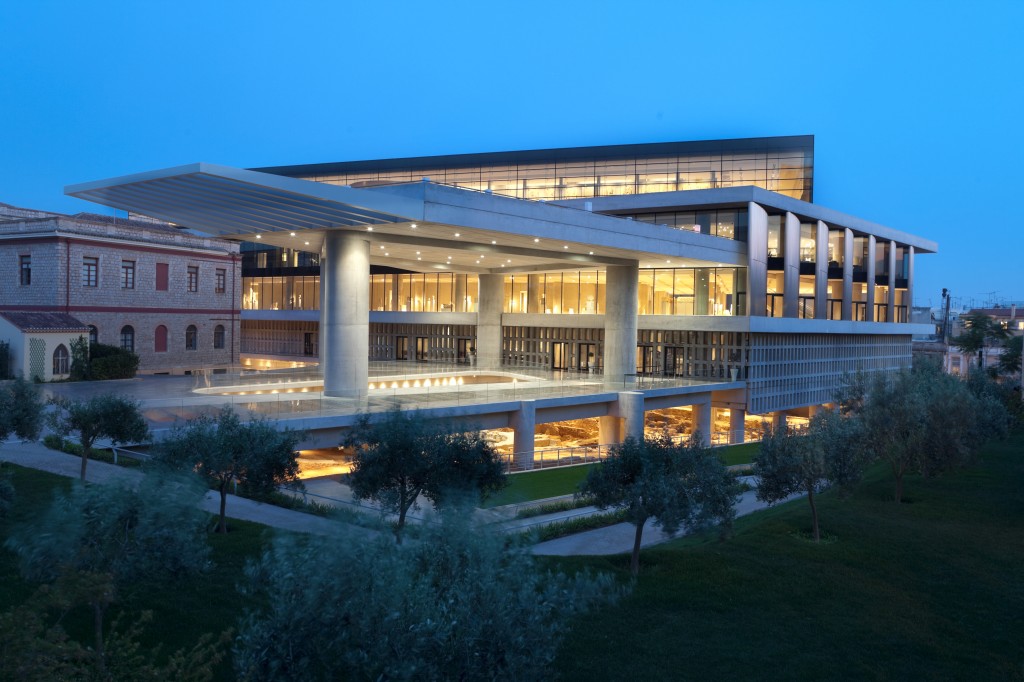 EAT LIKE A LOCAL
Many affectionately refer to Athens as the largest village in Greece and when it comes to food that is very true. Freshly baked bread is always within reach and the famous "Koulouri"is how most like to kick off the day. Follow the aromas of home cooked "paradosiakos" food in non-touristy tavernas that are scattered all around town including "Diporto" where there is no menu and only a handful of dishes served every day. It doesn't get any more rustic, authentic or delicious. This very mercantile part of Athens is where the city's buzzing central market is located with home grown organic produce that is bursting with colour and local flavours. A short walk to Athinas St is the coffee micro-roastery "Mokka", where you can enjoy a shot of Greek coffee, prepared the old fashion way. Closer to the Acropolis in the very picturesque area of Thissio, you can devour a kilo of lamb chops at "To Steki Tou Ilia" and then walk it all off in the surrounding pedestrianised walkway with market stalls along Agias Asomaton.
TRADITIONAL EATING  
It doesn't get any more rustic than "Diporto". Located downtown in the heart of old Athens through the city's market district, you won't find any signage out the front and you may need to ask around for directions. When you do find it, you will see two brown hatchet doors leading underground (hence its name which translates to 'two doors') to what resembles a bunker. There is no menu and only a handful of dishes available each day. You can be sure everything has been made from scratch that day and is delicious. Established in 1887 it upholds a 129-year-old tradition of old school Greek food that feeds the local working class. You will leave feeling like you've just had an eating experience straight out of biblical times. Wine is poured from large wooden barrels that are stacked up against the walls. Diporto is an institution of Athens and is worth the effort.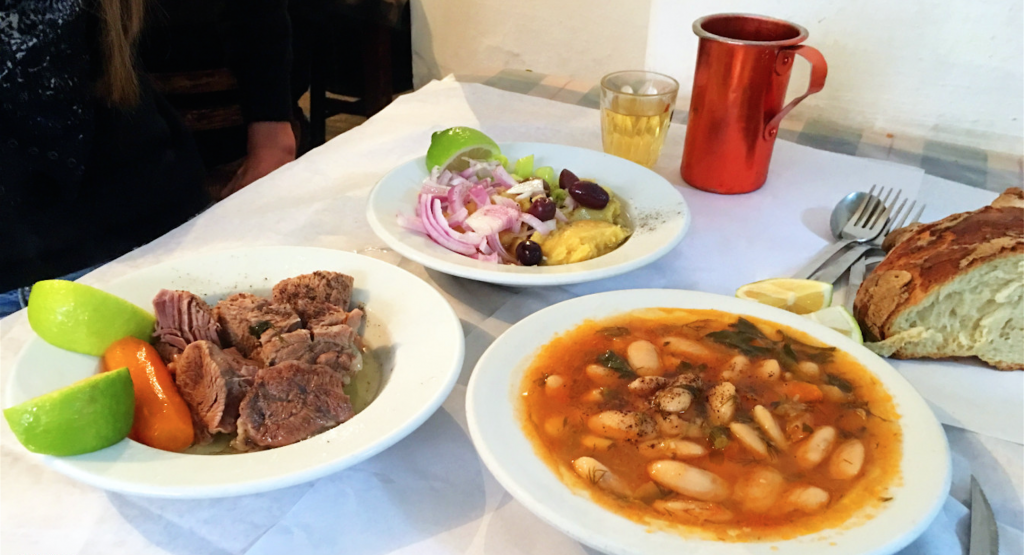 EXPLORE ANCIENT CITIES IN THE CENTRE OF TOWN
The village of Anafiotika beneath the Acropolis
Bon vivants and travellers are lured to the cobbled streets and tiny white washed homes of Anafiotika on the northeast side of the Acropolis. Follow the narrow cobbled paths as they zig zag down towards the ancient city of Plaka where the Greek island atmosphere continues.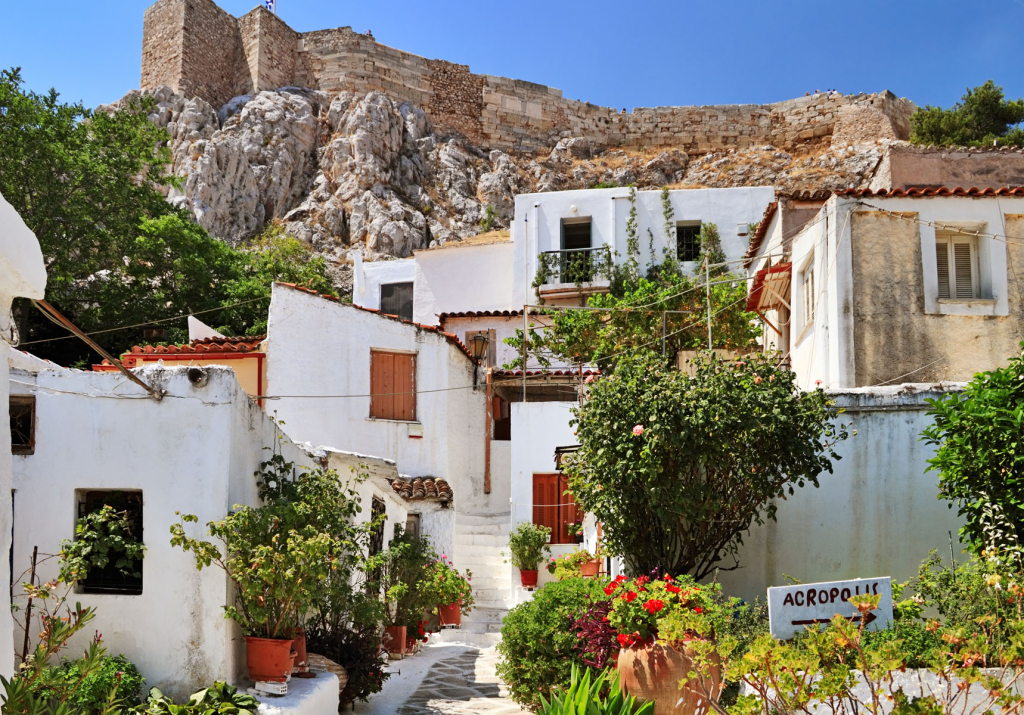 DISCOVER THE HIDDEN PEARLS OF THE ATTICA
Sailing the Athenian coastline.
Organised city beaches line the Athens Riviera south of the city. If you want to escape the city entirely, keep heading south to Cape Sounio where you can spend the day basking in the crystal clear waters of the many secluded coves, before making the pilgrimage up to the Temple of Poseidon at sunset that is dedicated to the mythological God of the Sea. To experience the very best of the Aegean, let the others do the hard work and relax on board a catamaran that will take you to the best swimming spots where you'll feel like you're back in the islands. After you've splashed around, an authentic Greek lunch will be waiting on board.
DIP YOUR TOES BENEATH A LIMESTONE CAVERN
Lake Vouliagmeni is a natural phenomenon.
Athenians in the know skip the crowds and head to the thermal waters of Lake Vouliagmeni for peace and tranquility. Just 30 minutes from town, relax on luxurious day beds set beneath a limestone cavern.
FEED YOUR MIND AND BODY WITH THESE PLACES OF LEARNING (AND EATING…)
Like all the best cities in the world, Athens has something of a museum district. This makes it easy to ping pong your way along Vasilissis Sofias Avenue up to Syntagma Square and around to Panepistimiou Street and the holy trinity of learning: the University of Athens, the Academy and the National Library.  (Another tip – if you bring your passport with you to the National Library, you can enter the reading room and, well, read.)
Depending on your energy and enthusiasm, you may be able to fly around each of these museums by mid afternoon. Chances are, though, that it's best to limit yourself to one or two. Particularly when you realise how many of them have fine cafes and restaurants cloistered away at the back…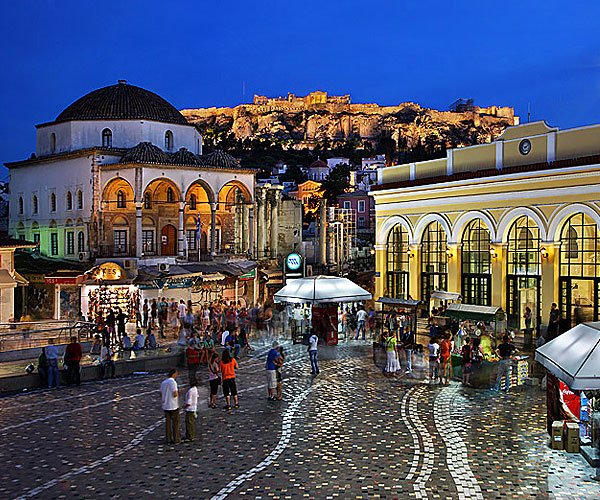 Wishing you a wonderful exploration and relaxation in my hometown, Athens, and if you prefer to be in a small, intimate group of real travellers and explorers of the best in life, then why don't you join our bi-annual visits with Chrisoula, The Golden Muse, as your visionary guide and teacher. Upcoming ATHENS GreekTreats™ are October 14-19, 2016 and then you can put your name down for May 2017 GreekTreat™ Experience, if you prefer.
Email Chrisoula directly info@chrisoulasirigou.com to see if these well-researched and enriching experiences are for you and your partner or friend. You will love it!
ChriSOULa — The Golden Muse xxx