How To Balance Your Chakras With Colour Bathing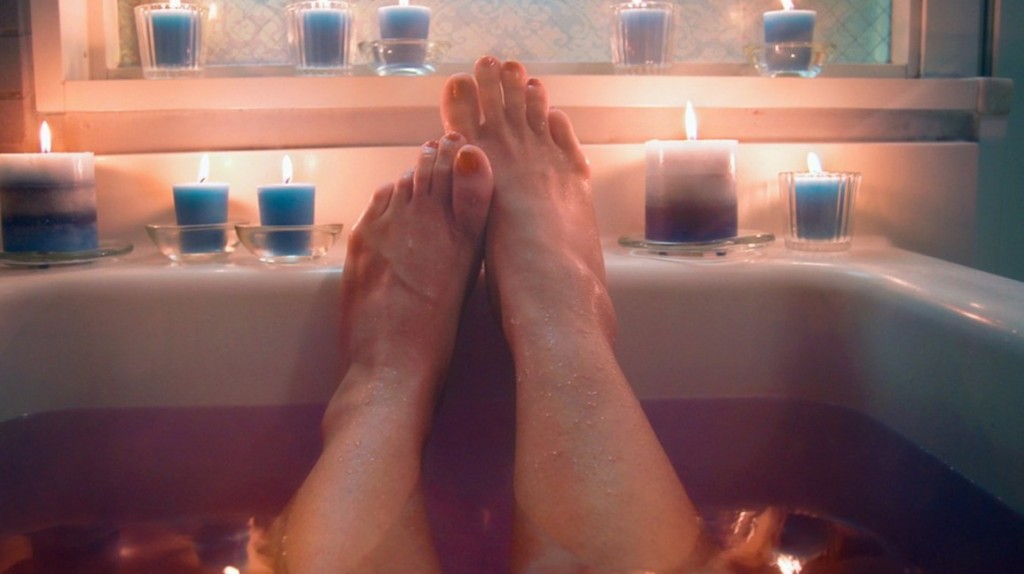 In spiritual practices all over the world, bath rituals serve as a form of rebirth. While we unify with the sacred waters we naturally allow detoxification, regeneration, and clarity. As we bathe, we're taking a moment to reflect, set intention, and wash away old habits and patterns that no longer serve our highest good.
If you're looking to add more balance and relaxation to your life (who isn't?), then you may want to consider having a weekly chakra bath. Water, first of all, is a great way to cleanse your aura and balance your chakras (the major energy centres of your body). Then, soaking in water that's been vibrationally enhanced with colour, gemstones, essential oils and herbs can benefit your skin. Here's how to create your own chakra bath that best suits your needs.
Chakra-Balancing Colour Bath
Follow these directions to create your own personalised chakra-balancing colour bath. Identify the areas in which you feel unbalanced in the below graph and incorporate the recommended colour, essential oils, gemstones and herbs.
1. To begin, I suggest focussing on one specific chakra at a time. This can lead to deeper healing by quickly bringing to the surface the possible causes of your current discomfort and resistance. Read through the recommended oils, colours, herbs and gemstones below, then choose which one initially calls out to you. Once you have the chakra area you want to work with, gather the tools associated with that specific chakra treatment.
2. Add the suggested gemstones to your tub before running your bath water. If the gemstones are small, place them in a cloth or mesh bag to keep from losing them.
3. Run your bath! Add 1 cup of Himalayan or Epsom Salts to help you relax and support cleansing.
4. Create an atmosphere. Colour can influence mood, so consider using a coloured light bulb in a relaxing hue. Candles are great additions to add a calming ambience to your time, too, and playing soft music can help you relax.
5. Once the bathtub is filled to the brim (you want to be able to soak your entire body), add 1 coloured essential oils bottle choosing from the Colour Mirrors Chakra bottles (C1 to C7) and swish the water to mix in the oils. You may wish to add a few more drops of the essential oils of your choice.
6. If you want to add herbs, you can make a strong herbal tea and add that to your bathwater. Tea is a wonderful way to experience the healing properties of the plants. Or, if you prefer, you may make a cup of tea to sip while you soak.
7. Get in and enjoy! You can stay in the bath for an hour or even just 20 minutes.
8. If you want to take your chakra healing to another level, wear clothes that match the colour of the chakra you are working on to bed, and eat foods in the same colour scheme that evening.
9. If you want to accelerate the healing process of cleansing and balancing your chakra, choose from a range of 34 colour essence bottles
1st Chakra: The Root/Base Chakra
Focus: spine/glandular system
Unbalanced: low self-esteem, self-centred
Balanced: stabilising, grounded
Colour: red
Essential Oil: vetiver, cyprus, cedar wood
Gemstones: ruby, black tourmaline, red garnet
Herbal Tea: ginseng/dandelion root
Chakra Coloured Essential Oil: C1 (Coral/Red)
Available to purchase online here
Or email to info@chrisoulasirigou.com to place your order
2nd Chakra: The Sacral Chakra
Focus: ovaries/testes
Unbalanced: overly sensitive, emotionally unbalanced, disempowered
Balanced: creative, balanced emotions, sexual flow
Colour: orange
Essential Oil: jasmine, ylang ylang
Gemstones: orange carnelian, orange calcite, aragonite
Herbal Tea: cinnamon bark
Chakra Coloured Essential Oil: C2 (Gold / Orange)
Available to purchase online here
Or email to info@chrisoulasirigou.com to place your order
3rd Chakra: The Solar or Plexis Chakra
Focus: adrenals/pancreas
Unbalanced: fearful, judgmental
Balanced: strengthens personal power, raises self-esteem
Colour: yellow
Gemstones: pyrite, tiger's eye, citrine
Essential Oils: ginger, geranium, helichrysum
Herbal Tea: ginger or mint
Chakra Coloured Essential Oil: C3 (Olive Green / Yellow)
Available to purchase online here
Or email to info@chrisoulasirigou.com to place your order
The Golden Muse is ChriSOULa Sirigou, Broadcaster, Author and Colour Psychologist. The Golden Muse facilitates Soulful Readings out of her Sanctuary of Colour in Cheshire, England. These ceremonies integrate over 12 years of experience and wisdom in elemental energy healing.
Her work blends ancient knowledge from across a variety of traditions. At the end of every Soulful Reading Ceremony, ChriSOULa prescribes a ritual bath. These beautiful baths (with colour, essential oils, flowers, crystals, and herbs), along with her warm and approachable personality, have garnered The Golden Muse her award-winning book The Book of Soulful Musings.
Her work has been featured in virgin.com, Woman and Home and Female First.
In a world of gurus and self-help, The Golden Muse helps us connect to the inner alchemist within us all: the power of gold and love.
Follow ChriSOULa @Exploramaeu