World UNITY Week 2020
Celebrating the Shift From "Me" to "We"

The "Global Pause" caused by the pandemic is uniting the world in new ways. Our opportunity to foster a genuine movement towards global unity has never been greater. Join us all at RAINBOW Letters to Mother Earth in the quest to co-create the new story and a more beautiful future for our shared home, Planet Earth and all those who inhabit it.

It is connection, in all its richness, that we are embracing during World UNITY Week and further expand our relationships with one another and with Mother Earth. It is doing this through an eight-day virtual focus on coming together to celebrate unity born out of respect for diversity and our planet. This event is intended as a space in which to salute the unifying sense of humanity so many of us feel, the real spiritual awakening in people, and the growing compassion around us.

Various online opportunities created to communicate, engage and participate over the next 8 days …
RAINBOW LETTERS TO MOTHER EARTH presents … in conversation with ChriSOULa Sirigou and World UNITY Week guests


Saturday 20th June, 4pm UK time / 5pm Central Europe
In conversation with
Lene Nielsen
one of our talented Illustrators in RAINBOW Letters to Mother Earth Team.
Available to WATCH or LISTEN again on Golden Muse TV YouTube channel here:
https://www.youtube.com/watch?v=lcWHcnCxyXA&t=2235s

Tuesday 23rd June in conversation with Birger Norup
"UN's Global Goals and RAINBOW Letters to Mother Earth" hosted and facilitated by
Chrisoula Sirigou



World UNITY Water Day Online Gathering 
Thursday 25th June, 7PM London / 8pm Central Europe
Gong Bath with Charlotte Lyngaae Banff and Cleansing Meditation in Colour with Chrisoula Sirigou in honour of Turquoise Water Elemental and World UNITY Water Day.
Click here Video Recording Link to watch or listen back.
During this Online Gathering, ChriSOULa founder of RAINBOW Letters to Mother Earth, shared some  insights about the MISSION and VISION of the project along with a synopsis of the current Cosmic Influences as a result of planet Neptune (associated with the energy of Turquoise) being in retrograde.
How are we all get affected and how can we maximise this period?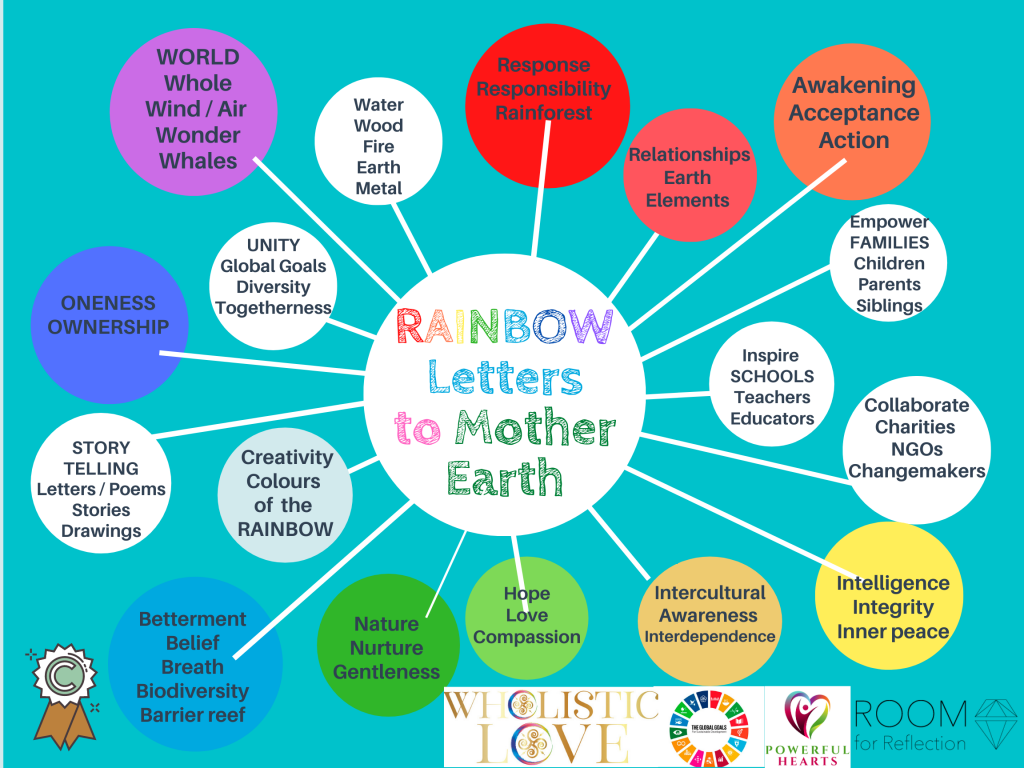 Neptune in Retrograde
Sunday's BIG New Moon Solar Eclipse has brought personal matters to a head, naturally helping you to reset, heal and cleanse any confusion that has arisen since June began.
Neptune began its long move retrograde for the next five months. Six planetary bodies in retrograde relative to Earth (Pluto, Saturn, Venus, Jupiter and Neptune). Neptune activates your spiritual connections, dreams and desires. Neptune represents everything that is illusive, immaterial, surreal and subjective on Earth.
It opens us up to the all.
From now until late November, it's a power period of 2020 in which to grow and mature on a spiritual level.
THIS PERIOD OF THE YEAR IS IDEAL TO EXPLORE ANY ESOTERIC STUDY
e.g. personal development books, courses, workshops or writing
especially meditation, observation and inner reflection
A five-month journey  of further "finding yourself"
be aware you could easily be "seduced by the spiritual high'
Apply your knowledge to ground your spiritual wisdom
Heart chakra as well as the crown being opened and activated by the current cosmic happenings. During this period, you'll be prone to
feel more emotional and compassionate
see yourself reflected in all those around you
create a new wave of deep self-respect
HIGHER CONSCIOUSNESS FOCUS
Allow your thoughts to pass through you like water down a stream.
Hold the intention to be unattached to your thoughts. Just observe.
Close your eyes and take a few deep breaths in and out of your belly.
GUIDED MEDITATION IN TURQUOISE led by ChriSOULa
Feel every cell of your being filling up with healing light – a ray of healing light that is incoming from deep within the cosmos. Bathe in this energetic moment of power.
Connect with your visionary abilities.
You're being shown the way ahead clearly and given answers to your long-standing pondering.
Your personal liberation nears …
GONG BATH Sound Healing led by Charlotte

*** Thursday 25th June – VENUS MOVES DIRECT 
The conclusion of the powerful six-week (once in eighteenth month) Venus Retrograde
Self-love, worth, value and relationship make-over
Since Mid-May you've experienced a deep cleanse  of old patterning that was keeping you stuck in cycles that underplayed your true divine potential.
Practice patience in implementing all of your ideas and insights gained over the past six weeks
you've been asked to honour your innate value and worth.
Time to be more discerning and wiser for your experiences
Your understanding and application of personal integrity has grown as you've claimed your inner authenticity and authority.
Make good use of this period by pouring your life force into what you love and brings you JOY!
Love and light

ChriSOULa #TheGoldenMuse
ChriSOULa Sirigou
Intuitive Colour Psychologist, Teacher of Languages
Founder of #WHOLISTICLove Movement & Enrichment Programme
Founder of RAINBOW Letters to Mother Earth Project – Illustrated Anthology for Children and Young Authors